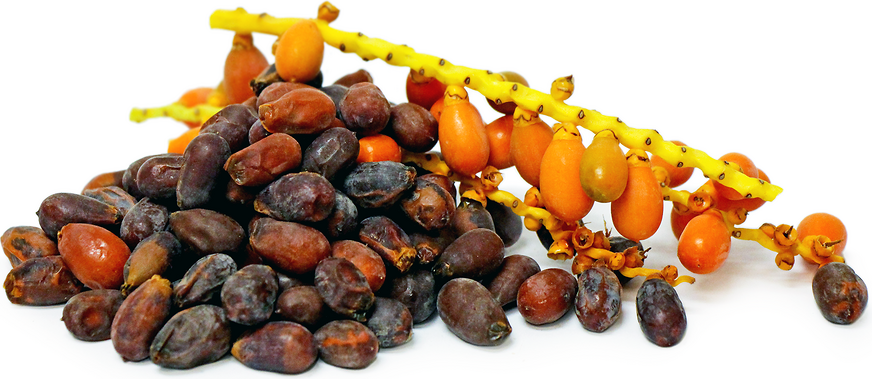 Senegal Date Palm
Inventory, bskt : 0
Description/Taste
The Senegal date comes from palms that grow in clusters of multiple trunks that can reach heights as tall as 15 meters. The stems curve outward in broad arcs and are covered in fine brown fibers with green leafy fronds on top. The female trees produce pendant clusters of creamy white flower buds, which are also edible, and will later develop into the fruits. The narrow oblong dates, technically drupes, are smaller and harder than commercially cultivated dates and contain less flesh with a larger pit. Senegal dates are subtly sweet with a sticky consistency.
Seasons/Availability
Senegal dates are available in the fall.
Current Facts
The Senegal date palm is botanically classified as Phoenix reclinata, and is sometimes commonly referred to as a Wild date palm. Though the dates from this tree may resemble those sweet sticky fruits found in the grocery store, they are actually a different species and not usually cultivated for commercial harvest. Rather, when found in the wild the Senegal date provides an all important source of natural sugar for foragers and animals alike. In addition to having edible date like fruits, the palm's heart is also edible and may be cooked and eaten like a vegetable.
Nutritional Value
The Senegal date is an important source of dietary fiber.
Applications
Since Senegal dates have firmer and less sugary flesh than cultivated dates, it is imperative that they are left to ripen on the tree until fully mature. They are softest and sweetest when fully ripe and can then be used similarly to a dry date variety, such as the Deglet Noor, but still benefit from a little added moisture. A good way to make use of Senegal dates is to transform them into a paste. Remove the pits and soak the date meat in water, adding sweetener such as agave syrup or honey if desired. Puree the date and water mixture until smooth. The versatile date paste may be used to compliment sweet or savory dishes and may be kept refrigerated for up to two weeks.
Ethnic/Cultural Info
Not just the fruit, but the entire Senegal date palm is a versatile and important tree for native peoples. The bark provides fiber for making mats, ropes, baskets, string, and roofing material. The leaves produce a brown colored dye and the sap of the tree can be brewed for a palm wine.
Geography/History
The Senegal date is native to tropical Africa, specifically the western coastal nation of the same name. It also grows on the Arabian Peninsula, Madagascar, and the Comoro Islands and has been naturalized in Florida, Puerto Rico, Bermuda, and Leeward Islands. It is cold hardy down to 25 degrees Fahrenheit but prefers bright sunny locations with well drained soil. The Senegal date palm is drought tolerant and a good choice for decorative landscaping in the American Southwest.
Podcasts