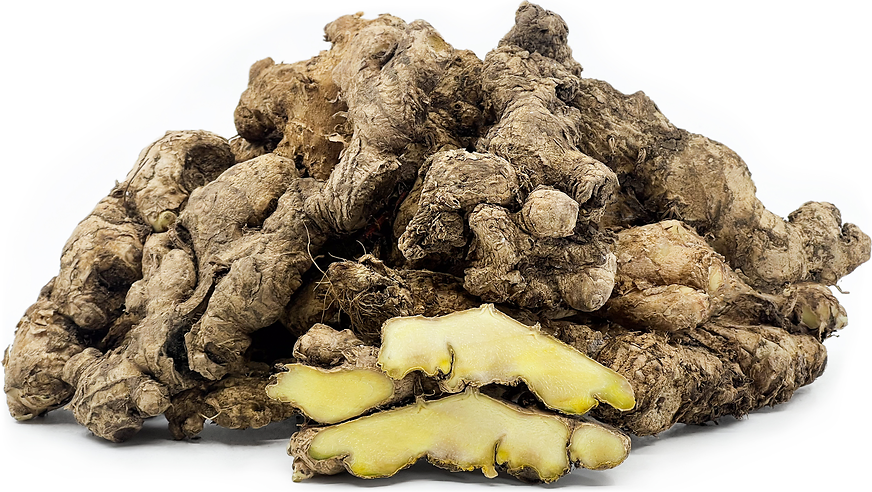 Bitter Ginger
Inventory, lb : 0
Description/Taste

Bitter ginger plants are comprised of long, thin, and leafy, upright stalks that produce 10 to 12 oval to oblong leaves ranging from 15 to 20 centimeters in length. In the summer, the plants develop cone-like inflorescences that taper slightly at the top, covered in overlapping scales, also known as bracts, averaging 3 to 10 centimeters in length. The scaly, waxy, and smooth inflorescences are green when young, transitioning into a bright red hue over time. The inflorescences also produce a few small yellow-white flowers and a slimy, viscous, and slippery liquid when mature. This liquid has a pleasant and refreshing ginger-like smell. Underneath the leafy plant, Bitter ginger develops long and skinny rhizomes approximately 2 to 3 centimeters in diameter with a knobby, variable appearance. The rhizome's skin is tan to brown, sometimes showcasing red undertones, depending on soil and growing conditions, and has a rough, textured, and firm feel. The golden yellow flesh is dense, fibrous, and moist, bearing a chewy, crisp consistency. Bitter ginger releases a faintly zesty and slightly medicinal aroma and has an earthy, peppery, and bitter taste.


Seasons/Availability

Bitter ginger is available year-round.


Current Facts

Bitter ginger, botanically classified as Zingiber zerumbet, is an Asian ginger variety belonging to the Zingiberaceae family. The rhizomes grow from perennial, leafy plants that reach up to 1.2 meters in height and are an ancient variety that has been used in natural medicines for thousands of years. Bitter ginger is valued in Southeast Asia for its underground rhizome. The rhizome's juice, essential oils, and flesh are incorporated into a wide array of medicinal and culinary applications. The tropical plant has also been naturalized worldwide, foraged for its colorful inflorescences, rhizomes, and leaves. Bitter ginger is known by several names, including Lempoyang in Malaysia and Indonesia, Pinecone ginger, Shampoo ginger, Hong Qiu Jiang in China, Awapuhi in Hawaii, and Wild ginger. The rhizomes are not commercially cultivated and are gathered from wild plants or found in home gardens. The fast-growing plants are also established as an ornamental in garden landscapes. Bitter ginger plants flower in the summer, and the inflorescences are harvested for decorative floral arrangements, while the rhizomes are collected throughout the year.


Nutritional Value

Bitter ginger is a source of fiber to stimulate the digestive tract, potassium to balance fluid levels within the body, and vitamin C to strengthen the immune system while reducing inflammation. The rhizomes also contain magnesium to regulate optimal nerve functioning, calcium to build strong bones and teeth, and antioxidants to protect the cells against external environmental damage. In natural medicines, Bitter ginger is customarily incorporated into tonics and tea as a remedy for colds, fevers, fatigue, and stomach aches. The rhizomes are also boiled with other herbs and infused into bathwater to refresh the body, mixed with noni fruit juice, and used as a painkiller for teeth and sore throats, or given to children to help increase appetite.


Applications

Bitter ginger has an earthy, bitter taste well suited for use as flavoring in savory dishes. The rhizomes should be used sparingly and added according to individual preference, as the bitter flavor can become unpalatable if used in excessive amounts. Young Bitter ginger will have a milder flavor, while mature rhizomes will express a more pungent taste. Bitter ginger can be peeled, grated, and incorporated as a spice similar to common ginger in curries, soups, rice dishes, and sauces. The grated rhizomes can also be stirred into dips and chile pastes, a dish known as Lempoyang sambal in Southeast Asia. The paste is comprised of tamarind, anchovies, ginger, turmeric, Bitter ginger, and sometimes chile peppers, ground into a semi-smooth consistency using a stone mortar. This paste is traditionally mixed into rice. Beyond the rhizomes, young Bitter ginger flower buds can be boiled and eaten as a vegetable. Bitter ginger leaves are also used to wrap meats and fish in cooking. The leaves keep the fish and meat from drying out and add a subtle ginger-like flavoring. Whole, unpeeled Bitter ginger will keep for a couple of weeks when stored in a sealed container in the refrigerator's crisper drawer. The ginger can also be dried, ground into a powder, and stored for extended use. When made into a powder, Bitter ginger can be sprinkled into medicinal drinks or stirred into culinary preparations as a spice.


Ethnic/Cultural Info

Bitter ginger is known as Awapuhi or Awapuhi Kuawihi in Hawaiian and is valued among the Polynesians as a multiuse plant. Awapuhi was one of the canoe plants carried to new settlements in the Pacific Ocean, including Hawaii, sometime between 1400 BCE to 12 CE. Awapuhi thrived in the island's warm, humid climate and fertile soil. Over time, Awapuhi became associated with the Hawaiian deity Kane, one of the four main gods in Hawaiian culture, and the plant became an earthly symbol for the deity. In addition to the plant's spiritual symbolism, Awapuhi is most popularly used as a shampoo, earning it the nickname Shampoo ginger. The colorful inflorescences that form between the leaves of the plant produce a slippery, thick, and vitamin-filled liquid known as mucilage. This viscous liquid is massaged into the hair and can be left in as a conditioner or washed out like a shampoo. The mucilage has a pleasant, gingery scent and helps to reduce dandruff, get rid of lice, add shine, and soften the hair.


Geography/History

Bitter ginger is native to tropical Asia and Australasia regions and has been growing wild since ancient times. The plant thrives in moist, fertile spots and is often found growing alongside water-filled areas, including riverbanks, streams, mangroves, and lakes, roadsides, forests, and damp hillsides with humus-rich soils. In the early ages, Bitter ginger was spread throughout communities as a medicinal plant, and the Polynesians carried the plant in their canoes as they ventured out onto the Pacific Ocean. Bitter ginger was planted in Hawaii with Polynesian settlements and was also transported with other migrating peoples over time, eventually introducing the plant into tropical regions worldwide. Today Bitter ginger is not commercially produced, but it is a favored houseplant in tropical landscapes and container growing. Local retailers throughout Southeast Asia cultivate the plant on a small scale to sell the rhizomes for medicinal and culinary purposes, but most of Bitter ginger's use stems from home garden production. Bitter ginger is found throughout Southeast Asia, including Sri Lanka, India, Myanmar, Laos, Vietnam, Thailand, Cambodia, Malaysia, and Indonesia, in southern islands of China, Taiwan, Australia, Oceania, Hawaii, Southern Florida, and Central America. The rhizomes featured in the photograph above were sourced from a local vendor at Geylang Serai Market and Food Center in Singapore. They were imported from Malaysia.