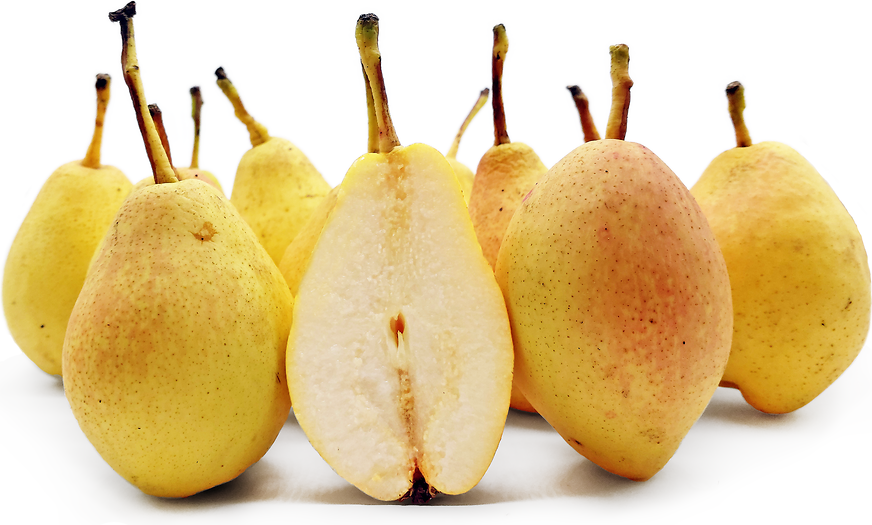 Dilafruz Pears
Inventory, lb : 0
Description/Taste

Dilafruz pears are a small to medium varietal that has a distinct, elongated shape with a pyriform to oval, tapered appearance. The pear's skin is semi-thin, smooth, and delicate, easily bruised or damaged, and the fruits are capped with a long, fibrous brown stem. The skin also has a golden yellow base hue, spotted with tiny brown dots and a faint red blush on the side of the fruit most exposed to the sun. Underneath the surface, the ivory to cream-colored flesh is grainy, aqueous, soft, and tender, encasing a slender central core. Dilafruz pears release a light honeyed fragrance when ripe, should feel heavy for their size, and will have a slight give to the flesh when gently squeezed. The pears are high in sugar and low in acidity, creating a sweet, floral, fruity, and subtly bitter flavor.


Seasons/Availability

Dilafruz pears are available in the summer through late fall.


Current Facts

Dilafruz pears, botanically a part of the Pyrus genus, are a rare variety belonging to the Rosaceae family. The pears are native to Tajikistan and are believed to be descendants of the wild Tajik pear. Dilafruz roughly translates to mean "heart-rejoicing" from Tajik and is grown through select farmers for the fruit's unusual appearance and sweet, juicy nature. In the modern-day, Dilafruz pears are cultivated as a specialty, seasonal variety typically consumed fresh to savor the fruit's texture, flavor, and aroma. Dilafruz pears are not commercially produced on a large scale and are primarily found in local markets in Central Asia.


Nutritional Value

Dilafruz pears are a source of fiber to stimulate and cleanse the digestive tract, copper to develop connective tissues, and vitamin C to strengthen the immune system while reducing inflammation. The pears also provide folate to produce red blood cells, vitamin K to assist in faster wound healing, potassium to balance fluid levels, and contain lower amounts of B vitamins, phosphorus, magnesium, zinc, and calcium.


Applications

Dilafruz pears have a sweet flavoring well suited for fresh and cooked preparations. The seasonal fruits are primarily consumed fresh, out of hand, and are enjoyed as a rare treat. Dilafruz pears can also be halved and displayed on appetizer platters with dried fruits, nuts, and cheese, or they can be tossed into salads, sliced as a fresh topping over breakfast dishes, or served as an accompaniment to desserts. In addition to fresh dishes, Dilafruz pears can be simmered into compotes, jellies, or jams, or they can be cooked into syrups for a sweet floral taste. The pears can also be baked into cakes, bread, tarts, and other desserts, poached in wine or sugar and prepared as a sweet counterbalance to savory roasted meats, or blended into sorbet. In Tajikistan, Dilafruz pears are used as a variation of cholob or dugob, a beverage made from sour yogurt, salt, and water. Traditionally, cholob is mixed to form a foam and is served fresh as a morning drink. In the summer and fall, when fresh fruits are in season, items such as pears and apples are combined with mint into the drink. Cholob is considered Tajikistan's national drink, and households have a specialized container to make their cholob. Dilafruz pears pair well with other fruits such as strawberries, oranges, melon, citrus, mint, and meats, including beef, mutton, or poultry. Whole, unwashed Dilafruz pears can be ripened for a few days at room temperature, and once ripe, they can be stored in the refrigerator for a couple of weeks.


Ethnic/Cultural Info

Dilafruz pears are grown in Istravshan, an ancient city that connects the two largest cities in northern Tajikistan. Istravshan dates to around 500 BCE and is situated along the Silk Road, once attracting travelers, merchants, and caravans. For centuries, Istravshan has been the subject of a Tajik legend surrounding the healing properties of the fruits grown in the region. Legend has it that a powerful Iranian shah had a daughter named Ravshan, who suddenly fell ill and was not responding to treatments. One day a visiting sage saw the girl and told the shah to take her to Istravshan in Tajikistan, as Istravshan was rumored for its healing waters and produce. The shah brought Ravshan to Istravshan, and the city's magical nature healed his daughter. The shah was in awe of the healing properties of the city and had his daughter stay in the city even after she was recovered to protect her health. Despite this story being considered a legend, scientists have discovered that the spring water in the city is one of the cleanest in Asia. The region is also fertile, allowing farmers to grow many different varieties of figs, pears, apricots, grapes, and apples. Dilafruz is known as one of the rarest pears of the region and is valued for its tender, juicy nature.


Geography/History

Dilafruz pears are believed by experts to be native to Tajikistan and have been growing wild for centuries. Much of the history of the variety is unknown, but it is thought that the pears may be descendants of a cross between the Tajik pear, a wild variety of Pyrus tadshikistanica, and another unknown pear. Throughout Tajikistan, Dilafruz pears have been discovered growing in select villages and on farmland. The variety is recognized by the Foundation for Industrial Horticulture as a distinct pear and is a rare, endemic fruit. Pears are one of the most cultivated crops in Central Asia. Several wild species are still growing in the modern-day, but these species are currently threatened due to deforestation, unsustainable harvesting, and urbanization. Dilafruz pears, along with other local pears, are slowly being preserved by farmers who value the biodiversity of available varieties in Central Asia. The pears are grown in Shokhon, Kalai Khodji, and Surkh villages in northern Tajikistan and are cultivated using traditional techniques where farmers dig out full trees in the forest and plant those trees on their land using the wild trees for better grafting. Dilafruz pears are also grown in the Garm region, Sugd Province, and Rasht Valley. When in season, Dilafruz pears are found on a limited basis in local markets of Tajikistan and Uzbekistan. The Dilafruz pears featured in the photograph above were sourced from the Siyob Open Air Market, the largest bazaar in Samarkand, Southeastern Uzbekistan.