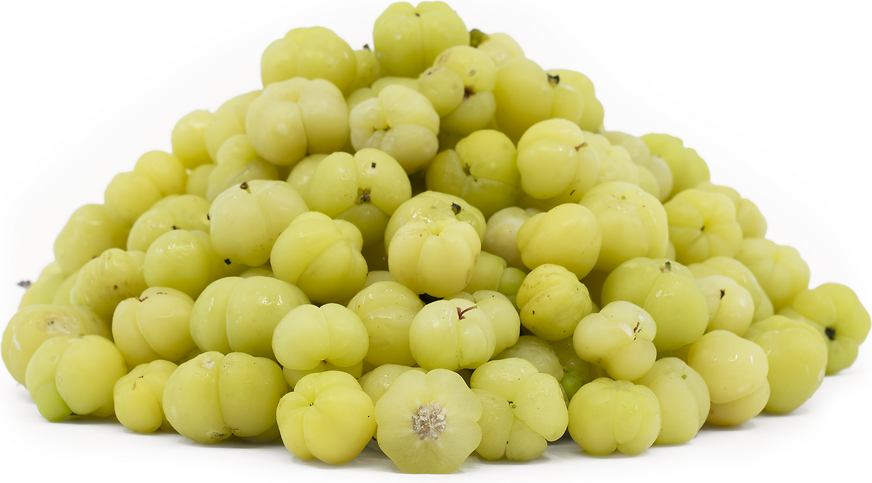 Star Gooseberries
Inventory, lb : 0
Description/Taste

Star gooseberries are small in size, averaging 1 to 3 centimeters in diameter, and have an oblate to globose shape with 6 to 8 shallow, curved ribs. The top of the fruits is slightly sunken around the stem, and the skin is thin, ripening from pale green to white, yellow-white to golden yellow. The skin is also taut, smooth, matte to semi-glossy, and waxy. Underneath the surface, the pale-yellow flesh is aqueous, firm, crisp, and somewhat translucent with a crunchy, succulent consistency. The flesh also encases an inedible light brown stone tightly adhered in the center. Within the stone, there are 4 to 6 tiny seeds. Star gooseberries are collected when they drop from the trees and should feel plump, heavy, and firm for their size. The fruits contain high acidity, creating a sour, tart, astringent, and subtly sweet taste.


Seasons/Availability

Star gooseberries are available year-round in tropical climates. Each region worldwide will have varying peak harvests, but most occur between November and January.


Current Facts

Star gooseberries, botanically classified as Phyllanthus acidus, are a tropical species belonging to the Phyllanthaceae family. The ribbed fruits grow in dense clusters on branches of deciduous trees reaching 6 to 10 meters in height and ripen periodically throughout the year, maturing in 90 to 100 days. Star gooseberries earned their celestial moniker from the fruit's ribbed nature, giving them a star-like appearance. The fruits are also known by many names worldwide, notably Otaheite gooseberry, Tahitian gooseberry, Star currant, Starry currant, Starry gooseberry, Malay gooseberry, West India gooseberry, Sour gooseberry, Sri Lankan gooseberry, and other regional names. It is important to note that despite their gooseberry name, Star gooseberries are not related to European gooseberries, classified as Ribes uva-crispa. Star gooseberries are also not commercially cultivated on a broad scale, but the species is grown worldwide in home gardens and natural landscapes and sold in select fresh markets. The fruits are foraged for medicinal and culinary preparations and are favored for their tart, sour, and zingy flavor.


Nutritional Value

Star gooseberries are a source of calcium to build strong bones and teeth, phosphorus to produce genetic material, including DNA and RNA, and other nutrients such as iron, antioxidants, and riboflavin. The fruits also provide vitamin C to strengthen the immune system, boost collagen production, and reduce inflammation. In natural medicines throughout Asia, Star gooseberries are made into syrup and used to relieve sore throats and coughs and calm the stomach. The fruits also cleanse the digestive tract, purify the blood, and boost immunity.


Applications

Star gooseberries have a sour, tart, and subtly sweet taste suited for fresh and cooked preparations. The fruits can be eaten raw and are commonly sprinkled with salt or sugar to create a more palatable flavor. The stone in the center of the flesh should be discarded and not consumed, and in South America, the flesh is sprinkled with salt and eaten as a snack. Star gooseberries are also dipped in ground chili powder in Mexico or sliced and covered in sugar. The sugar-coated fruits are left in this mixture for several days, extracting a liquid used for syrups and sauces. In addition to fresh preparations, Star gooseberries can be cooked and develop a red hue when heated. The fruits are often simmered in sugar to create jams, jellies, and preserves or cooked into relish and chutney. They can also be candied as a sweet treat or pickled for extended use and consumed as a tangy condiment. In India, Star gooseberries can be used as a substitute for tamarind in curries, grated and mixed with coconut and carrot in a dish known as nellikkai saadham, or cooked with green chiles, ginger, and curd and served with rice dishes. In the Philippines and Thailand, Star gooseberries are pressed into juices to make refreshing drinks or fermented into wine-like beverages. Beyond the fruits, the young leaves of the tree are used in salads, noodle dishes, and appetizers throughout India, Vietnam, and Thailand. Star gooseberries pair well with fruits such as coconuts, kiwis, citrus, and kumquats, spices including turmeric, garam masala, and cardamom, and aromatics such as onions, garlic, and ginger. Whole, unwashed Star gooseberries should be immediately consumed for the best quality and flavor. The fruits will keep for a few weeks when stored in a sealed container in the refrigerator. Star gooseberries can also be frozen or dried for extended use.


Ethnic/Cultural Info

Star gooseberries, known as Ma Yom in Thai, are considered sacred among the Lanna people in Northern Thailand. Legend has it that the wood and branches from the Star gooseberry tree were used to forge the weapon of Phaya Yama, the Thai god of death and ruler of the underworld. Phaya Yama is viewed as the bringer of karma when a soul meets death and defeats demons using his wooden staff. Among the Lanna people, sprinkling liquids using leafy branches of Star gooseberry trees is said to repel demons and ghosts in houses as it embraces the power of Phaya Yama. Making amulets from the roots and dipping them in sandalwood oil is also thought to bring mercy upon the household. Star gooseberries are commonly planted in northern or eastern locations in Thai home gardens and are viewed as a lucky tree. Star gooseberry trees are rumored to bring good fortune to families, and it is believed that the person who planted them will be respected by many in the community.


Geography/History

Star gooseberries are thought to be native to Madagascar as the species shows the greatest diversity on the island, but the exact origin of the species is ultimately unknown. There are other theories among scientists claiming the species is native to Southeast Asia or even Brazil, but there is much debate without resolution. From Madagascar, Star gooseberries were introduced to the Philippines in prehistoric times and were spread throughout Southeast Asia, islands in the Indian Ocean, and the South Pacific. The species was transported to the New World in the late 18th century and was planted in the Caribbean, the Bahamas, parts of southern Mexico, Central America, and South America. After their introduction, Star gooseberries quickly naturalized throughout the Americas. Today Star gooseberries grow in hot, humid lowlands in tropical and subtropical climates worldwide, especially in Southeast Asia, French Polynesia, and South America. The species also grows on a small scale in southern Florida and Hawaii in the United States. When the trees are fruiting, Star gooseberries are primarily harvested from wild trees, home gardens, or trees found in curated public garden landscapes and sold in fresh markets.