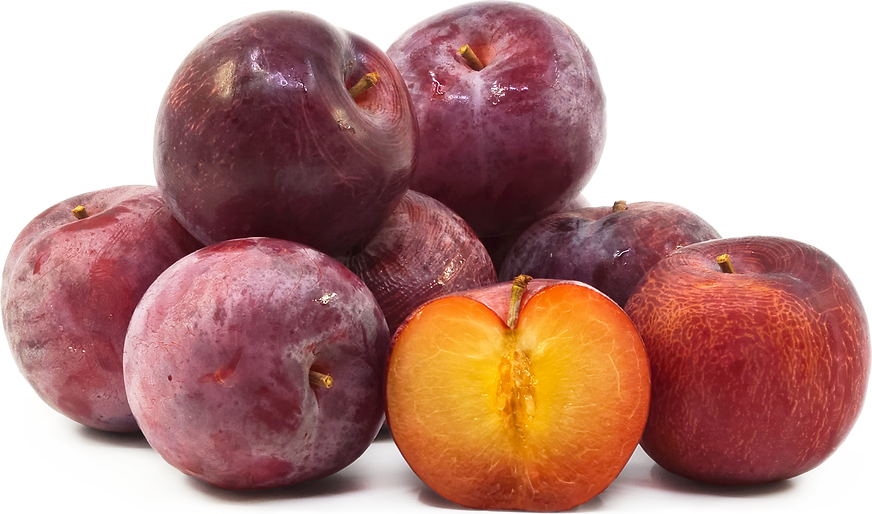 Kiyo Pack Plums
Inventory, lb : 0
Description/Taste

Kiyo plums are a medium to large varietal, averaging 6 to 8 centimeters in diameter, and are round to oval in shape. The plum's skin is semi-thin, taut, smooth, and matte, covered in a powdery blue-grey bloom. The skin also has a crimson to dark red base hue, covered in golden yellow-orange cracks and striations. Each plum has a unique set of striations, ranging from circular around the stem to irregular formations in the center of the fruit. Underneath the surface, the bright yellow flesh is flushed with red-orange undertones and has an aqueous, tender, succulent, and slightly fibrous nature. A light brown stone is also embedded in the center of the flesh, connecting to the brown stem. Ripe Kiyo plums should feel heavy for their size and will have a slight give to the surface when pressed. The plums are known for containing a high sugar content with moderate acidity, developing a very sweet flavor with a lingering, sugary aftertaste. The plum's skin also has tangy, sometimes sour nuances, creating a sweet-tart taste when consumed in conjunction with the flesh.


Seasons/Availability

Kiyo plums are available in the summer.


Current Facts

Kiyo plums, botanically classified as Prunus salicina, are a Japanese variety belonging to the Rosaceae family. The plum cultivar was developed in the late 20th century and was selected as a commercial variety for its sweet, juicy nature. Kiyo plums are nicknamed the "King of Plums," as they are one of the heaviest varieties of plums, containing dense flesh and juice, and are sold as a specialty variety in markets throughout Asia. Kiyo plums are mainly a fresh-eating variety, savored for their high sugar content and mild, sweet flavor. They are also valued for their unique golden striations on the plum's surface, a visual feature enjoyed when the fruits are consumed raw. Despite their popularity, Kiyo plums are challenging to cultivate due to their low volume of fruit produced each season. This lack of available fruits has made the variety an exclusive and somewhat rare cultivar in commercial markets.


Nutritional Value

Kiyo plums are a source of vitamin C to strengthen the immune system, potassium to balance fluid levels in the body, calcium to build bones and teeth, fiber to regulate the digestive tract, and antioxidants to protect the body against external environmental aggressors. The plums also provide vitamin E to reduce inflammation, vitamin K to assist in faster wound healing, vitamin A to maintain healthy organ functioning, and contain lower amounts of copper, iron, manganese, phosphorus, and magnesium.


Applications

Kiyo plums have a generally sweet flavor suited for fresh and cooked preparations. It is important to note that the variety's skin is notoriously tangy, leading some consumers to peel the skin and solely eat the flesh for a sweeter flavor. Kiyo plums are typically consumed fresh, out of hand, but they are also peeled, sliced, and mixed into parfaits or granola, displayed on charcuterie boards, sliced and tossed into salads, or combined into fruit medleys. The plums can also be blended into smoothies, juices, and cocktails, or frozen, blended, and mixed with other fruits to make specialty popsicles. In addition to fresh preparations, Kiyo plums can be simmered into jams, jellies, and preserves or baked into crisps, cobbler, tarts, cakes, muffins, and pies. The plums can also be cooked into dipping sauces, halved and grilled as a savory-sweet dessert, or made into fruit leather. Kiyo plums pair well with spices such as cinnamon, nutmeg, and ginger, sesame, fruits including nectarines, raspberries, cherries, apricots, and citrus, vanilla, and nuts such as almonds, hazelnuts, and walnuts. Whole, unwashed Kiyo plums should be stored at room temperature until ripe. Once ready to eat, the fruits should be immediately consumed or kept in a sealed container in the refrigerator's crisper drawer.


Ethnic/Cultural Info

The Yamanashi Prefecture is the top plum-producing region in Japan. The land-locked prefecture has been growing fruit for over 1,300 years and has extreme temperature fluctuations, creating an environment to produce flavorful, sweet fruits. Within the prefecture, the Minami Alps is a city known for plum cultivation, and Kiyo plums are one of the region's signature varieties. Kiyo plums are famous for their dense nature and were named the "world's heaviest plum," according to the Guinness Book of World Records, on August 14th, 2021. The plum averaged 8.9 centimeters in diameter and weighed 354.37 grams, grown by Yoshiyuki Tomiyama in Niigata, Japan.


Geography/History

Kiyo plums were developed in the late 20th century in the Yamanashi Prefecture, Japan. The exact parentage is unknown, but the variety was said to have been created by Mr. Takao Takaishi through a cross of Sun plums and an unknown plum variety, thought to be maybe a Komatsu plum. Kiyo plums were registered as a variety in Japan in 1996 and became popular in commercial markets for their sweet flavor. Today Kiyo plums are grown in the Yamanashi Prefecture and are offered as a specialty variety domestically in Japan and exported to neighboring countries in Asia. The Kiyo plums featured in the photograph above were sourced from the Meidi-Ya supermarket in the One World Center in Singapore. The plums were air-flown from Japan.