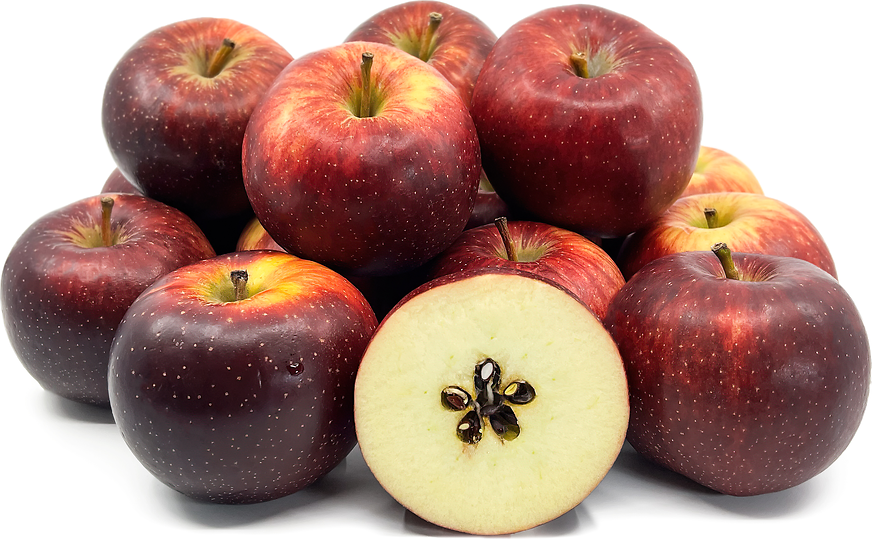 Soluna™ Apples
Inventory, lb : 0
Description/Taste

Soluna™ apples are a medium to large varietal, averaging 7 to 8.5 centimeters in diameter, and have a conical, round, to oblate shape. The apples are somewhat squat in appearance, weighing 180 to 245 grams, and are topped with a long and slender, light brown stem connecting into a shallow and wide cavity. The cavity occasionally features green-brown russeting, and the shoulders are lightly ribbed. The skin is smooth, matte, taut, and slightly waxy with a yellow base hue, covered in a dark red, crimson, burgundy, to dark purple blush and striping. The yellow coloring is mainly seen around the stem cavity, and the skin also features prominent lenticels and a faint bloom. Underneath the surface, the white to ivory flesh is fine-grained, firm, dense, and aqueous, with a crisp and crunchy consistency. A fibrous core is also found in the center of the flesh, containing tiny, obovate, black-brown seeds. Soluna™ apples emit a subtly fruity, refreshing, and earthy aroma when ripe. The apples have balanced sugar and acidity, creating a mild, sweet, and slightly tangy flavor with vinous and spice-filled undertones.


Seasons/Availability

Soluna™ apples are harvested in the fall and winter.


Current Facts

Soluna™ apples, botanically classified as Malus domestica, are an Australian variety belonging to the Rosaceae family. The mid to late-season apples were developed in the late 20th century and were selected as a commercial cultivar for their pigmented coloring, balanced flavor, and crunchy flesh. Soluna™ apples grow on trees reaching 3 meters in height, and the fruits undergo strict evaluations after harvest to ensure a level of quality is maintained to sell the variety as a premium apple. Any apples sold under the Soluna™ name must pass a color chart with a scale of burgundy shades, have a uniform nature, and exhibit extended storage capabilities. The variety is famous for its slow oxidation, staying white after slicing, allowing them to be used in many fresh preparations. In the modern day, Soluna™ apples have expanded outside Australia and are heavily marketed as a premium cultivar in international markets. The variety is a dual-purpose apple, promoted for sweet or savory, fresh, and cooked culinary dishes.


Nutritional Value

Soluna™ apples are a source of iron to develop the protein hemoglobin for oxygen transport through the bloodstream, vitamin E to reduce inflammation, and fiber to regulate the digestive tract. The variety also provides potassium to balance fluid levels within the body, calcium to protect bones and teeth, copper to build connective tissues, vitamin C to strengthen the immune system, vitamin A to maintain healthy organ functioning, and other nutrients, including vitamin K, magnesium, boron, and zinc. The variety's high flavonoid content contributes to the apple's ability to resist oxidation and browning once sliced.


Applications

Soluna™ apples have a sweet, tart, and tangy flavor suited for fresh and cooked preparations. The variety is often promoted to be eaten fresh, out of hand, and is a popular fruit for school lunches as the flesh resists browning. It is said that Soluna™ apples can stay white for up to 7 days after slicing. The apples can also be sliced and served on charcuterie plates, carved into decorative shapes as edible garnishes, chopped and tossed into salads, or shredded into slaws. Try mixing Soluna™ apples into fruit medleys, slicing and serving over toast, layering into sandwiches, or blending into smoothies, juices, and cocktails. In addition to serving raw, Soluna™ apples hold their shape well when cooked and are popularly baked into crisps, tarts, fritters, muffins, bread, and pies. The apples can also be poached as a sweet dessert, hollowed, stuffed, and baked, or cooked and served with roasted meats. Try slicing and cooking Soluna™ apples Hasselback style and serving them with toasted pine nuts and chorizo or mincing them into stuffing. Soluna™ apples pair well with Dijon mustard, miso, meats such as beef, pork, poultry, and turkey, spices such as cinnamon, cloves, ginger, and nutmeg, and herbs including mint, basil, parsley, and rosemary. Whole, unwashed Soluna™ apples will keep for several weeks when stored in the refrigerator's crisper drawer.


Ethnic/Cultural Info

In Australia, Soluna™ apples are sold under the name Bravo™ in commercial markets. When the variety was being developed in the late 20th century, it was labeled ANABP 01, an acronym for the Australian National Apple Breeding Program, but the name was later changed to Bravo™ to increase consumer appeal. Bravo™ was the primary retail name for several years after the apple's commercial release. With the increasing success of the cultivar in Australia, Bravo™ apples were repositioned to be sold internationally, but the Bravo™ name was not available for global trademarks. A new trademarked name was chosen for international markets, Soluna™, and the moniker was derived from a combination of the sun and moon. This celestial duo represents the contrasting dark coloring of the apple's skin with the bright white flesh, symbolic of the darkness of the moon with the light of the sun. The word Soluna™ was also tested among consumer panels, and it was found that the three-syllable structure of the name was easier to remember and pronounce in markets worldwide.


Geography/History

Soluna™ apples are native to Australia and were developed at the Stoneville Research Station in Western Australia as a part of the Australian National Apple Breeding Program, also known as ANABP. In 1992, renowned apple breeder John Cripps crossed Gala apples, the male parent, with Cripps Red apples, the female parent, utilizing traditional breeding techniques to produce new seedlings to create an apple with improved flavor, texture, and appearance. In 1993, the seedlings were planted at the Department of Agriculture and Food Western Australia's Horticultural Research Institute in Manjimup, and the seedlings were examined for several years in field trials. Eventually, in 1999, one seedling was selected for cultivation and was named ANABP 01. The seedling produced fruit beginning in 2008, and in 2014, ANABP 01 was distributed to select Australian orchards for commercial production. ANABP 01 apples were renamed Bravo™ apples in 2016 and were released to retail markets. Since their release, Bravo™ apples have been cultivated by over 90 growers in Australia, and production is expanding worldwide to Europe, the United States, Canada, Southern Africa, South America, Asia, and New Zealand. In 2022, Bravo™ apples were renamed Soluna™ apples as a name that could be protected and trademarked worldwide. Soluna™ apples are marketed by TopStar, an organization shared between TopFruit in South Africa and Star Fruits in France, and are grown by Fruit West, a cooperative of Western Australian growers. Soluna™ apples were officially launched internationally in 2022 at Asia Fruit Logistica in Bangkok. Today, the Western Australian Government owns the intellectual property rights of Soluna™ apples, and the variety is produced in Victoria, Western Australia, Queensland, South Australia, and New South Wales. The apples are sold domestically in Australia and are also exported to Singapore, Indonesia, Hong Kong, Dubai, Thailand, and Malaysia.