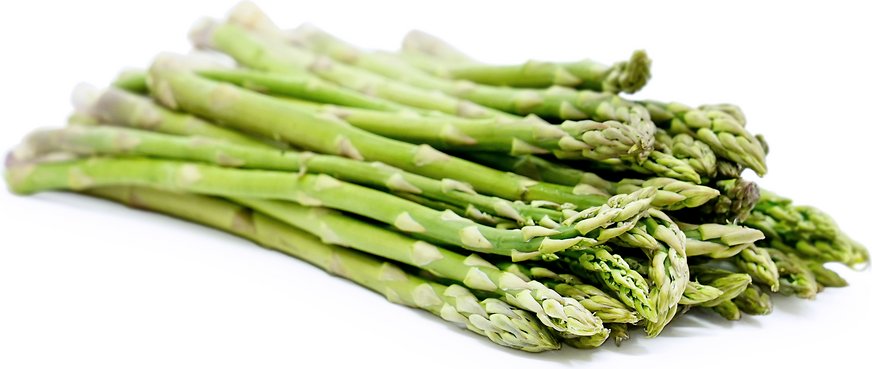 Green Asparagus
Inventory, 11 lbs : 56.82
This item was last sold on : 12/04/23
Description/Taste
Asparagus plants are comprised of underground rhizomes that produce upright stems that emerge from the soil and have a cylindrical, straight appearance, capped with a tapered tip. The young shoots or stems are known as spears, and the spears will vary in thickness and length, depending on cultivation methods. Standard Asparagus is specifically grown and marketed to reach up to 22 centimeters in length and 1 to 2 centimeters in diameter. The green spears have smooth, taut, and firm skin and are topped with pointed, tightly closed pale green heads. Underneath the surface, the flesh is dense, pale green, and crunchy with a slightly woody, fibrous consistency. Asparagus develops a tender, chewy texture when cooked and emit a mild, subtly sweet, bright, and grassy flavor with earthy, vegetal, and faintly bitter nuances.
Seasons/Availability
Asparagus is grown in both hemispheres, creating year-round availability. The spears have a peak season in the spring through summer.
Current Facts
Asparagus, botanically classified as Asparagus officinalis, is a perennial plant harvested for its edible young spears belonging to the Asparagaceae family. The name Asparagus is a general term used for three variations of the plant: green, white, and purple. Green Asparagus is considered the standard color of Asparagus, while white and purple are variations created through specific cultivation methods. Asparagus was once a springtime delicacy that has expanded to worldwide production to provide a steady supply of spears year-round. The young shoots are favored for their mild, grassy, and subtly sweet flavor and crunchy nature and are valued by chefs for their quick cooking times. Asparagus plants take approximately 3 to 4 years after sowing to grow edible shoots, but once they begin producing, the plants will annually develop shoots for years after. The plants are also known for their short season and must be harvested by hand, making them a labor-intensive crop, sometimes increasing their price in commercial markets, depending on the season.
Nutritional Value
Asparagus is a source of vitamin K to assist in faster wound healing, fiber to regulate the digestive tract, and vitamin C to strengthen the immune system while reducing inflammation. The spears also contain vitamin A to maintain healthy organ functioning, folate to develop red blood cells, glutathione, an antioxidant that plays an important role in nutrient metabolism, and contains other amounts of phosphorus, vitamin E, and potassium. In ancient Greece, Hippocrates used Asparagus medicinally as a diuretic, and the Greek physician used dried Asparagus spears in tea.
Applications
Asparagus has a mild, grassy flavor suited for fresh and cooked preparations. The spears need to be trimmed, discarding any fibrous ends, and they can be naturally snapped to remove the tough portions of the shoot. Asparagus can be finely shaved into salads, thinly sliced and mixed into grain bowls, or shredded into vegetable side dishes. While the spears can be used raw, they are most popularly cooked to develop a crisp, tender consistency. Asparagus can be steamed and coated in sauces and butter, boiled and served with fresh herbs, or grilled for a smokey flavor. The spears can also be stir-fried into rice and noodle dishes, blanched, chilled, and served in a vinaigrette, or baked into egg dishes, casseroles, souffle, and gratins. The spears can also be pickled for extended use. Asparagus pairs well with spring ingredients such as morel mushrooms, green garlic, wild ramps, fennel, leeks, young lettuces and citruses, meats including bacon, sausage, lamb, and prosciutto, and fresh herbs such as mint, parsley, dill, and lemon balm. Asparagus spears can be stored upright in a glass filled with a small amount of water and covered in plastic in the refrigerator. The spears can also be loosely wrapped and placed in the crisper drawer. Whatever storage method is chosen, it is recommended to consume the shoots within three days of purchase for the best quality and flavor. Asparagus can also be blanched and frozen for up to one year.
Ethnic/Cultural Info
Asparagus was a prized vegetable in the cuisine of ancient Rome. The shoots were extensively cultivated in large commercial beds, and the plants were grown throughout the Roman Empire as early as 200 BCE. The term Asparagus is derived from the Persian word "asaparag," meaning "shoot." Over time, the word "sperage" was used, and in the 16th century, the word "sparagus" was used in English-speaking countries, eventually transitioning into Asparagus. Legend has it Emperor Augustus favored Asparagus so much that he established a team of ships and runners to quickly transport the spears across the empire to keep them fresh. Asparagus was only consumed as a culinary ingredient in ancient Rome when it was in season. Outside of its season, the shoots were dried for extended use. Drying allowed the spears to be quickly cooked, creating the phrase "Quicker than you can cook Asparagus," coined by Emperor Augustus. Beyond cultural influences, Asparagus is found in a 4th century CE cookbook known as Apicius or De Re Coquinaraia. The shoots are featured in three recipes, including a puree, blanched and cooked as a vegetable, and served in a patina recipe, a souffle-style dish.
Geography/History
Asparagus is native to regions surrounding the Mediterranean Sea, including countries in southern Europe, northern Africa, and the Middle East, and can be traced back as early as 3000 BCE. Wild plants produced thin and slender shoots and were traditionally found in temperate climates along bodies of water, including lakes, riverbanks, and coastlines. Asparagus was cultivated in ancient Egypt and used in religious offerings and rituals. The shoots were also harvested from wild plants in ancient Greece and grown in gardens in ancient Rome. Over time, Asparagus was domesticated through selective breeding, creating thicker, fleshier shoots, and was eventually introduced into the rest of Europe. Asparagus was consumed in the French royal courts throughout the 16th century and became available to the public in the 18th century. Around the same time in the 17th century, the plant was introduced into New England by French and English colonists. By the mid-19th century, Asparagus had been planted in northern California. Asparagus escaped cultivation in the United States and was spread across the country, growing as a perennial in temperate regions along the East Coast, Midwest, and West Coast. Today Asparagus is commercially cultivated in China, Thailand, Germany, Peru, Mexico, and in California, Michigan, Washington, and New Jersey of the United States.
Featured Restaurants
Restaurants currently purchasing this product as an ingredient for their menu.
| | | |
| --- | --- | --- |
| Trattoria I Trulli | Encinitas CA | 760-277-9826 |
| Harmony Cuisine 2B1 | San Diego CA | 858-737-4777 |
| Lumi | San Diego CA | 619-955-5750 |
| PFC Fitness Camp | Carlsbad CA | 888-488-8936 |
| Surf Side Cuisine | San Diego CA | 619-507-0891 |
| Culinary Concepts | San Diego CA | 619-865-1918 |
| InterContinental Vistal Kitchen | San Diego CA | 619-501-9400 |
| Zel's Del Mar | Del Mar CA | 858-755-0076 |
| Costa Brava | San Diego CA | 858-273-1218 |
| Thai One On | Carlsbad CA | 760-500-8674 |
| Huntress (Banquet) | San Diego CA | 619-955-5750 |
| Sushi on a Roll | National City CA | 619-518-1468 |
| Urban Kitchen Catering | San Diego CA | 619-276-8803 |
| Blue Whale | La Jolla CA | 808-868-8639 |
| Isola La Jolla | La Jolla CA | 858-412-5566 |
| Flap Your Jacks | San Diego CA | 858-224-7442 |
| Southwestern Yacht Club | San Diego CA | 619-222-0438 |
| Heavy Hitter Gastroshack | San Diego CA | 619-865-1468 |
| Harney Sushi Oceanside | Oceanside CA | 760-967-1820 |
| Caffe Calabria Coffee Roasting Company | San Diego CA | 619-683-7787 |
the other 74...
Recipe Ideas
Recipes that include Green Asparagus. One

is easiest, three is harder.
the other 65...
| | | |
| --- | --- | --- |
| Kitchen Sanctuary | | Spring Vegetable Risotto with Creamy Pesto |
| Bravo for Paleo | | Pesto Chicken with Sun Dried Tomatoes |
| Just a Taste | | Baked Asparagus Fries with Roasted Garlic Aioli |
| Everyday Made Fresh | | Sheet Pan Sausage, Asparagus, and Sweet Potates |
| Bobbi's Kozy Kitchen | | Roasted Asparagus with Garlic and Parmesan |
| The Foodie Physician | | Shaved Asparagus Salad with Oranges, Almonds and Manchego |
| Little Broken | | Creamy Orzo with Grilled Vegetables |
| Connoisseurus Veg | | Vegna Cream Cheese & Veggie Sushi |
| Diethood...The Eating Effect | | Roasted Garlic & Asparagus Soup |
| Savory Simple | | Asparagus Soup with Creme Fraiche and Chive Blossoms |
| Just a Little Bit of Bacon | | Roasted Shrimp, Asparagus, And Potatoes |
| Healthy Seasonal Recipes | | Sesame Roasted Asparagus Salad |
| With Peanut Butter on Top | | Lemon Garlic Butter Shrimp with Asparagus |
| From A Chef's Kitchen | | Cream of Asparagus and Leek Soup with Curry |
| Good Dinner Mom | | Sprigs in a Blanket |
| Produce on Parade | | Spring Asparagus Buckwheat Salad |
| Seasoned to Taste | | Asparagus, Goat Cheese, and Lemon Pasta |
| Eat The Gains | | Asparagus Collard Wraps with Whipped Feta |
| Panini Happy | | Grilled Asparagus & Prosciutto Panini |
| Dolly and Oatmeal | | Balsamic Roasted Asparagus with Fried Capers and Seven Minute Eggs |
| Vegan Richa | | Lentil Veggie Asparagus Frittat |
| Rhubarbarians | | Chive Ricotta Toast with Asparagus and Radish |
| Onion Rings and Things | | Garlic Parmesan Roasted Asparagus |
| Dinner with Julie | | Asparagus, Tomato and Spinach Frittata |
| We are not Martha | | Asparagus, Orange, and Gorgonzola Salad |
| Becky's Best Bites | | Spring Risotto with Fresh Asparagus and Edamame |
| Cook Almost Anything | | White and Green Asparagus Tart |
| Hapa Nom Nom | | Spring Vegetable Wonton Soup |
| Just a Little Bit of Bacon | | French Country Salad With Asparagus And Roasted Beets |
| The Bojon Gourmet | | Asparagus, Leek and Green Garlic Soup |
| 101 Cookbooks | | Buttermilk Asparagus Salad |
| Stone Soup | | Asparagus Ribbons and Watercress Salad |
| Garlic & Zest | | Asparagus and Sun-Dried Tomato Frittata |
| Wife Mama Foodie | | Homemade Veggie Sushi |
| Pumpkin & Peanut Butter | | Balsamic Spring Vegetable Salad |
| Lisa's Kitchen | | White Bean Cream of Asparagus Soup |
| Running In A Skirt | | Rosemary Lemon Asparagus |
| The Perfect Pantry | | Roasted Asparagus Hummus |
| Radiate Food Vibes | | Quinoa Grain Salad with Fresh Dill & Goat Cheese |
| My Recipe Confessions | | Chicken Asparagus Pasta With Creamy Pesto Sauce |
| The Stay at Home Chef | | Perfect Roasted Asparagus |
| Vegan Heaven | | Asparagus Pasta Salad |
| Delish Knowledge | | Spring Vegetable Gnocchi |
| Dinner at the Zoo | | Lemon Asparagus Pasta |
| Rasa Malaysia | | Sambal Asparagus |
| Closet Cooking | | Lemon Asparagus and Basil Ricotta Stuffed Salmon |
| I Wash...You Dry | | Asparagus Pasta Salad |
| Cannelle et Vanille | | Baked Eggs with Potatoes and Asparagus |
| The Foodie Physician | | Mini Spring Vegetable Quiches |
| Life Made Simple | | Asparagus Bacon Potato Frittata |
| Ms. Adventures in Italy | | Spiny Lobster Tail and Asparagus Pasta |
| Fake Ginger | | Quinoa Salad with Asparagus, Feta, and Pine Nuts |
| The Foodie Physician | | Lemon Risotto with Spring Vegetables |
| Hapa Nom Nom | | Roasted Asparagus and Scallions with Perfectly Creamy Eggs |
| Sugar Apron | | Phyllo Wrapped Asparagus with Parmesan |
| Zen Belly Catering | | Asparagus Bisque with Cayenne and Lime |
| Andrea Meyers | | Roasted Asparagus with Orange Ginger Glaze |
| Primavera Kitchen | | Asparagus Sweet Potato Chicken Skillet |
| Feel Good Foodie | | Vegan Asparagus Soup |
| Radiate Food Vibes | | Roasted Asparagus & Hummus Gyros |
| Dessert Now, Dinner Later | | Wrapped Asparagus |
| Happy Healthy Mama | | Spring Vegetable Skillet with Soft Boiled Eggs |
| The Foodie Physician | | Green Spring Vegetable Soup |
| Onion Rings and Things | | Beer-Battered Asparagus |
| Onion Rings and Things | | Asparagus Mushroom Saute |
Podcast