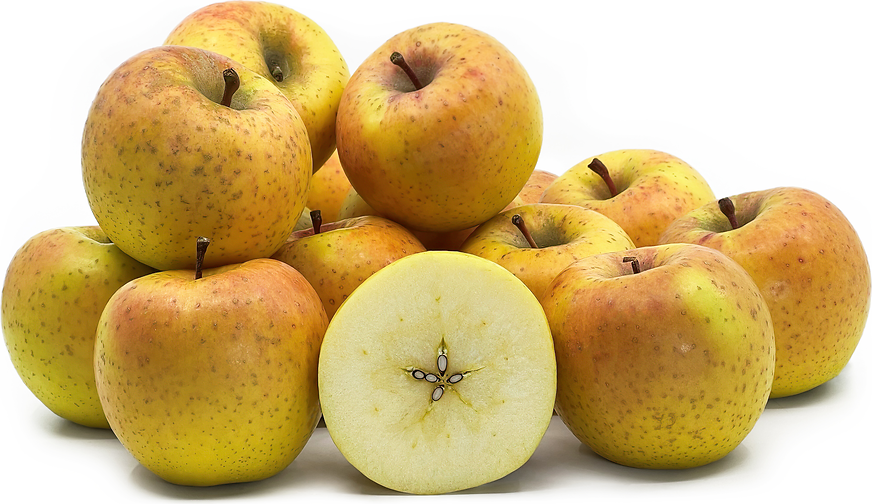 Hoshi No Kinka Apples
Inventory, lb : 0
Description/Taste

Hoshi No Kinka apples are a small to medium-sized varietal, averaging 250 to 300 grams in weight, and have a round to conical shape with flat shoulders, a broad, curved center, and a narrow, flat base. The apple occasionally features several points on the bottom of the fruit, and the stem is elongated, dark brown, woody, and fibrous, connected into a wide cavity. Hoshi No Kinka apples are known for their thin skin. The skin is almost unnoticeable during consumption, but this thin nature leads the surface of the fruits to be easily scratched, punctured, or damaged. The skin also ripens from green to golden yellow, sometimes blushed with red-orange hues and covered in prominent patches of grey-brown russet. The russet can be found in larger areas in the stem cavity or dotted across the surface, giving the skin a rough, textured feel combined with some wax. Underneath the surface, the yellow to ivory flesh is slightly coarse, aqueous, and firm with a crunchy, succulent consistency. The flesh also encases a small central core filled with tiny black-brown seeds. When sliced in half horizontally, the core will form a star shape in the flesh. Hoshi No Kinka apples have a high sugar content, ranging from 14 to 16.8 degrees Brix, combined with acidity, creating a balanced, refreshing, sweet, and tart taste.


Seasons/Availability

Hoshi No Kinka apples are available in the late fall through early winter and can be stored through the late spring in Japan. The variety has a peak season from December through March.


Current Facts

Hoshi No Kinka apples, botanically classified as Malus domestica, are a Japanese variety belonging to the Rosaceae family. The late-season apples were developed in the Aomori Prefecture in the late 20th century and are grown in limited quantities as a rare, premium cultivar. Hoshi No Kinka apples are favored for their thin, delicate flesh, sweet taste, and extended storage properties. The variety is also said to have the crispness of Fuji apples and the sweetness of Aori No. 3 apples, characteristics taken from their parent cultivars. Hoshi No Kinka apples are not commercially produced due to their easily damaged skin. Very few of the apples are considered high enough quality to be sold as a specialty variety, and the apples are only grown in one area of the Aomori Prefecture, further limiting quantities each year. Hoshi No Kinka apples are chosen as a specialty apple as consumers appreciate their thin skin, creating a pleasant, fresh-eating experience. The flavor also combines intense sweetness with balancing acidity, developing a refreshing, bright, and rich taste. In the modern day, Hoshi No Kinka apples are seasonal apples in Japan consumed as a fresh eating cultivar.


Nutritional Value

Hoshi No Kinka apples have not been studied for their nutritional properties. Like other Japanese apples, the variety may be a source of fiber to regulate the digestive tract, potassium to balance fluid levels within the body, calcium to protect bones and teeth, magnesium to control nerve functioning, and vitamin E to reduce inflammation. The apples also provide vitamin C to strengthen the immune system, copper to build connective tissues, vitamin A to maintain healthy organ functioning, iron to develop the protein hemoglobin for oxygen transport through the bloodstream, and other nutrients, including zinc, vitamin K, and boron.


Applications

Hoshi No Kinka apples have a sweet and tangy flavor suited for fresh and cooked preparations. The variety is popularly consumed out of hand for its thin skin. Japanese apple enthusiasts note that the skin is pleasant to consume and adds flavor to the overall eating experience. Hoshi No Kinka apples were bred to be eaten unpeeled, and their balanced nature provides acid and sugar for heightened flavor. In addition to eating as a stand-alone snack, Hoshi No Kinka apples can be utilized in any recipe calling for raw sweet apples. The variety can be chopped and served over oatmeal or porridge, layered into parfaits, topped over toast, pancakes, or waffles, or dipped into nut butter. The apples can also be tossed into salads, shredded into slaws, blended into smoothies or juices, or layered into sandwiches for added crunch. Typically, Hoshi No Kinka apples are served on appetizer platters and fruit plates to showcase their thin skin. While it is less common, the variety is sometimes used to cook sauces for roasted meats or simmered into jams, jellies, syrups, and compotes. Hoshi No Kinka apples pair well with cheeses such as goat, brie, blue, and parmesan, nuts including almonds, pistachios, peanuts, and walnuts, and fruits such as grapes, melon, strawberries, blueberries, and apricots. Whole, unwashed Hoshi No Kinka apples will keep for 6 to 8 months when stored in a cool, dry, and dark location, such as a cellar or refrigerator. It is recommended to wrap the apples in newspaper and store them in a plastic bag in the refrigerator's crisper drawer to prevent the fruits from losing moisture.


Ethnic/Cultural Info

Hoshi No Kinka is a brand name given by the Aomori Prefecture for the registered variety known as Aori 15 apples. The specialty cultivar was assigned this brand name as a marketing tool to increase consumer appeal. Hoshi translates to mean "star," while Kinka translates to "gold coin," creating "Star Gold Coin apples." Hoshi No Kinka apples are compared to a gold coin for the fruit's golden yellow skin coloring, and the base of the apples is often pointed, giving them a subtle, star-like appearance. Hoshi No Kinka apples are just one of many rare cultivars grown in the Aomori Prefecture. The prefecture produces more than half of Japan's annual harvest and is known for its temperature variation between day and night, contributing to their apple's sweeter and juicier nature. Apple growers within Aomori are said to have "joppari hearts," a term in Aomori dialect describing an individual with stubbornness and passion, two traits that are at the foundation of apple cultivation within the region.


Geography/History

Hoshi No Kinka apples are native to Japan and were developed at the Aomori Prefectural Apple Experimental Station, now known as the Prefectural Industrial Technology Center Apple Research Institute in the Aomori Prefecture. The variety was created from traditional breeding techniques in 1970 from a cross between Fuji apples and Aori No. 3 apples. For several years, the seedlings were extensively evaluated and tested, and a seedling was eventually selected approximately 34 years after breeding for its late-ripening nature, extended storage capabilities, and sweet taste. In 2001, the apple was submitted for registration under the name Aori No. 15, and registration was granted in 2004. The Aomori Prefecture also decided to brand the variety as Hoshi No Kinka apples in retail markets. Today, Hoshi No Kinka apples are a very rare variety, accounting for less than 0.1% of the apples grown in Japan. The variety is not commercially produced and is only grown in limited quantities as a premium cultivar. Hoshi No Kinka apples are primarily planted in the Ishikawa area of the Aomori Prefecture and are sold, when in season, in Aomori. Some Hoshi No Kinka apples are also sent to Tokyo as delicacies in select markets.