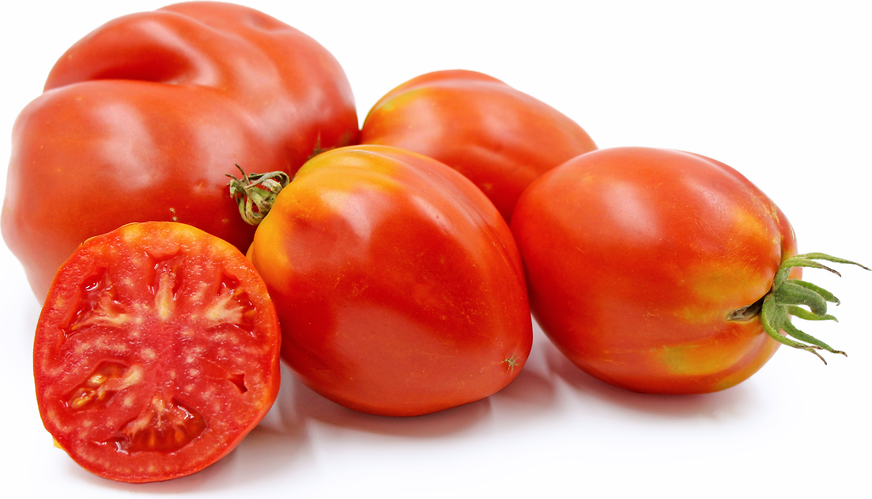 Nonna's Prize Heirloom Tomatoes
Inventory, lb : 0
Description/Taste
Nonna's Prize tomato is a created heirloom variety that has the unique ribbed texture, sloped shoulders, and teardrop shape of a traditional Italian heirloom, yet it is extremely high yielding and disease resistant like a hybrid. Nonna's Prize is also firmer than other heirloom varieties so it does not crack and scar, as most heirlooms are prone to do. The fruit is large, about four inches in diameter and up to one pound in weight, with orange-red skin and green shoulders, and its dense flesh has a delightful tangy flavor. The Nonna's Prize tomato plant is an indeterminate, or vining, variety with small, multi-lobed, serrated green leaves. The plant can grow up to eight feet tall, hence staking is often recommended.
Seasons/Availability
Nonna's Prize tomatoes are available in the summer months.
Current Facts
The tomato is botanically named Lycopersicon esculentum, although modern studies are encouraging a return to its original classification, Solanum lycopersicum. All heirloom tomato varieties are open-pollinated, meaning that saved seed will grow a plant exactly like the plant from which it originated, but not all open-pollinated varieties are heirlooms. There are four distinct types of heirlooms: commercial, family, created and mystery. Nonna's Prize is a created heirloom, a variety that was deliberately created by crossing either two known heirlooms or an heirloom and a hybrid. Note that if a created heirloom variety is parented by a hybrid then the initial hybrid seed must be grown out for several generations to de-hybridize it to an open-pollinated form. With continuous debate over the defining characteristics of an heirloom, there are people who maintain that if a variety is "created" by deliberate cross-pollination then it is not a true heirloom.
Nutritional Value
Tomatoes are most well known for their antioxidant-rich content, particularly lycopene, which may help protect cells from damage and play a role in preventing cancer. Lycopene is a naturally occurring chemical that gives fruits and vegetables their red coloring. Tomatoes are also a great source of fiber, carbohydrate, potassium and iron, and they contain decent amounts of vitamins A and C. The nutritional value of tomatoes makes them good for eye and heart health, and are thought to aid in preventing night blindness, liver disorders, indigestion, intestinal disorders, diabetes, and more.
Applications
Nonna's Prize tomatoes' meaty texture and tangy flavor make them perfect for eating raw or using in sauces, while also great for slicing or canning. Try roasting these tomatoes stuffed with cheese and herbs like basil, thyme or oregano, or grilling slices to add to salads or burgers. Nonna's Prize tomatoes pair wonderfully with balsamic vinegar, capers, olive oil, garlic, and fresh mozzarella cheese. Like all tomato varieties, store Nonna's Prize tomatoes at room temperature until they are ripe. Refrigeration can then be used to prevent further ripening and slow the process of decay.
Ethnic/Cultural Info
With advances in the highway and railroad systems in the United States shortly after WWII came the ability to ship produce great distances. However, the tasty tomatoes of the time were very delicate and did not stand up to shipping, hence hybridization programs were created to breed a tomato of uniform appearance with thicker skin to withstand distribution. Hybridization goals included appearance, disease resistance, adaptability to mechanical harvesting and multiple growing zones, and optimum handling characteristics, while flavor was nearly irrelevant. Consumers eventually began to complain that market tomatoes had lost their taste and tenderness, and interest arose in recovering old varieties, with their delectable tomato flavor and quirky variations in size, shape and color. With this interest came the popularity of seed saving organizations, and soon seed companies began growing "heirloom" seeds for specialty catalogues, leading to new cultivars like Nonna's Prize, which is considered an American hybrid heirloom. Today the selection of heirloom seeds available in the United States continues to expand as new immigrants bring along their favorite seeds from all over the world.
Geography/History
Nonna's Prize is thought to have been hybridized by Gurney's Seed and Nursery Company and has reportedly grown well in USDA hardiness zones three through nine. Tomatoes need warm weather to grow well and they cannot stand any frost, so it is important that they be planted outdoors only after the final frost has come and gone.
Recipe Ideas
Recipes that include Nonna's Prize Heirloom Tomatoes. One

is easiest, three is harder.
Podcast