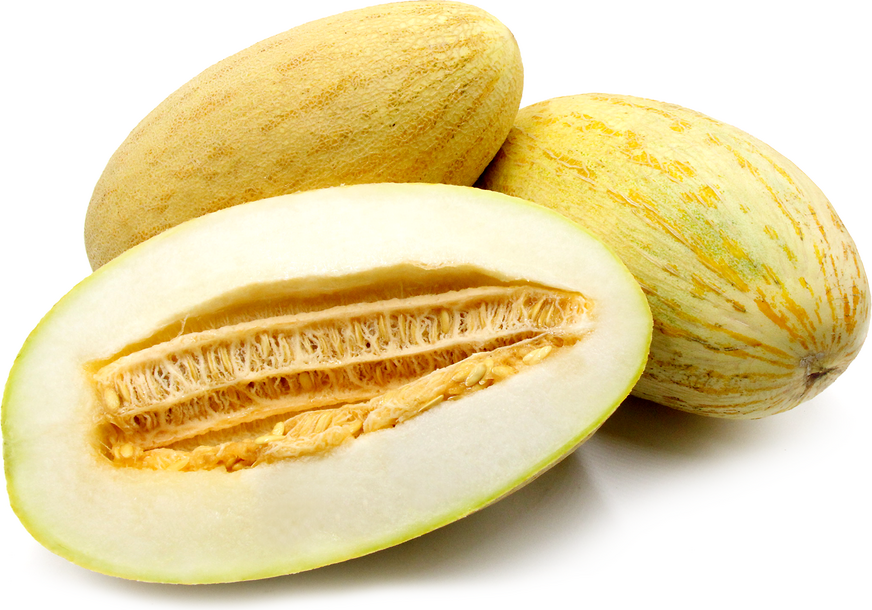 Mirza Melon
Inventory, lb : 0
Description/Taste

Mirza melons are a large varietal, averaging 30 to 60 centimeters in length and up to 11 kilograms in weight, and have an elongated, oval appearance with tapered, curved ends. The melon's surface is hard, dense, and firm, either being found smooth or covered in a light, textured netting. The rind also showcases a bright yellow hue with light beige to orange horizontal streaking and striping. Underneath the surface, the ivory to pale orange flesh is thick, aqueous, tender, and soft with a succulent consistency. There is also an elongated, oval seed cavity filled with cream-colored seeds encased in a gelatinous coating, suspended in stringy orange fibers. Mirza melons have a floral aroma when ripe with subtle notes of spice and honey. The flesh has a high sugar content, creating an intensely sweet flavor with refreshing, complex nuances of musk and flowers.


Seasons/Availability

Mirza melons are available in the summer.


Current Facts

Mirza melons, botanically classified as Cucumis melo, are a rare, ancient variety belonging to the Cucurbitaceae family. The large, elongated melons are native to Central Asia, specifically Uzbekistan, and are a seasonal summertime delicacy favored for their sweet and tender flesh. The name Mirza roughly translates to mean "prince" or "high nobleman" and is derived from words with roots in both Russian and Farsi. Melon season is a highly anticipated event in Uzbekistan, and during the season, growers sleep beside their fields and roadside stands to protect their precious melons. Over 160 melons are cultivated throughout Uzbekistan, and Mirza melons are a traditional type consumed fresh and dried. Outside of Central Asia, Mirza melons are very rare. A few growers in the Central Valley of California are cultivating the variety, but the heirloom melon's challenging requirements and disease susceptibility make it difficult to grow.


Nutritional Value

Mirza melons have not been studied for their nutritional properties. Like other melon varieties, the melons are a source of vitamin C to strengthen the immune system, vitamin A to maintain healthy organ functioning, and potassium to balance fluid levels within the body. The melons also provide some iron to develop the protein hemoglobin to transport oxygen through the bloodstream, copper to produce red blood cells, and other nutrients, including zinc, phosphorus, magnesium, manganese, and B vitamins.


Applications

Mirza melons have a sweet and musky flavor suited for raw preparations. The melons are traditionally consumed straight out of hand and are favored for their tender, juicy, and succulent flesh when in season. In Uzbekistan, Mirza melons are usually served as a snack with tea or as a dessert. They are also served to visiting guests as a welcome treat. In addition to eating out of hand, Mirza melons can be sliced and tossed into salads, mixed into fruit bowls, or served on appetizer platters with soft cheeses, nuts, and dried fruits. The melons can also be blended into juices, smoothies, and shakes. Beyond raw preparations, Mirza melons can be simmered into jams, jellies, and honey, or the melon can be used to flavor baked goods, popsicles, sorbet, and granita. The melons are also popularly cooked and turned into candy or dried into strips for extended use. Mirza melons pair well with nuts such as cashews, pistachios, and almonds, dried fruits including raisins, dates, and apricots, and spices such as cinnamon, cloves, nutmeg, and ginger. Whole, unopened Mirza melons will keep for several weeks in a cool and dark location. Once sliced, the melon pieces should be stored in the refrigerator and consumed within 1 to 3 days.


Ethnic/Cultural Info

It is a common practice in Uzbekistan to dry melons. The aromatic, chewy flesh strips are favored for their concentrated flavor and nutrients and are a local delicacy. There are several methods growers use to dry the melons, and one practice is allowing the melons to overripen in the fields. Melons mostly considered imperfect to sell fresh in markets are left in the fields to develop a concentrated flavoring. Once overripe, the flesh is cut into strips and sun-dried to create a chewy, sweet snack. Some melons are also buried deep in the ground in the fields as a method of storage and drying. Over time, growers began expanding their melon-drying businesses by building melon houses known as qovunxona or kaunkhana. These constructed sheds have ample air circulation, and the melons are hung from the ceiling using netting or thick string to allow the melons to be immersed in continuous airflow. The circulation helps to dry the melons, condensing the flesh into a chewy leathery consistency. Dried melons, including Mirza melons, stay fresh for several weeks to months, depending on preservation methods. In Uzbekistan, the strips of dried melon are traditionally braided into a small dessert, folding in dried fruits, nuts, and spices. The sugary treat is eaten as a breakfast item, afternoon snack, or tea accompaniment.


Geography/History

Mirza melons are native to Central Asia and have been cultivated since ancient times. Much of the variety's history is unknown, but the melons are thought to have originated in Uzbekistan. Today Mirza melons are a seasonal delicacy cultivated in the summer throughout Uzbekistan and Kazakhstan. Seeds for the variety have expanded outside their native region and are offered through select online retailers in Russia, Central Asia, and Eastern Europe. Mirza melons have also been introduced to a few growers in California and Arizona of the United States, where they are grown as a specialty variety. When in season, Mirza melons are offered through roadside stands in Central Asia and farmers markets in California in the United States.