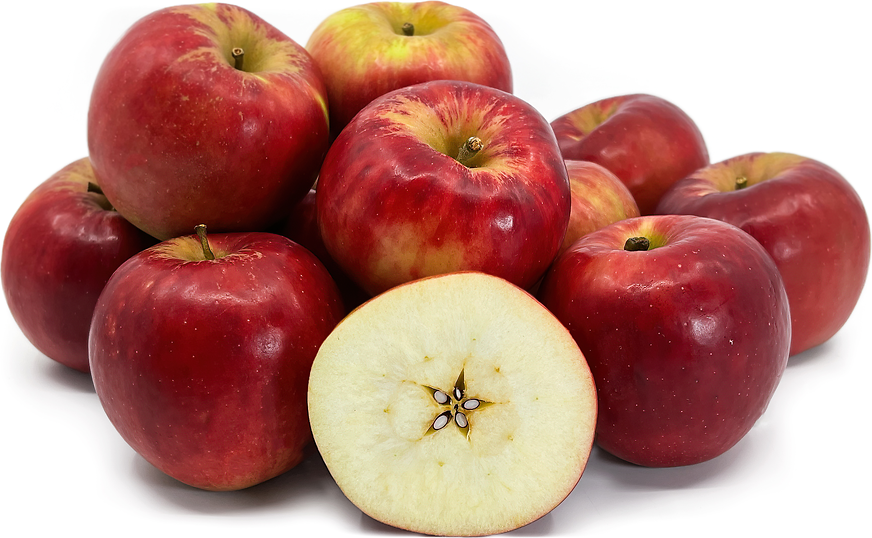 Kogyoku Apples
Inventory, lb : 0
Description/Taste

Kogyoku apples are a small to medium-sized varietal, averaging 180 to 200 grams in weight, and have a round, oblong, to conical shape with ribbed, flat shoulders, a curved, broad center, and a narrow, flat base. The stems are dark brown, woody, and fibrous, connecting into an open, somewhat rounded cavity. The apple's skin is thin but tough and has a smooth, taut, and glossy nature, developing a layer of wax when ripe. The skin also features a yellow-green base, almost entirely covered in a dark red to crimson blush with striping. Depending on cultivation and growing environment, Kogyoku apples sometimes develop a green-brown, textured russet with raised lenticels scattered across the surface. Underneath the skin, the ivory to yellow flesh is fine-grained, aqueous, dense, and firm, with a crisp, succulent consistency. The flesh also encases a small central core filled with tiny black-brown seeds. Kogyoku apples release a fragrant, fruity aroma when ripe and should feel heavy for their size, indicating high juice content. The apples also contain sugar mixed with acidity, creating a refreshing, sprightly, sweet, sour, and tangy taste.


Seasons/Availability

Kogyoku apples are harvested in the mid-fall through mid-winter and can be stored through the late spring. The variety has a peak season from October to early November.


Current Facts

Kogyoku apples, botanically classified as Malus domestica, are a commercial variety belonging to the Rosaceae family. The mid-season apples were originally discovered in the United States, locally known as Jonathan apples, and were sent to Japan in the late 19th century for commercial planting. Kogyoku apples are also known in markets as Kougyoku, Mankou, and Sennari. The variety was once a popular cultivar in Japan and was widely grown throughout the country, but over time, modern, sweeter varieties led to the cultivar's disappearance. In the modern day, Jonathan apples are still produced in Japan on a smaller scale, and consumers are re-discovering the variety as a balanced-flavored, fresh, and culinary cultivar. Kogyoku apples are mainly known in Japan as an apple incorporated into sweets and other desserts.


Nutritional Value

Kogyoku apples are a source of magnesium to control nerves, calcium to build strong bones and teeth, fiber to regulate the digestive tract, and vitamin C to strengthen the immune system. The variety also provides vitamin A to maintain healthy organ functioning, potassium to balance fluid levels within the body, vitamin E to reduce inflammation, copper to develop connective tissues, and other nutrients, including iron, vitamin K, and zinc. The apple's pigmented skin contains anthocyanins, natural compounds with antioxidant-like properties that protect the cells against free radical damage.


Applications

Kogyoku apples have a sweet-tart flavor suited for fresh and cooked preparations. The apples are slow-to-oxidize, making them suitable for raw dishes, and are popularly consumed out of hand for their refreshing, sprightly flavor. Kogyoku apples are also often chopped into salads, shredded into slaws, layered into spring rolls or sandwiches, or added to parfaits. In addition to fresh preparations, Kogyoku apples hold their shape when heated and are commonly incorporated into baked preparations. Kogyoku apples can be used in pies, fritters, muffins, tarts, and dumplings, or they can be hollowed, baked, and sprinkled with cinnamon. Kogyoku apples are also simmered into jams and jellies, and keeping the skin in the recipe will add a pink hue to the spread. In Japan, Kogyoku apples are roasted with sweet potatoes and marshmallows as a savory-sweet dish, baked into cakes, cooked into sauces, or layered into gateau. They are also blended into smoothies, pressed into juice, or infused into cider blends. Try simmering Kogyoku apple peels in hot water as tea. Kogyoku apples pair well with nuts such as walnuts, pecans, and almonds, spices including cinnamon, nutmeg, ginger, and cloves, heavy cream, maple syrup, caramel, chocolate, and fruits such as blueberries, raspberries, strawberries, and grapes. Whole, unwashed Kogyoku apples will keep for 1 to 2 months when stored in a cool, dry, and dark location, such as a cellar or the refrigerator's crisper drawer. When stored in the fridge, it is recommended to wrap the fruits in newspaper and store them in a plastic bag to prevent the apples from drying.


Ethnic/Cultural Info

Kogyoku apples are known by several names throughout Japan. When Western apple cultivars were distributed as seedlings in Japan's apple-growing regions, each region gave the fruits different retail names. Kogyoku apples were originally called "35-go" and "6-go" and were later named "Sensei," "Shiranashi," "Sennari," "Kunimitsu," "Shuku," and "Mankou." Eventually, in the early 20th century, representatives from each prefecture were gathered to discuss creating one name for the apples to reduce confusion in consumer markets. The representatives agreed upon the new name of Kogyoku apples, which translates to "Crimson Jewelry," given in honor of the apple's small size and pigmented skin coloring. Kogyoku apples are also famously known as Jonathan apples in the Western world. This name was rumored to have been given by the President of the Albany Horticultural Society, Judge Buel. It is said the president named it after Jonathan Hasbrouck, the man who first presented the variety to the horticultural society. While less popular, there is a second theory stating that a woman named Mrs. Higley took seeds from a local cider mill in Connecticut and planted them on her family property in Ohio. When the new apple variety was discovered, it was named after a young local boy in the community.


Geography/History

Kogyoku apples are native to the United States, where they are known as Jonathan apples. The variety has two main theories behind its origins, but the most agreed-upon theory traces the apple back to the farm of Philip Rick in Woodstock, a town in Ulster County, New York. Jonathan apples are thought to be a seedling of Esopus Spitzenburg apples, discovered sometime in the late 18th to early 19th centuries. The variety was presented to the Albany Horticultural Society by Jonathan Hasbrouck in 1826 and was released as a new commercial cultivar. Johnathan apples were introduced into Japan in 1871 through the Hokkaido Development Commission. Western apples were chosen for import in Japan to increase cultivation and breeding programs, but as the varieties were introduced into different regions, they were individually named, causing confusion in retail markets. Jonathan apples were officially named Kogyoku in 1910 to unify the variety under one name in Japan. Kogyoku apples were one of the most commercially produced apples in Japan up until the late 20th century. The sprightly, acidic apple eventually fell out of favor as consumer preferences changed to sweeter apple cultivars. In 1962 and 1963, excess Kogyoku and Kunimitsu apples that were unsold in retail markets were dumped into rural rivers and mountainous regions in the Aomori Prefecture, an infamous event known as the Yamakawa Market. Today, Kogyoku apples are experiencing a small revival as Japanese consumers are rediscovering the variety as a versatile culinary cultivar. When in season, the apples are sold through fresh markets, growers, and select distributors in the Aomori, Nagano, and Yamagata Prefectures in Japan. Kogyoku apples are also sold under the Jonathan name in North American and European markets.