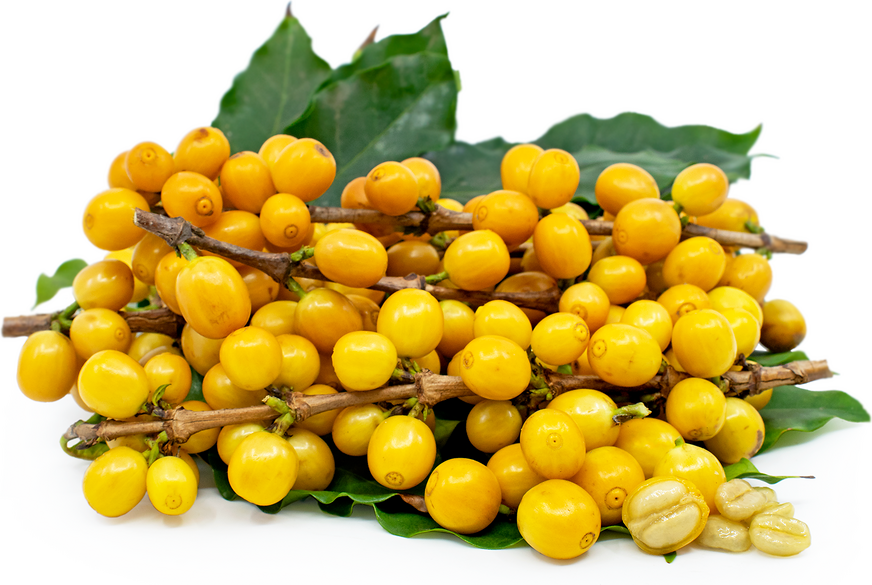 Gold Coffee Berries
Inventory, bunch : 0
Description/Taste

Gold Coffee berries are small in size and are round in shape, growing along fibrous branches of a bush or small tree. The skin of the berry, also known as the exocarp, is bright yellow and is taut, smooth, and shiny with a bitter flavor. Underneath the skin, there is a thin layer of sticky, aqueous, and soft pulp known as the mesocarp that contains sugar and pectin, giving it a sweet, fruity, and floral flavor. Encased in the flesh are 1-2 seeds, also known as beans because of their shape, that are hard, cream-colored, and covered in a papery, parchment-like coating. These seeds are the fresh form of coffee beans.


Seasons/Availability

Gold Coffee berries are available year-round and are harvested during the dry seasons in the various climates.


Current Facts

Gold Coffee berries, botanically a part of the Coffea genus, are small fruits that grow on bushes or trees and belong to the Rubiaceae family. Also known as Yellow Coffee Cherries, there are many different varieties of Gold Coffee berries in the Coffea genus, all varying slightly in flavor and appearance. Some yellow varieties include the Yellow Catuai, Yellow Caturra, Yellow Icatu, and Yellow Bourbon. Coffee berries are most well-known for the small seeds or beans inside the fruit that can be used to make coffee. Statistically, the yellow varieties are not used as widely as the red varieties for commercial coffee making due to the difficulty in separating ripe from underripe berries, but they are still sometimes used depending on the variety.


Nutritional Value

Gold Coffee berries are an excellent source of antioxidants, including vitamins C and E. These antioxidants work to protect the body's overall health and can help reduce inflammation. The fruits also contain varying levels of caffeine, which is a natural stimulant.


Applications

Gold Coffee berries can be consumed raw, but the skin is often bitter and discarded. The fruits are mainly used for their seeds, which are processed to make coffee, but the sweet flesh contains high nutritional properties that are becoming more well-known in the culinary industry. The skin and flesh can be compressed into a drink, sometimes mixed with other fruit juices and sparkling water, or it can be steeped and consumed as a tea. Coffee berries can also be used to make jams, blended into smoothies, or cooked into a simple syrup. The seeds of the fruits can be roasted and incorporated into desserts, baked goods, or used in a brine to cook chicken. Gold Coffee berries should be used immediately for best flavor as the flesh deteriorates quickly once harvested.


Ethnic/Cultural Info

Gold Coffee berries are grown across the world and are often hand-picked to select the fruits at optimum maturity. Though these fruits are handled with care, much of the flesh is discarded when harvesting the seeds, creating a large amount of waste in commercial cultivation. Due to this excess, the zero-waste movement has created many uses for the excess pulp, labeling it as cascara, which is a general descriptor used for the pulp, parchment husks, and skin. Cascara is Spanish for "husk," and some of the most popular products made from these once wasted items include cherry tea and dried pieces of flesh that are sprinkled over cakes and specialty drinks. Cherry tea has become so popular worldwide, it has also become an additional source of income for coffee farmers.


Geography/History

Coffee berries are native to Ethiopia and were then spread via trade routes to Turkey, Egypt, Syria, and Persia in the 15th and 16th century where commercial cultivation of the bean began. The fruits were then spread to Europe in the 17th century and arrived in the New World after the 18th century. Today Gold Coffee berries are widespread across the world and are cultivated in South America, Asia, Africa, and Central America.