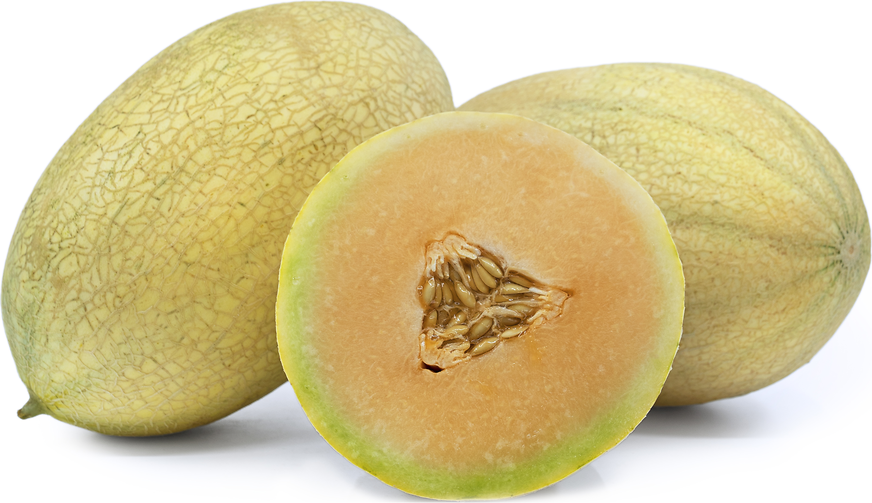 Fortune Melons
Inventory, ea : 0
Description/Taste

Fortune melons are a medium to large varietal, averaging 4 to 5 kilograms in weight, and have an elongated and oval, uniform shape. The rind is thick, hard, and firm, showcasing a golden yellow hue with faint green patches. The surface is also covered in a raised, textured, and semi-rough light brown netting. Underneath the surface, the pale orange flesh is dense, firm, and semi-aqueous with a crisp and crunchy texture. The flesh also encases a small, central cavity filled with oval and tapered, cream-colored seeds suspended in a gelatinous liquid and orange fibers. Fortune melons release a fragrant floral aroma when sliced and should feel heavy for their size when ripe. The ends of the melons will give slightly under pressure, a sign of maturity, and the ends will have a faintly fruity smell. Fortune melons have a high sugar content, creating a mild, sweet, and delicate flavor with floral and honeyed nuances.


Seasons/Availability

Fortune melons are available in the summer.


Current Facts

Fortune melons, botanically classified as Cucumis melo, are a hybrid variety belonging to the Cucurbitaceae family. The sweet melons were created from the famous Hami melon, a type of muskmelon native to China. Hami is a general term used to describe over 200 different varieties of sweet and floral melons. Fortune melons are an F1 hybrid developed as an improved variety with a uniform sweetness, size, and texture. The melons mature in 88 to 90 days and are an easy-to-grow variety with disease resistance and extended storage capabilities. Fortune melons are a specialty cultivar not commonly found in commercial markets. The variety is offered through select distributors and farms and is also grown as a home garden cultivar throughout the United States.


Nutritional Value

Fortune melons are a source of fiber to regulate the digestive tract, potassium to balance fluid levels within the body, and vitamin C to strengthen the immune system. The melons also provide vitamin A to maintain healthy organ functioning, vitamin E to reduce inflammation, antioxidants to protect the cells against free radical damage, and other nutrients, including calcium, iron, magnesium, and B vitamins.


Applications

Fortune melons have a mild, sweet, and subtly floral flavor suited for fresh preparations. The melons are primarily consumed straight out of hand, and the rind should be washed with soap and water before slicing open. Fortune melons have crisp, firm flesh that can be added to green salads, fruit and grain bowls, appetizer platters, or layered into yogurt or granola. The melons can also be halved and filled with cottage cheese as a refreshing breakfast or chopped and sprinkled with lemon juice, lime juice, salt, or ginger for enhanced flavor. Try Fortune melons in chilled soups, salsa, or wrapped in cured meats as a first course. The melons can also be blended and frozen into sorbets or granitas, halved, filled with ice cream, and frozen as a light dessert, or incorporated into fillings for glutinous rice balls with other ingredients such as red bean paste. In addition to culinary preparations, Fortune melons can be mixed into smoothies, blended with coconut milk as a shake, pressed into juices, or stirred into agua fresca. The melons can also be dried into thin strips for extended use. Fortune melons pair well with cheeses such as halloumi, cottage, mozzarella, and feta, herbs including parsley, mint, basil, cucumbers, fennel, watercress, fruits such as strawberries, kiwi, watermelon, coconut, grapes, and blueberries, and nuts including almonds, pecans, and pine. Whole, unopened Fortune melons should be stored at room temperature until ripe. Once fragrant and mature, the melons can be sliced and kept in a sealed container for 2 to 4 days in the refrigerator.


Ethnic/Cultural Info

Fortune melons are descendants of the Hami melon, the most popular type of melon in China. There are many different varieties of Hami melons ranging in size and appearance. In the summer, when the melons are in season, a festival in Xinjiang, China, celebrates the melon's diversity. The annual festival draws over 100,000 visitors and was created in 1993 to honor and promote the local variety. Hami melons are believed to be native to the Xinjiang region. During the multi-day festival, a 13.9-meter long and 8-meter high statue of a Hami melon greets visitors attending the celebration, and over 20 tons of Hami melons are typically served for free for attendees to sample. One of the most popular contests of the festival is an elaborate sculpture competition. Artists will carve, shave, slice, and use the melon flesh to create three-dimensional sculptures of animals, flowers, and abstract displays.


Geography/History

Fortune melons are a hybrid melon variety created from Hami melons, a specialty Asian muskmelon. Hami melons are native to the Xinjiang Uygur Autonomous Region of Northwestern China and have been cultivated since ancient times. Historically, Hami melons were introduced to neighboring countries and became widely cultivated throughout Asia. There have been many different varieties of Hami melons created from traditional breeding practices, and the melons thrive in areas with extended hours of sunlight, hot daytime temperatures, and cold nights. Hami melons were brought to the United States in the late 20th and early 21st centuries. Seed breeders throughout the United States used those melons to create new hybrid varieties, including Fortune melons, to suit American gardens and various North American climates. Today Fortune melons are offered through online seed retailers, including DP Seeds, NE Seeds, and Corona Seeds, and are grown through select farms in the United States. The Fortune melons featured in the photograph above were sourced from Weiser Family Farms, a farm supported by three generations of the Weiser family, with growing locations in the Lucerne Valley, Bakersfield, and Tehachapi.