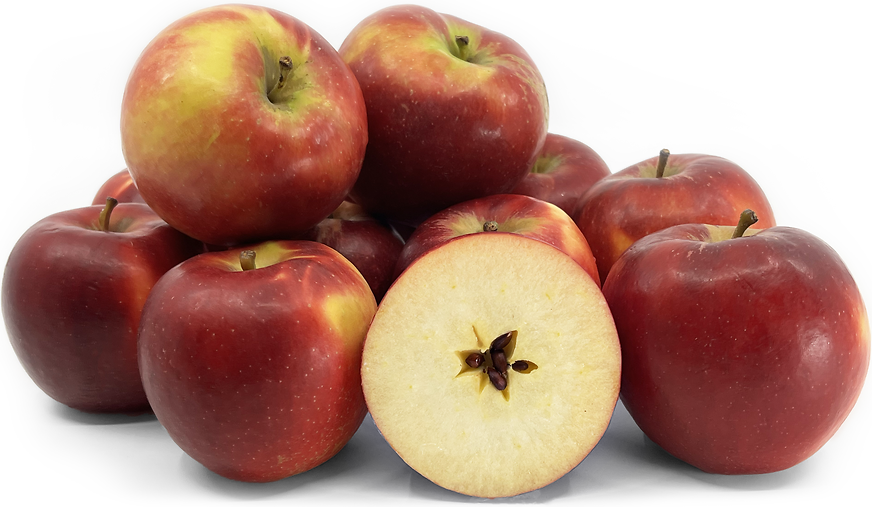 CrimsonCrisp® Apples
Inventory, lb : 0
Description/Taste

CrimsonCrisp® apples are a small to medium-sized varietal, averaging 6 to 7 centimeters in diameter, sometimes growing larger, depending on cultivation methods and climate. The apples bear a uniform, round, oblate, to slightly conical shape with broad, flat shoulders tapering to a narrow base. The skin is semi-thick, chewy, smooth, and taut with a faint sheen and light ribbing, and tiny, pale lenticels are scattered across the surface. The apple's skin has a golden yellow base when ripe, almost entirely covered in a bright to dark red-purple blush. The saturation and depth of blush coloring will vary on each apple, determined by sun exposure, and some apples may appear a solid, dark red. Underneath the surface, the ivory to pale yellow flesh is hard, dense, moderately juicy, and semi-coarse with a firm and crisp consistency, breaking and snapping cleanly in large chunks. The flesh also encases a small central core filled with tiny dark brown, oval seeds. CrimsonCrisp® apples have balanced sugar and acidity levels, creating a rich, sweet, and tart flavor with spice-filled undertones and nuances of caramel, melons, and oranges. It is important to note that freshly harvested apples will have more acid, creating a tart and tangy taste. As the apples are left in prolonged storage, the acid will fade, and the fruits will become sweeter, eventually weakening in flavor.


Seasons/Availability

CrimsonCrisp® apples are harvested in the mid-fall and can be stored through the winter.


Current Facts

CrimsonCrisp® apples, botanically classified as Malus domestica, are a modern American apple variety belonging to the Rosaceae family. The mid-season cultivar was developed through the PRI joint apple breeding program in the late 20th century in the Eastern United States and was released in the early 21st century. CrimsonCrisp® apples grow on trees that can reach up to five meters in height and are an easy-to-cultivate variety producing heavy crops with resistance to apple scab and other diseases. A distinct characteristic of the variety is its long picking season. CrimsonCrisp® apples can remain on the tree for over four weeks when ripe, and once harvested, they will keep in proper cold storage for several months. The variety was named for its dark red, saturated coloring, and crisp, dense flesh. It is also known as Co-op 39, the moniker initially given to the apple during its development. CrimsonCrisp® apples are planted in home gardens and commercial orchards, and the variety is multi-purpose, consumed as a fresh eating, cooking, and cider apple.


Nutritional Value

CrimsonCrisp® apples are a source of potassium to balance fluid levels within the body, and anthocyanins, the naturally colored pigments in the skin that have antioxidant-like properties to protect the cells against the damage caused by free radicals. The apples also provide vitamin C to strengthen the immune system, vitamin E to reduce inflammation, vitamin A to maintain healthy organ functioning, fiber to regulate the digestive tract, and other nutrients, including zinc, copper, calcium, phosphorus, and manganese.


Applications

CrimsonCrisp® apples have a sweet-tart flavoring suited for fresh and cooked preparations. The apples are primarily consumed straight out of hand, favored for their dense, crisp flesh, but the variety can also be chopped into salads, blended into smoothies, sliced and layered in sandwiches, or placed on toast slathered in nut butter. The sweet and tangy nature of the apples complements cheeses, dried fruits, cured meats, and nuts on charcuterie boards, or the fruits can be shredded into slaws. Try slicing CrimsonCrisp® apples and using them as a dipping vessel into melted chocolate, caramel, or other dips, or chop and sprinkle as a topping over grain bowls, overnight oats, and waffles. In addition to fresh preparations, CrimsonCrisp® apples can be simmered into jams, jellies, and sauces or sliced, fried, and tossed with cinnamon. The dense nature of the variety holds its shape well when heated, allowing it to be used in tarts, turnovers, dumplings, cakes, and crumbles. CrimsonCrisp® apples can also be sauteed in browned butter or stuffed and baked whole, sometimes wrapped in pastry. Beyond culinary dishes, CrimsonCrisp® apples can be pressed into juice and added to cider blends, stirred into cocktails, or mixed into sparkling beverages. CrimsonCrisp® apples pair well with spices such as cloves, nutmeg, ginger, cardamom, allspice, and cinnamon, maple syrup, vanilla, nuts including pecans, hazelnuts, almonds, and walnuts, and fruits such as apricots, dates, peaches, grapes, and melon. Whole, unwashed CrimsonCrisp® apples will keep for 4 to 6 months when stored in a cool, dry, and dark location.


Ethnic/Cultural Info

The PRI joint apple breeding program was initially created to develop apple varieties resistant to apple scab. The program was established from a partnership between Fredric Hough, a horticulturist at the University of Illinois, and Ralph Shay, a pathologist at Purdue University. In 1943, a scab epidemic decimated the apple trees in fields at the University of Illinois. Immediately after the devastating spring season, Hough published a paper called "A Survey of the Scab Resistance of the Foliage of Seedlings in Selected Apple Progenies" in 1944, summarizing the results of his apple research. The paper was published in the Proceedings of the American Society of Horticultural Science. Shay read Hough's findings and contacted him to collaborate on a new scab-resistance breeding program in 1945. The two researchers shared a passion for fruit breeding and used Hough's research to cross-breed new apple varieties planted as seedlings in Illinois in 1947. In 1948, Hough took a position at the Department of Horticulture and Forestry at Rutgers in New Jersey, inviting Rutgers into the collaboration, forming the three-way partnership still in existence in the modern day. Since its creation, the PRI joint apple breeding program has produced over 1500 selections of new apples. Approximately 44 of those selections have been chosen for further evaluation and testing, and the program is known for having released cultivars, including GoldRush, Jonafree, Enterprise, and Williams Pride. If an apple is selected for advanced trials and evaluations, they are given a name comprised of Co-op, a descriptor of the program's collaborative nature, and a number corresponding to its trials.


Geography/History

CrimsonCrisp® apples were developed from the PRI joint apple breeding program in 1971. The variety was created from a cross between PCFW2-134 and PRI 669-205, two cultivars created from generations of cross-breeding using traditional techniques through the program. Golden Delicious, Edgewood, Melba, Crandal, Johnathan, and Rome apples are all believed to be in the complex parentage of the variety, and the crab apple Malus floribunda was also used to impart resistance to apple scab. The first seedling was created at the Rutgers Fruit Research and Development Center in 1971 in Cream Ridge, New Jersey. In 1972, the seedlings were planted and screened for scab resistance by Edwin B. Williams at the Clark Farm Tract of the Purdue University Horticultural Research Farm in West Lafayette, Indiana. For several years after its planting, the new variety was evaluated in trials until it was selected for propagation in the fall of 1979. During this time, it was also sent to other locations in Indiana, New Jersey, and Illinois for extensive study and review. The cultivar was initially named Co-op 39 and was the 18th apple developed by the PRI joint apple breeding program. Co-op 39 apples were eventually renamed CrimsonCrisp® as a part of a marketing campaign, and the variety was commercially released in 2006. Today CrimsonCrisp® apples are grown in home gardens and through select commercial growers on a small scale, but the variety is challenging to find, primarily localized to farmer's markets, local grocers, and direct from orchards that offer pick-your-own experiences.