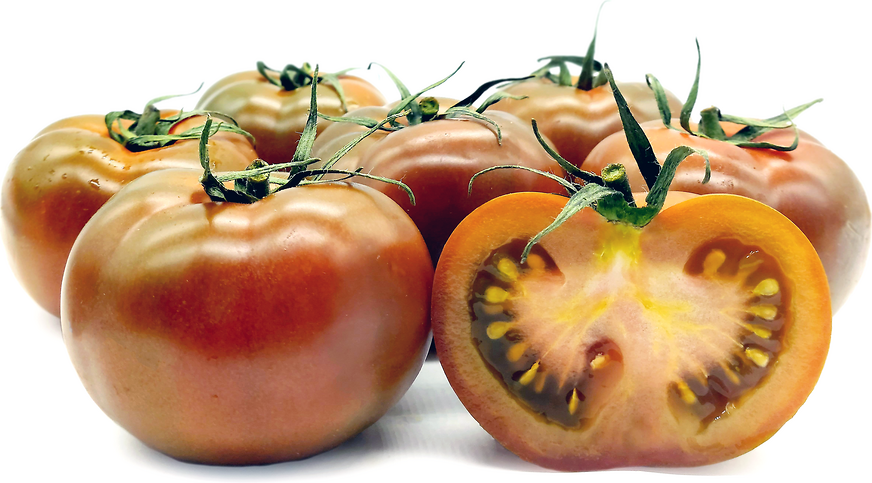 Black Prince Heirloom Tomatoes
Inventory, lb : 0
Description/Taste

Black Prince tomatoes may appear slightly flattened, averaging 5 to 8 centimeters in diameter, and have a round to oval shape attached to a fibrous, dark green stem. The skin is smooth, delicate, and glossy, with variegated hues of dark red, brown, and green. Underneath the thin skin, the flesh also ranges in color from red, green, to brown and is aqueous, soft, and dense, encasing pockets of small, flat and oval seeds suspended in a liquid. Black Prince tomatoes are aromatic and have a semi-sweet and fruity flavor with low acidity.


Seasons/Availability

Black Prince tomatoes, when cultivated outside, are available in the summer through early fall. When grown in greenhouses, the tomatoes have year-round availability.


Current Facts

Black Prince tomatoes, botanically classified as Solanum lycopersicum, are an early to mid-season heirloom variety that belongs to the Solanaceae or nightshade family. Originally from Asia, Black Prince tomatoes are a part of a larger grouping of tomato varieties labeled generally as black or brown tomatoes. These cultivars are categorized under this grouping by the unique characteristic of having an excess amount of chlorophyll or green pigment. This pigment is what gives the tomato a "brown" or "black" hue when mixed with the dark red tones of the flesh and skin. Black Prince tomatoes are one of the most popular varieties of black tomatoes in Russia, specifically in Siberia, where they have adapted to a colder climate and a shorter growing season, maturing only two months after planting. Considered to have a rich, highly memorable flavor, Black Prince tomatoes are showcased when consumed fresh, juiced, or simmered into sauces.


Nutritional Value

Black Prince tomatoes are an excellent source of vitamins A, B, and C, which can contribute to healthy skin and eyes, boosting the immune system, and improving heart health. The tomatoes also contain potassium and other antioxidants, including lycopene, which can help protect cells from environmental damage.


Applications

Black Prince tomatoes are regarded as both a slicer and paste variety, which means they are best suited for both raw and cooked applications such as roasting, simmering, and grilling. Primarily known for fresh eating, the complex, fruity flavor of Black Prince tomatoes shine when sliced and tossed into green salads, quartered and mixed with other heirlooms in tomato salads, chopped into bruschetta, or sliced and layered onto sandwiches and burgers. The tomatoes can also be lightly salted, paired with mozzarella, and drizzled with balsamic as an appetizer, juiced and mixed into dressings, or cooked into savory sauces for roasted meats, vegetables, or pasta dishes. In Russia, Black Prince tomatoes are a favored variety used in the condiment adjika, which is a spicy spread and also in lecho, a puree made with marinated peppers. Black Prince tomatoes pair well with apples, peppers, onions, leeks, carrots, celery, cabbage, basil, mint, parsley, mozzarella, and ricotta cheese. The fresh tomatoes will keep 5-7 days when stored out of direct sunlight and at room temperature.


Ethnic/Cultural Info

Black Prince tomatoes are a favored home garden variety in Siberia for their adaptability to cold weather, productivity, and fruity, sweet flavor. When the variety was first introduced, it was considered a specialty cultivar that was not highly marketed until it grew in popularity across the country. To capitalize on the variety's notoriety and to reduce seed waste, companies began producing Black Prince tomato oil for culinary and medicinal use. The light-yellow oil is created from cold pressing the seeds found within the flesh and extracting the natural contents for their high nutritional properties. Cold pressing preserves some of the vitamins and minerals, including vitamin E and beta-carotene, and the oil can be used topically on the skin as a massage oil. It is also commonly used to dress salads, mixed into doughs for baking, or used to fry vegetables for a crispy, aromatic bite.


Geography/History

Black Prince tomatoes are believed to have been developed in the middle of the 20th century in Irkutsk, Siberia, but their origins have been recently debated due to other hybrid varieties bearing the same name being mistaken for the heirloom. The black tomato variety is well adapted to both mild and cold climates, and depending on the region, it can be grown outside or in greenhouses. In the late 20th century, the seeds were introduced to the United States, where they have become a specialty home garden variety highly valued for their flavor. Today Black Prince tomatoes are available in Russia, in other regions of Asia such as Kazakhstan, in Europe, including Moldova and Ukraine, and in the United States through small farms and online seed catalogs.