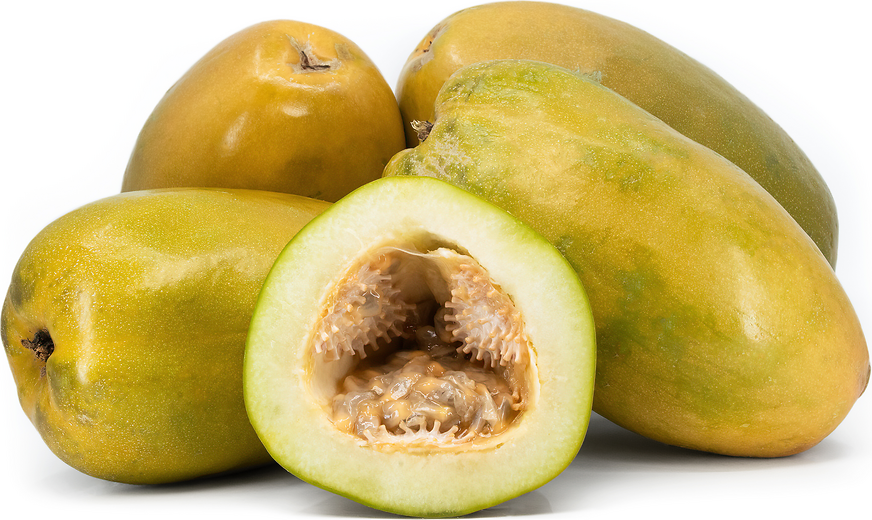 Tumbo Passionfruit
Inventory, lb : 0
Description/Taste

Tumbo passionfruit are large, measuring between 10 and 30 centimeters long. They are oval or elliptical and mature from pale green to yellow then to dark yellow. The firm skin is smooth or faintly ribbed with a waxy appearance. The flesh is 2 to 4 centimeters thick and softens as the fruit matures, it offers a pear-like flavor. The central cavity contains dozens of small blackish-brown seeds coated in succulent, pale yellow arils that offer a sweet-tart flavor.


Seasons/Availability

Tumbo passionfruit are available year-round in the tropics with a peak season in the winter and spring months.


Current Facts

Tumbo passionfruit, also known as Giant Granadilla, are the largest of all the passion fruit varieties and can weigh up to 9 pounds. They are botanically classified as Passiflora quadrangularis or synonymously, P. macrocarpa, and are sometimes confused for their similar-looking relative, the banana passionfruit. In Peru they are sometimes called Giant Tumbo, while in Trinidad they are called Barbadine. The large fruits are used for their sweetly acidic pulp and the firm flesh that surrounds it.


Nutritional Value

Tumbo passionfruit is high in vitamins A and C and potassium. They are a source of calcium, phosphorus and iron and contain B-complex vitamins niacin and trace amounts of thiamine and riboflavin. Tumbo passionfruit contain small amounts of carotene and fiber and provide antioxidant and digestive benefits.


Applications

Tumbo passionfruit can be eaten raw or cooked. The thick layer of white flesh beneath the skin is prepared and used like a vegetable, boiled or steamed, or added to soups when young. When fully mature it can be cut up and added to fruit salads with papaya, banana and pineapple or eaten with a bit of lemon or lime juice, cooked with sugar or candied. Mature fruits are primarily used for their arils, or pulp covered seeds. They are halved and eaten raw scooped from the cavity with a spoon or the pulp separated from the seeds and the juice used to make beverages, jellies, and frozen desserts. The flesh and arils can be frozen for up to six months. In Australia, the whole fruits are mashed, mixed with brandy and fermented to make a passionfruit wine. Keep Tumbo passionfruit at room temperature for up to 5 days, refrigerate any cut portion.


Ethnic/Cultural Info

Western Amazonians have been using Tumbo passionfruit for medicinal purposes for centuries. They used it to treat scurvy, digestive and urinary tract problems, and for its calming and sedative properties. The leaves were made into poultices and used for liver complaints.


Geography/History

Tumbo passionfruit are native to the highland plains, valleys and Amazon jungle region stretching from Bolivia to Peru and Ecuador, and up to Colombia. The fruits were brought to Malaysia sometime during the 18th century where it spread to nearby Philippines. There is some evidence it may have been brought to Indonesia before this time. Tumbo passionfruit is cultivated in northern South America, Mexico, the Caribbean, the Philippines, Indonesia, Australia, and in parts of Africa. Despite widespread availability and cultivation, they are rarely grown for commercial trade. Cultivation is usually done through hand-pollination to ensure the development of the best fruits. The vining plant is typically grown on trellises to support the large fruits and thrives in tropical climates. Tumbo passionfruit may be spotted in mercados throughout the western Amazon, and in markets in the Caribbean, Indonesia, the Philippines and Australia.