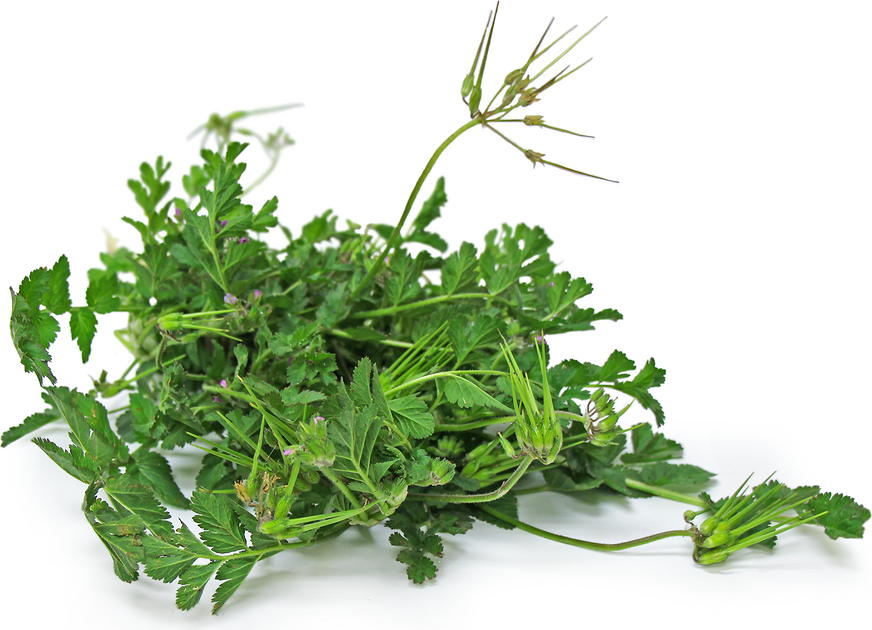 Stork's-Bill
Inventory, lb : 0
Description/Taste

Stork's-Bill is a low-growing plant that forms from a central taproot extending 8 centimeters in length. The taproot produces a small leafy rosette and eventually develops stems that form horizontally to the soil, extending as far as 38 centimeters in length. The leaves are dark to bright green, growing in pairs on opposite sides of the stem, and are comprised of oval to triangular leaflets. Each leaf is deeply lobed or toothed, giving it a feathered appearance, and has prominent veining across the surface while the ends taper into small points. The stems and stalks have a reddish tinge and are generally solid on the surface, surrounding a pithy core. The stems are also characteristically hairy, crisp, and fibrous with a branched nature. In the summer, Stork's-Bill produces small flowers ranging in color from bright pink to an electric violet. Each flower has 5 petals, 5 styles, and 10 filaments, blooming in clusters of 2 to 3 flowers. The petals are soft, velvety, and pliable with a delicate, crisp consistency. After the flowers bloom, the plants produce long and slender, needle-like green pods encasing a tiny seed. The leaves, roots, flowers, and stems of the Stork's-Bill plant are edible. The leaves and flowers have a vegetal, parsley-like taste with green nuances and the roots release an earthier flavor with sweet, grassy undertones.


Seasons/Availability

Stork's-Bill is available in the spring through fall.


Current Facts

Stork's-Bill, botanically classified as Erodium cicutarium, is an herbaceous annual or biennial, depending on the climate, belonging to the Geraniaceae family. The low-growing plants are naturally spreading but remain relatively short, reaching 5 to 25 centimeters in height. Stork's-Bill is an ancient, wild species known by several names, including Common Stork's-Bill, Filaree, Heron Bill, Pinweed, Redstem Filaree, Redstem Stork's Bill, Pine Needle, and Alfilerillo. Historically, Stork's-Bill was used for medicinal remedies and was foraged as a food source in Europe, Western Asia, and Northern Africa. Over time, the species was spread worldwide through human intervention and its use as livestock feed. Stork's-Bill is not commercially cultivated and is foraged as a wild herb in the modern day. The leaves, flowers, stems, and roots are edible and are utilized by chefs and home cooks as a flavorful herb in raw and cooked preparations. It is important to note that Stork's-Bill may sometimes resemble Poison Hemlock, a plant that should be avoided and not consumed. The main differing characteristic between the two plants is the hairs on the stem of Stork's-Bill. Stork's Bill stems are hairy, and Poison Hemlock is smooth.


Nutritional Value

Stork's-Bill leaves are used as a natural medicine to calm the digestive tract. In Patagonia and East Anatolia, the greens are commonly used in an infusion and are consumed to alleviate constipation and stimulate digestion. The Zuni people in New Mexico of the United States also infuse the plant's roots into a drink to calm the stomach. The roots are pulverized and topically applied to skin irritations and sores, and the plant was used among several other Native American tribes to reduce symptoms associated with typhoid fever. Stork's-Bill leaves are a source of vitamin A to maintain healthy organ functioning, calcium to build strong bones and teeth, fiber to regulate the digestive tract, and magnesium to produce energy. The greens also provide low amounts of vitamin C to strengthen the immune system, potassium to balance fluid levels within the body, and other nutrients, including zinc, phosphorus, and iron.


Applications

Stork's-Bill has a sharp, herbal, green, and subtly grassy flavor suited for fresh or cooked preparations. The young leaves are the most used portion of the plant for culinary dishes, but the flowers, stems, and roots are also edible. Stork's-Bill leaves can be washed and added to salads, minced and stirred into dips, added to dressings, or sprinkled over dishes as a garnish. The leaves can also be layered into sandwiches, added to fresh spring rolls, or topped over soups and curries. Use Stork's-Bill similarly to herbs versus a leafy green. The leaves can also occasionally be substituted in recipes calling for beet greens, carrot greens, water spinach, or amaranth. In addition to the leaves, the young roots can be consumed raw, releasing earthy flavors, or they can be lightly sauteed and added to vegetable side dishes, salads, and main dishes. Stork's-Bill pairs well with nuts such as almonds, pine, and walnuts, celery, mushrooms, potatoes, tomatoes, cheeses, especially cheddar, parmigiano, and pecorino, herbs such as basil, mint, and oregano, and vinegar, notably red and white wine. Whole, unwashed Stork's-Bill should be used immediately for the best quality and flavor. The leaves can also be wrapped in paper towels and stored in a sealed container for a few days in the refrigerator's crisper drawer.


Ethnic/Cultural Info

Stork's-Bill is named for its long, slender, and pointed seed pods, which are said to resemble the bill of a stork. As these needle-like seed pods dry, the dehydration creates tension within the pod, allowing the pod to eventually explode from the plant, launching the seeds into the air. During this explosion, energy is transferred into the tissues of the seeds, and long tails known as awns help propel the seeds away from the mother plant, landing in the soil. Once the seeds have landed, the awns change into a spiral or flat shape depending on the moisture in the ground, assisting the seed in digging into the soil for proper germination. This process allows Stork's-Bill to quickly spread throughout its habitat and is one of the contributing factors to its reputation as an invasive species.


Geography/History

Stork's-Bill is native to regions of the Mediterranean basin, Northern Africa, and Western Asia and has been growing wild since ancient times. The species favors temperate, Mediterranean-like climates and was spread over time through animals, natural dispersal, and human introduction. Historically, Stork's-Bill was a favored plant for livestock, feeding horses, goats, sheep, and cattle. The species was also used medicinally and as a food source in select regions of Europe and Western Asia for centuries. Stork's-Bill was carried and planted along trade routes, quickly naturalizing outside of its native region, especially in semi-arid prairies. In the 18th century, the species was brought to North America and was one of the first plants introduced from Europe that became invasive. Pollen evidence traces the plant's presence in Southern California sometime before 1769, and it is thought that the species traveled from livestock entering from Baja California. Stork's-Bill became established throughout the grasslands and deserts of the southwestern United States, and by the 1860s, it had spread across the entire country and into Canada. In North America, Stork's-Bill has earned the reputation of a noxious weed due to its ability to germinate quickly and absorb water from various soils. Today the species is found in Mediterranean climates worldwide and is adaptable to dry and wet regions in Europe, Western Asia, Africa, Australia, and North and South America. Storks-Bill is typically found in meadows, crop fields, along roadsides, grasslands, desert shrublands, lawns, bluffs, and rocky slopes. The species is not commercially cultivated and is primarily a foraged plant, rarely found through fresh markets as an edible green.