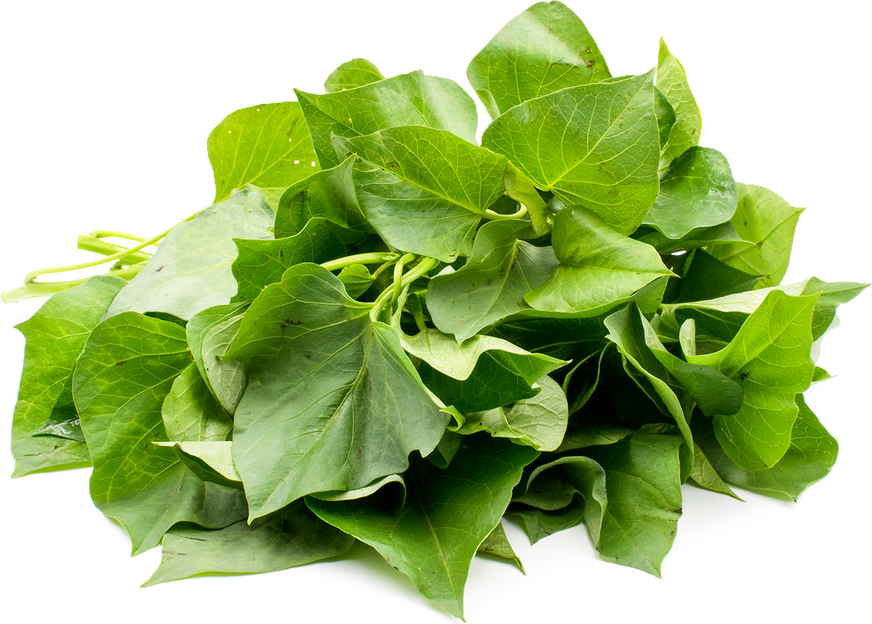 Yam Leaves
Inventory, bunch : 0
Description/Taste
Yam leaves are medium to large in size, averaging 5 to 15 centimeters in length and 2 to 10 centimeters in width, and vary in shape from cordate, spade-like, to triangular. The leaves grow on slender, green stems rising from long, creeping vines and showcase dark green hues with a smooth, broad, and flat surface. The leaves also display prominent veining that extends throughout the center, and the edges can be smooth or slightly jagged, depending on the variety and growing conditions. Yam greens have a soft, crisp, succulent, and tender consistency. The leaves are known for their green, subtly sweet, and slightly bitter flavor when raw, similar in taste to spinach. When cooked, Yam leaves become mild and have a delicate, vegetal flavor.
Seasons/Availability
Yam leaves are generally available in the summer through fall. In tropical climates, the leaves can be harvested multiple times throughout the year.
Current Facts
Yam leaves are the leaves of herbaceous trailing vines that grow in tropical to subtropical climates worldwide. It is important to note that the term Yam leaves is used to describe edible leaves from the Ipomoea and Dioscorea genera. In most fresh markets and recipes, Yam leaves refer to leaves belonging to the Ipomoea genus, also known as Sweet Potato leaves. Some Dioscorea species produce edible leaves, but these leaves are localized to specific regions of the world, mainly in India, Africa, and some parts of Asia. Many Dioscorea species can also be toxic, so care and research should be taken before foraging leaves from wild plants. Yam or sweet potato leaves from the species Ipomoea batatas are the most widespread in markets worldwide and are sold fresh for use in raw and cooked preparations. The leaves are favored when harvested young, contributing a mild flavor and tender texture, and are utilized as a nutritious culinary and medicinal green.
Nutritional Value
Yam leaves, or sweet potato leaves, are a source of vitamin C to strengthen the immune system while reducing inflammation, vitamin A to maintain healthy organ functioning, vitamin K to assist in faster wound healing, and fiber to regulate the digestive tract. The leaves also provide calcium and phosphorus to build strong bones and teeth, potassium to balance fluid levels within the body, magnesium to control nerve operations, and other nutrients, including iron, riboflavin, zinc, and B vitamins. In Traditional Chinese Medicine, the leaves are viewed as a cleansing ingredient, increasing bowel movements and lubricating the lungs and intestines. Yam leaves are also used in other natural medicines in Asia, crushed and used topically on rashes and sores in the mouth, or boiled and consumed as a tea to reduce appetite.
Applications
Yam leaves have a mild, sweet, vegetal, and subtly bitter flavor suited for fresh and cooked preparations. Before cooking, the leaves should be washed well and roughly chopped into smaller pieces. Yam leaves have a similar texture and flavor to spinach and can be prepared similarly, used raw in salads, finely chopped and mixed into grain bowls, blended into smoothies, or juiced and mixed with fruit juices as a green drink. Yam leaves can also be simmered into soups, curries, and stews, braised in coconut milk, steamed or boiled with aromatics as a simple side dish, or sauteed with other vegetables. If the leaves are being boiled, the cooking water may be reserved for later use as a slightly bitter broth or as a health drink, as the water will contain nutrients from the leaves. The leaves develop a tender texture when stir-fried, sauteed, steamed, or boiled, and the greens are popularly cooked with okra and eggs or served in rice and noodle dishes. Yam leaves can also be cooked into casseroles, combined into vegetable fritters, or incorporated into pasta. In Malaysia, the leaves are incorporated into kankung belacan, a stir-fried dish with shrimp paste and aromatics. In the Philippines, the leaves are boiled with onions, tomatoes, and fish sauce in a soup-like dish known as sinabawang talbos ng kamote. Yam leaves pair well with savory flavor enhancers such as fish sauce, sesame oil, miso paste, or dried shrimp, aromatics including garlic, onion, and ginger, meats such as chicken, beef, pork, or fish, red bell peppers, tomatoes, broccoli, mushrooms, and water chestnuts. The leaves are highly perishable and should be immediately consumed for the best quality and flavor. The leaves will only keep for 1 to 2 days when loosely wrapped in a damp paper towel and stored in the refrigerator. Yam leaves can also be dried or blanched and frozen for extended use.
Ethnic/Cultural Info
In Korea, the first full moon of the year is known as Jeongwol Daeboreum, and this is also the name of an annual holiday celebrating the celestial event. The full moon generally falls on the 15th day of the first or second month, according to the Korean lunar calendar, and is a time for family and friends to gather to expel evil spirits with fire and cracking sounds, watch the full moon rise, and consume symbolic culinary dishes to bring health and prosperity. Surrounding the night of the full moon, local markets throughout Korea are filled with food displays highlighting the various ingredients traditionally incorporated into the celebratory meals, including yam leaves. In ancient times, a dish known as ogokbap was comprised of beans, rice, other grains, and stir-fried vegetables. These vegetables were collected from home gardens, and the dish was offered to the gods before it was eaten as a prayer for a good harvest season. Ogokbap is still consumed in the modern-day and is served with mugeun namul, dried vegetables that have been rehydrated and cooked. Yam or sweet potato leaves are a popular addition to various mugeun namuls, and the vegetables are thought to ward off sickness during the year, especially in the summer. In addition to main dishes, crunchy candies and nuts are eaten, as their cracking noises are believed to scare away diseases that can make the body sick.
Geography/History
Yam species, belonging to the genus Dioscorea, are native to regions of Africa and Asia, while sweet potato species, belonging to the genus Ipomoea, are native to Central and South America. Both genera have been growing wild since ancient times and were utilized as a famine crop among indigenous populations. Dioscorea yams and Ipomoea sweet potatoes were spread worldwide through encounters between explorers, indigenous people groups, and migrating peoples. Over time, they were introduced and planted throughout regions worldwide. Today Yam leaves are available in fresh markets and specialty retailers in Central and South America, Asia, Southeast Asia, the Caribbean, and regions in Africa. The leaves are also grown through select farms in California and in the Southern United States, offered through farmers markets.
Recipe Ideas
Recipes that include Yam Leaves. One

is easiest, three is harder.