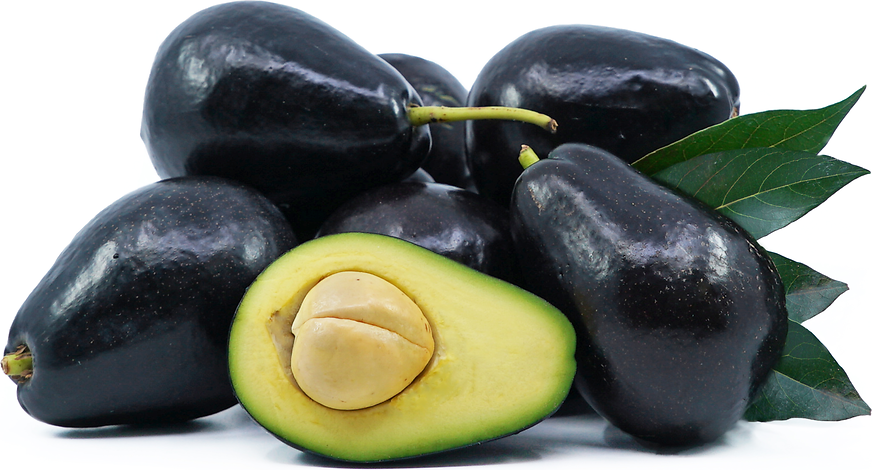 Puebla Avocados
Inventory, lb : 0
Description/Taste
Puebla avocados are a smaller variety, averaging 7 to 10 centimeters in diameter, and have an obovate to oval shape. The skin is very thin, smooth, and glossy, developing a unique, dark purple-black hue with maturity. Underneath the surface, the flesh has a high oil content and is dark green just below the peel, lightening to a pale green-yellow closer to the large, ovoid seed. The tan seed is also tightly embedded into the flesh, typically larger than the seeds of other avocado varieties, and bears a faint, anise-like scent. Puebla avocadoes have a creamy, soft, and velvety consistency and a rich, earthy, and nutty flavor. The skin is also edible, bearing a pleasant neutral flavor, unnoticeable when consumed in conjunction with the flesh.
Seasons/Availability
Puebla avocados are available in the winter through early spring.
Current Facts
Puebla avocados, botanically classified as Persea americana, are a rare Mexican variety with soft flesh and edible skin belonging to the Lauraceae family. The small fruits are native to South-Central Mexico and were once considered the best-flavored avocado variety introduced from Mexico into the United States. Puebla avocados are also one of the varieties responsible for the thriving avocado industry in Southern California and were highly favored for their smooth flavor and edible skin. Despite their pleasing nature, Puebla avocados faded from popularity as heartier, more exportable varieties were chosen for cultivation. Puebla avocados cannot be shipped long distances compared to varieties such as hass, and the fruits are delicate with thin skin, being easily damaged. In the modern-day, very few Puebla avocado trees remain in Southern California, and a small number of growers are working to preserve the variety's history and presence in local fresh markets.
Nutritional Value
Puebla avocados are a good source of vitamin K, which helps promote wound clotting and contribute high amounts of pantothenic acid, a B-vitamin that converts food into usable energy for the body. The avocados also contain copper and folate and provide lower amounts of vitamins C and E, potassium, magnesium, calcium, and iron.
Applications
Puebla avocados are best suited for raw applications as the fruit's creamy flesh, and nutty, sweet flavor is showcased when consumed straight, out-of-hand. The thin skin is edible, but it can also be easily peeled or sliced from the flesh. When the variety is ripe, the flesh is so tender that it is compared to being as soft as butter. Puebla avocados are commonly sliced and tossed into green salads, ceviche, and grain bowls, or they can be used as a topping over tacos, omelets, and sushi. The smooth flesh can also be cut and layered into sandwiches, mashed and spread over toast, or blended into smoothies. In addition to slicing, the rich, earthy flavor of the flesh lends itself well to chopping or mashing into salsas, guacamole, dips, and sauces. Puebla avocados pair well with fruits such as bananas, mangos, grapefruits, oranges, and limes, seafood including fish, shrimp, and crab, herbs such as parsley, cilantro, and basil, and spices such as cumin, paprika, cayenne, and garlic. Whole Puebla avocados should be consumed immediately for the best flavor. To determine ripeness, the skin around the stem can be gently pressed, and if there is some give, the fruit should be eaten within the next day. The fruits can be stored at room temperature to ripen and kept in the refrigerator once ripe for an additional three days.
Ethnic/Cultural Info
Puebla avocados are one of the three main avocado varieties cultivated in Kenya. The East African country's sunny, warm climate and geographical location has established itself to be one of the largest avocado exporters in Africa, shipping fruits to Europe, Asia, and Southeast Asia. Avocado cultivation in Kenya is increasing, and approximately seventy percent of the fruits are grown by small scale farms. Within Kenya's avocado production, hass and fuerte avocados are the cash crops, and Puebla avocados are mainly used for rootstock. Cultivation using rootstock allows farmers to grow trees with improved disease resistance, preferred tree size, and the trees will begin to bear fruit earlier than if grown from seed. Puebla avocados are also consumed locally as the fruits are favored for their rich taste and edible skin. In Kenya, avocados are primarily used in fresh side dishes. The most popular application is kachumbari, a raw dish comprised of onions, tomatoes, chile peppers, lime juice, cilantro, and avocado. Kachumbari is similar to the well-known pico de gallo, but it is consumed as a standalone side dish to roasted meats rather than as a garnish. Within the dish, the onions are salted and soaked in water to remove any pungent bitterness, developing a milder flavor that complements the avocado's rich nuttiness. Kachumbari is traditionally served with the beloved street food, nyama choma, which is typically roasted goat and beef.
Geography/History
Puebla avocadoes are native to Puebla, Mexico, where they have been cultivated since ancient times. In 1911, the smooth-skinned variety was introduced to the United States through Carl Schmidt, an employee of the West Indian Nursery in Southern California. Schmidt was sent to Mexico by the nursery to find the best Mexican avocados with the hope of bringing samples back to the United States. He visited Puebla, a city eight miles southeast of Mexico City, and brought back what we know today as Puebla avocadoes. The trees flourished in the Southern California soil and were grown and sold mostly for local consumption. Over time, as the global commercial market grew for avocados, thicker-skinned Hass avocados became favored for cultivation as they were more durable to ship than the delicate Puebla avocado. Wildfires in San Diego County also destroyed all but 10 Puebla avocado trees, leaving the variety to be almost non-existent in the United States. These few remaining trees have been boarded and protected, and some growers in the area are working on reestablishing the variety. There is also a single Puebla avocado tree located on a family-owned property in Central Valley, California. The tree stands over nine meters in height and fifteen meters in diameter and has been growing on the farm for over fifty years. This tree has been affectionately labeled as "the 11th tree," further promoting the restoration of the forgotten variety. Today Puebla avocados are rare in the United States, primarily sold at local farmer's markets in San Diego and through Specialty Produce. The fruits are also found in limited quantities in Mexico and Kenya and are being considered for cultivation in Turkey and Spain.
Recipe Ideas
Recipes that include Puebla Avocados. One

is easiest, three is harder.
Podcast