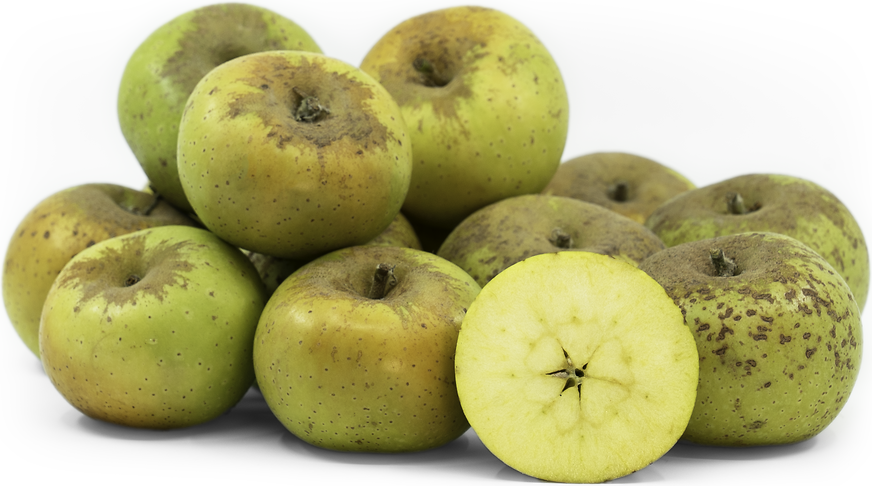 Ashmead's Kernel Apples
Inventory, lb : 0
This item was last sold on : 12/10/22
Description/Taste
Ashmead's Kernel apples are a small to medium-sized varietal, averaging 6 to 6.5 centimeters in diameter, and have a round to ovate shape with flat shoulders and a curved center. The apples often develop lumps and lopsided slants, creating an irregular appearance, and the skin has a golden yellow base, sometimes blushed with red-orange hues. Ashmead's Kernel apples are covered in large areas of rough brown russet and dark brown spots, giving the surface a dull and sandy texture mixed with glimpses of semi-smooth, non-russeted skin. The skin is semi-thick, chewy, and will slightly wrinkle at peak ripeness. Underneath the skin, the white to ivory flesh is dense, firm, aqueous, and fine-grained with a crunchy, crisp consistency. The flesh oxidizes quickly when exposed to air and contains a small central core filled with tiny dark brown seeds. Ashmead's Kernel apples release a sweet, floral aroma when sliced, reminiscent of orange blossoms. The flesh initially showcases a burst of sharp and sweet flavors as it contains high acidity and sugar, leading to a tangy honeyed aftertaste with pear nuances. It is important to note that the variety's flavoring will mellow in storage, becoming less acidic and mildly sweet.
Seasons/Availability
Ashmead's Kernel apples are available in the fall and can be stored through the winter.
Current Facts
Ashmead's Kernel apples, botanically classified as Malus domestica, are an heirloom English variety belonging to the Rosaceae family. The winter russet apple was discovered in the early 18th century and was selected for its balanced, sweet, and sharp flavoring. Ashmead's Kernel apples are a small and visually plain variety, covered in a dull, brown russet, but what the apples lack in appearance, they make up for in taste. Apple enthusiasts often regard the variety as having one of the most complex and dynamic flavorings of apples created in the 18th century. The late-season apple is primarily consumed fresh or pressed into juice for use in cider. Ashmead's Kernel apples were widely planted in private orchards in England throughout the 18th and 19th centuries and have remained a favorite heritage or heirloom variety. The apples are still grown on a small-scale, primarily in England, and are also found in select North American orchards.
Nutritional Value
Ashmead's Kernel apples have not been studied for their nutritional properties. Like other apples, the variety contains some vitamin C to strengthen the immune system, vitamin A to maintain healthy organ functioning, and fiber to regulate the digestive tract. The apples also provide low amounts of potassium to balance fluid levels within the body, iron to develop the protein hemoglobin for oxygen transport through the bloodstream, calcium to build strong bones and teeth, and other nutrients, including zinc, magnesium, B vitamins, boron, and copper. In England, baked apples and sugar were sometimes used to reduce common cold symptoms Cider was also mixed with ginger and gin, believing that the warmed beverage would relieve cold and flu symptoms.
Applications
Ashmead's Kernel apples have a sweet and sharp flavor suited for fresh and cooked preparations. The variety is traditionally consumed straight out of hand as a snack, appreciated for its complex flavoring, or it is chopped into salads, sliced into fruit bowls, or used as a fresh topping over oatmeal or porridge. Ashmead's Kernel apples are also commonly served on cheese boards and appetizer platters. In England, the apples were historically served in ploughman's lunch, a meal comprised of bread, butter, cheeses, onions, fruits, and a pickled element. These lunches were created to keep workers full throughout their workday and be a quick and easy dish to prepare. In addition to fresh preparations, Ashmead's Kernel apples have a dense, crisp texture that stands up to baking, added to cakes, scones, pies, crisps, and muffins. The variety is also incorporated into tarts, galettes, and other pastries or simmered into chutney, jams, or sauces for roasted meat. Beyond sweet preparations, Ashmead's Kernel apples can be cooked as an accompaniment to savory main dishes, baked whole with spices, or lightly sauteed. The variety is also a favorite addition to ciders, adding tropical, fruity, and floral nuances to cider blends. Ashmead's Kernel apples pair well with brown sugar, maple syrup, vanilla, chocolate, spices such as cinnamon, cloves, and nutmeg, and herbs including rosemary, parsley, and mint. Whole, unwashed Ashmead's Kernel apples will keep 1 to 4 months in a cool and dark location.
Ethnic/Cultural Info
Cidermaking was deeply embedded into life in the English countryside. The fermented apple beverage was often consumed more than water, considered hygienically safer at the time, and was produced on farms as a commodity and necessity. Cider was at one point part of a farm worker's wage, given in specific allotments depending on the job being completed. The cider house on the property was generally the central meeting spot for workers throughout the day. Despite its popularity, cidermaking was not without its challenges, and superstitions were woven into the fabric of its annual production. Across England, families would venture into their orchards on the eve of the Twelfth Night and perform various acts to appease the apple gods in hopes of a blessed and plentiful harvest. Most of the activities involved making loud noises, banging on trees, blowing horns, and singing songs to wake up the gods and expel evil spirits, but some traditions also involved dipping the branches in cider to allow the trees to drink the sweet liquid. Copious amounts of cider would be consumed during the festivities, and offerings of cider-soaked bread were placed in the trees for the gods to consume. Some cider was also thrown onto the trees as homage, and small apples would be left on the trees for the pixies. One of the more obscure customs was to pay respects to robins and blue tits, birds once considered sacred, who resided in apple trees. Pieces of toast would be left for the birds, and a small child would be placed into the tree to act as a bird known as "Tom Tit." The child would cry, "tit, tit, more to eat," and would be served cheese and cider-soaked toast.
Geography/History
Ashmead's Kernel apples are native to England and were discovered growing as a chance seedling. Kernel was a term once used to describe fruit tree seeds, a descriptor revealing that the variety was created through spontaneous selection. The variety was thought to have been planted by lawyer William Ashmead in the gardens of Ashmead House in Gloucester, England, in the early 1700s. Historically, the variety's origins have been heavily debated among pomologists as the apples were at one time called Doctor Ashmead's Kernel, leading some researchers to assume a physician planted the variety. Pomologists now generally agree that the term doctor was also used as an honorary title for lawyers as the profession was recognized as a Doctor of Law. William Ashmead was an established lawyer and city clerk in the town of Gloucester, making the Doctor of Law theory plausible, and this theory was further confirmed by Gloucester historians and Reverend Samuel Lysons in a lecture given in 1861. The parentage of Ashmead's Kernel apples is unknown, and the first nurseryman to introduce the variety was James Wheeler, who sold grafted Ashmead Kernel trees as early as 1763. Wheeler was a well-known nurseryman in England and eventually sent the variety to Brompton Park in the 1780s. Brompton Park was the most famous nursery at the time, taking Ashmead Kernel apples from obscurity into popularity. The nursery also sent the Horticultural Society of London the variety to add to their collection in 1826. By the mid-19th century, Ashmead Kernel apples were winning apple contests throughout England and were a favored dessert and cider apple planted in country estates. The variety received a First Class Certificate in 1981 through the Royal Horticultural Society and was later given the Award of Garden Merit in 1993, reconfirmed in 2013. Outside of England, Ashmead Kernel apples were planted in North America by the 1850s. They were one of the few Old-World apples that adjusted and adapted to North American terrain and climate. Today Ashmead's Kernel apples are grown through specialty orchards and private gardens as a novelty in England, some regions of Europe, and the United States.
Recipe Ideas
Recipes that include Ashmead's Kernel Apples. One

is easiest, three is harder.