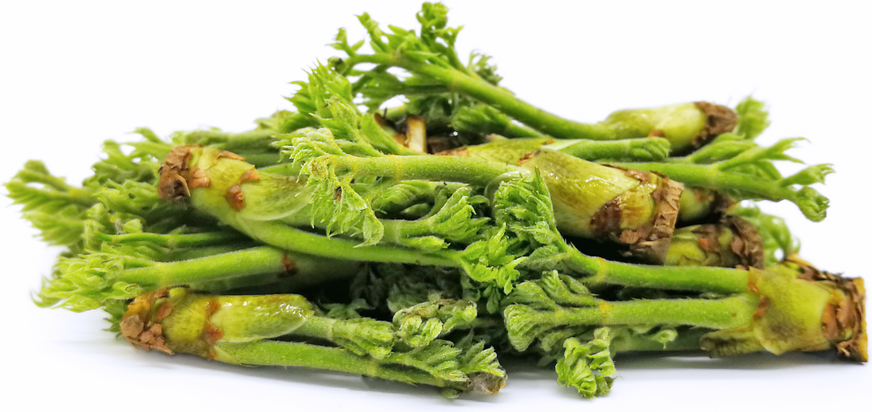 Taranome
Inventory, lb : 0
Description/Taste
Taranome is the name of the young shoots of a tree that appear in the spring as new growth on the stems and branches. The shoots are harvested when they are 3 to 5 centimeters in length, showcasing several individual sprouts growing from a singular, fibrous woody base. The base, known as hakama in Japanese, can sometimes be covered in sharp brown thorns and is woody, tough, and inedible, discarded before consumption. A transparent jelly-like sap may leak from the opening when the hakama is cut. The sprouts are straight, narrow, and cylindrical, capped with tiny, unfurling leaves and covered in fine, fuzzy hairs. The shoots also vary in color from yellow-green to purple-green and are edible at any of these stages. The darker, more pigmented coloring indicates that the shoots have softened and become more tender than their green counterparts. When in season, several types of Taranome vary in appearance. Some varieties may have small, sharp, brown thorns covering the shoots, some have thorns only around the base of the shoot, and some are entirely thornless. Each connection point on the tree can also produce two shoots, with the first harvest being thicker and tightly closed shoots, while the second harvest has thinner skins with more open leaves. Taranome is consumed lightly cooked and has a soft, tender, springy, and chewy consistency. Wild Taranome releases a grassy aroma and has an earthy, herbal brightness mixed with a green, subtly sweet taste and a lingering bitterness. Cultivated Taranome will share a similar flavor profile but will be milder and less bitter.
Seasons/Availability
Cultivated Taranome is available in commercial markets from mid-winter through late spring. Wild Taranoma appears in the early spring and is harvested through the early summer. Since Taranoma grows wild throughout regions in East Asia, the arrival of the wild sprouts may vary, depending on climate and growing environment.
Current Facts
Taranome, botanically classified as Aralia elata, is a descriptor for the young buds of the Asian Angelica tree belonging to the Araliaceae family. Aralia elata is a deciduous tree reaching 2 to 6 meters in height and is native to East Asia, known as Japanese Angelica, Chinese Angelica, or Korean Angelica. In the spring, the trees produce small clusters of new growth, and these sprouts are valued as a seasonal delicacy for culinary preparations. Taranome is one of the names for the shoots in Japan, and it is also known as Taranoki, Tarambo, Tarappe, and Ninokanabo in Japanese, Dureup and Dureupnamu in Korean, Liao Dong Song Mu or Liao Dong Mu Hu Mu in Chinese, and Araliia vysokaia and Araliya man'chzhurskaya in Russian. There are two types of Angelica trees that produce Taranome. Male Angelica trees, known as Ontara Odara, are distinguishable for their dark red-brown thorns covering the shoots and limbs of the tree. Female Angelica trees, Medara, typically are thornless. Cultivated Taranome primarily consists of shoots grown from female trees, as the thornless nature is appealing among consumers in commercial markets. The flavor of cultivated Taranome is also milder and less bitter, while Taranome harvested from male trees is traditionally stronger and more robust. Historically, Taranome was only found for a few months in the wild and was prized as a rare, seasonal culinary ingredient lightly cooked and served simply to showcase the green's bright taste. In the early 19th century, growers began cultivating the shoots through cuttings, expanding the shoot's availability in commercial markets. Several commercial varieties exist, including Saitani, Komamidori, Zao, Variegata, Shinkoma, and Aureovariegata.
Nutritional Value
Taranome is a source of potassium to balance fluid levels within the body and lower blood pressure, calcium to build strong bones and teeth, and iron to develop the protein hemoglobin for oxygen transport through the bloodstream. The young shoots also provide beta-carotene, which is converted into vitamin A in the body to maintain healthy organ functioning, magnesium to regulate optimal nerve functioning, and other nutrients, including phosphorus, zinc, vitamin K, folate, copper, and niacin.
Applications
Taranome has a vegetal, earthy, subtly bittersweet taste suited for lightly cooked preparations. If foraging with an experienced guide, it is recommended to wear gloves to protect hands against the thorns that develop on certain varieties of Taranome. Once harvested, the shoots should be washed, the fibrous bottoms known as the hakama should be trimmed, and the thorns should be scraped off with the back of a knife. Taranome is most popularly covered in a homemade batter and fried into tempura worldwide. The crisp exterior complements the soft, chewy, and tender interior, and the fried shoots are often served with dipping sauces for an enhanced eating experience. Boiled shoots can also be stirred into rice or noodle dishes, incorporated into soups, added to stir-fries, or stuffed with savory ingredients. Taranome is boiled and served in Japan with sesame, blanched and mixed with a flavorful marinade in oitashi, or simmered in dashi in aimono. In Korea, the shoots can be sauteed in spices, peppers, and sauces, combined into rice bowls, or blanched and served as a simple side dish. The shoots can also be pickled for extended use as a tangy condiment. Taranome pairs well with aromatics such as garlic, ginger, onions, shallots, and chile peppers and liquid flavorings including soy, sesame, miso, ponzu, and balsamic. Freshly harvested Taranome should be immediately consumed for the best quality and flavor. The shoots can be wrapped in newspaper, placed in a perforated plastic bag, and stored in the refrigerator's crisper drawer for 2 to 3 days. They can also be blanched and frozen for extended periods.
Ethnic/Cultural Info
Taranome is nicknamed the "King of Sansai" in Japan. Sansai is a term used for wild mountain vegetables that appear in Japan at the beginning of spring. These vegetables are prized for their signature refreshingly bitter and earthy flavors and are eaten as a celebratory ingredient for the awakening and rebirth of spring on the earth. It is customary in Japan to savor the fresh ingredients available each season, and Taranome embodies spring's vibrancy, aroma, texture, and delicateness. The young shoots are also locally known throughout Japan as the "butter of the mountain." This rich moniker was given to Taranome as the shoots have a distinct soft, tender, chewy, and springy nature, a combination that is favored as a cooked simple side dish or delicately fried tempura. Taranome is sensitive to over-harvesting in the wild as each tree only produces as few shoots each year, making the sustainably foraged shoots a rare, highly valued culinary ingredient.
Geography/History
Taranome, more broadly known as Aralia elata, is native to East Asia, specifically China, Japan, Korea, and select regions of Russia. The species has been growing wild since ancient times and is found in sunny spots along riverbanks, in forests, thickets, mountainous regions, and plains. Taranome has been consumed in Japan as a seasonal culinary ingredient since the Heian period from 794 through 1185 CE. For centuries, Taranome was only foraged from wild plants, and the edible shoots were available in limited quantities, leading them to become a prized and sought-after vegetable. The shoots of the Aralia elata tree were also consumed in ancient Chinese and Korean civilizations, desired for their tenderness. In the early 19th century in Korea, cuttings of the tree were being taken and grown indoors to produce new shoots. This was one of the first records of cultivation and was mentioned in the Gyuhap Chongseo, an encyclopedia for women. Cultivation in Japan began in 1973, and by the 1980s, the shoots were being commercially produced throughout the country, expanding and extending the Taranome season. Taranome is primarily cultivated for commercial sale in open fields, indoors in forced cultivation, or grown hydroponically in greenhouses. Today Taranome is foraged from the wild and commercially cultivated in Japan, Korea, and China. In Japan, wild and cultivated trees are found across the country, especially in Yamagata, Tokushima, Gunma, Toyama, Niigata, Shimane, Akita, Okinawa, Shikoku, Honshu, Hokkaido, and Kyushu Prefectures. Outside of Asia, Aralia elata was introduced to the United States in the 19th century. The trees are found in small populations in the northeast, and the young shoots are sold to restaurants as a specialty ingredient.
Recipe Ideas
Recipes that include Taranome. One

is easiest, three is harder.