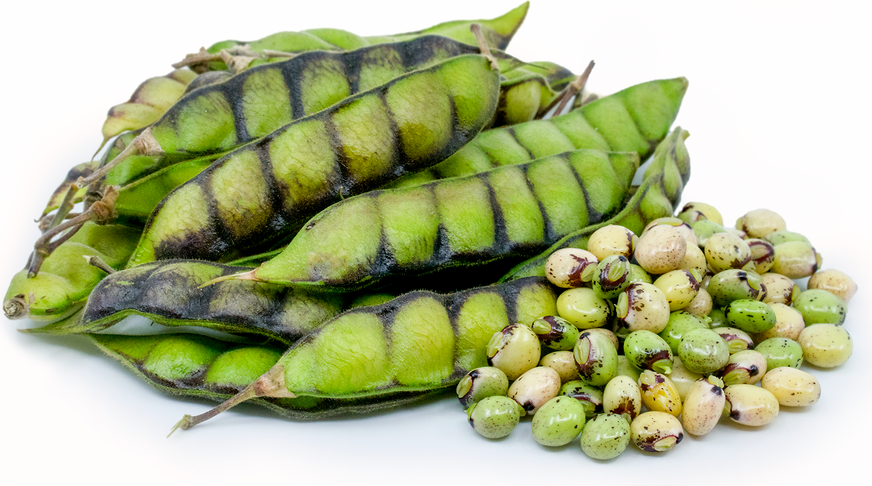 Pigeon Peas
Inventory, lb : 0
Description/Taste

Pigeon peas develop in small to medium sized pea pods, with an average of four to five developed seeds per pod. Pods range in color from a bright green when young, maturing to display brown splotching or striations, to completely dark brown almost purple in color. The inner peas are a bright green when young and mature to be a lighter goldenrod yellow. Fresh Pigeon peas are nutty in taste and offer a crispy texture.


Seasons/Availability

Peak season for fresh Pigeon peas are during the late summer and fall months.


Current Facts

Pigeon peas are botanically known as Cajanus cajan, a perennial legume within the family Fabaceae. Pigeon peas are also known as Thuvarai, Red Gram in India, Arhur or Toor dal in Hindi, and as Thuvaram Paruppu in Tamil. The Pigeon pea is the first seed legume plant to have its complete genome sequenced by a global research partnership between the International Initiative for Pigeonpea Genomics and other academic institutions.


Nutritional Value

Pigeon peas are an excellent source of protein and additionally provide thiamin, riboflavin, niacin, vitamin B-6, folate, vitamin A, calcium, iron, magnesium, phosphorous and potassium. Studies have shown that when the Pigeon pea is at its green stage, just before it becomes dry and loses its color it is at is most nutritious and easier to digest than when dried. In India the leaves of Pigeon peas are believed to be helpful in treatment of diarrhea and dysentery and can be made into a paste when mature or into a juice when leaves are young.


Applications

Pigeon peas can be utilized when young as a raw pea and when more mature or dried as a bean or dried pea. When immature and fresh they need not be cooked and the peas can be shelled and added to salads or eaten as a snack as is. When dried or more mature in the pod they should first be soaked for a few hours or up to overnight prior to cooking to make them easier to digest. Pigeon peas can be simmered, sautéed, steamed and fried. Cooked peas can be added to soups, stews, curries, sauces, salads and rice preparations. Their flavor pairs well with mango, coconut, onion, tomato, ginger, citrus juice, turmeric, cilantro, cumin, curry, ghee, coconut milk, sausage, pork and rice. To store keep fresh Pigeon peas dry and refrigerated, best used within three to four days.


Ethnic/Cultural Info

In India dried Pigeon peas are the main bean used to make the popular ingredient dal or dhal which is simply the dried, hulled and split bean. Additionally they are commonly used in African and Caribbean soups, stews and rice dishes. Not only does the Pigeon pea provide a valuable food source in these areas but also its leaves can be used as animal feed and the woody parts of the plant as firewood.


Geography/History

Pigeon peas are believed to be native to eastern India where they have been cultivated for 3,500 years. India produces the bulk supply of the worlds Pigeon peas with approximately 82% of total production grown there. Additionally Central America and eastern Africa grow Pigeon peas for commercial distribution. Pigeon pea plants make excellent cover crops and are used in tropical and subtropical regions to protect soils and prevent monsoon rains from washing away valuable nutrients. They are a nitrogen fixing crop and can enrich the soil where they are grown. Pigeon peas are fairly easy to grow and have a deep taproot which makes them tolerant of drought and dry weather, thriving even in poor soil conditions. Like most beans though they cannot withstand frost and prefer warm growing conditions.