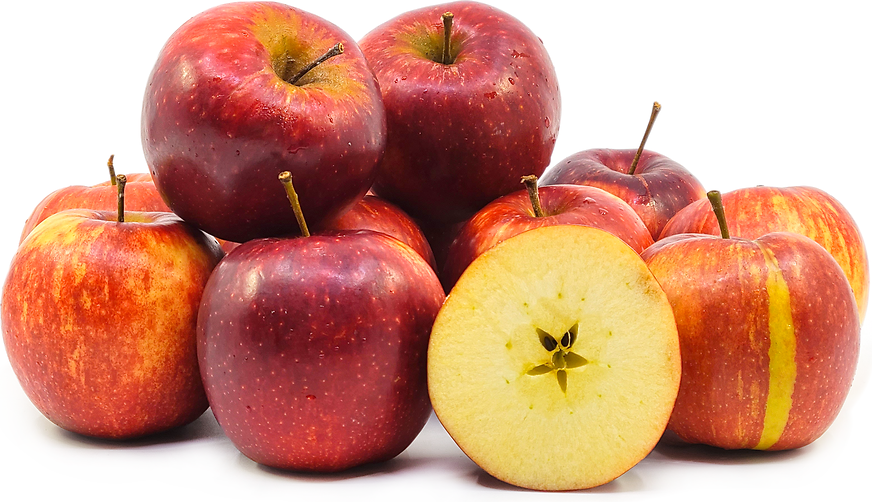 Rubigold Apples
Inventory, lb : 0
Description/Taste

Rubigold apples are a medium to large varietal, averaging 7 to 9 centimeters in diameter, and have a round to conical shape with a long and slender, fibrous, brown stem. The apple's skin is semi-thick, smooth, taut, and matte, showcasing a yellow-orange base hue, covered in a bright red to crimson blush and striping. The skin is also speckled with prominent yellow lenticels, displays a green-brown russet in the stem cavity, and has a waxy sheen. Underneath the surface, the flesh is golden yellow, aqueous, and fine-grained with a soft, crisp consistency. A small central core is in the center of the flesh, containing tiny black-brown seeds. Rubigold apples should feel heavy for their size and have a mild, subtly sweet, and vegetal aroma. The apples also contain high sugar and acidity, creating a balanced, sweet, and tangy flavor with cider-like nuances.


Seasons/Availability

Rubigold apples are available in the fall in Tasmania with a peak season from February to May.


Current Facts

Rubigold apples, botanically classified as Malus domestica, are a Tasmanian variety belonging to the Rosaceae family. The modern apple cultivar was discovered growing as a chance seedling in the late 20th century and was selected for its vibrant coloring and sweet-tart flavor. The name Rubigold apple was derived from combining the apple's ruby skin coloring and its golden-yellow flesh. Rubigold apples are a boutique variety only cultivated through one farm in Tasmania, producing a limited supply each season. The apples are sold throughout Tasmania and Australia as a local variety and are also exported to Southeast Asia, where they are favored as a rare, specialty apple. Rubigold apples have a balanced flavor and crisp texture, commonly consumed in fresh and cooked preparations.


Nutritional Value

Rubigold apples are a source of fiber to regulate the digestive tract, potassium to balance fluid levels within the body, and vitamin C to strengthen the immune system. The apples also provide antioxidants to reduce inflammation and protect the cells against free radical damage, iron to develop the protein hemoglobin for oxygen transport through the bloodstream, vitamin A to maintain healthy organ functioning and contain other nutrients, including magnesium, B vitamins, calcium, vitamin K, and copper.


Applications

Rubigold apples have a balanced, sweet, and tangy flavor suited for fresh and cooked preparations. The apple's crisp flesh is typically consumed straight out of hand, or the fruits can be sliced for charcuterie boards, chopped into salads, shredded into slaws, or mixed into fruit medleys. Rubigold apples can also be sliced and used as a vessel for dips, thinly cut and layered into sandwiches, or sprinkled with cinnamon as a simple snack. Beyond slicing the flesh, Rubigold apples provide sweet flavoring to smoothies, juices, ciders, and cocktails. The apples can also be simmered into jellies, jams, and preserves, pureed into sauces, or sauteed and served with roasted meats to create a savory-sweet dish. Rubigold apples have high sugar content and hold their shape well, allowing them to be incorporated into desserts and baked goods, including crisps, cobblers, pies, cakes, muffins, turnovers, dumplings, and tarts. The apples can also be hollowed, stuffed, and baked, sauteed in browned butter, or poached in spices. Rubigold apples pair well with nuts such as walnuts, pecans, and almonds, maple syrup, vanilla, spices including cinnamon, cloves, and nutmeg, and meats such as pork, turkey, and poultry. Whole, unwashed Rubigold apples will keep for several weeks when stored in the refrigerator's crisper drawer.


Ethnic/Cultural Info

Tasmania is known as the Apple Isle. The first apple trees planted in Tasmania were in 1788 by Captain William Bligh on Bruny Island and were later planted at York Town in the Tamar Valley. Tasmania's climate suited apple production, and over time, it became a common practice for family farms to plant apple orchards as a food source. Apples were a symbol of British colonization on the island, and with the invention of refrigeration on steamships in the 1890s, growers began shipping apples to Europe. Tasmania's apple season was opposite England's apple season, causing the apple export market to peak in the 1920s and 1930s. This apple boom led to Tasmania developing its self-proclaimed title of the Apple Isle, and by the 1960s, there were over 4,000 apple growers. The island even created a large sign made from apples reading "Welcome to Apple Land" when the Duke and Duchess of York visited in 1927. Despite its thriving nature between the 1920s and 1960s, the boom was short-lived as England joined the European Union in the 1970s, terminating its partnership with Tasmania. The Tasmanian apple industry collapsed, forcing most growers to shut down. In the present day, experts estimate of the 4,000 apple farms, only about 20 have remained working orchards. Though the apple industry has considerably diminished in Tasmania, the Apple Isle nickname still highlights Tasmania's rich agricultural history and the island as a culinary tourism destination.


Geography/History

Rubigold apples were discovered growing as a chance seedling on the Griggs family farm in the Huon Valley, Tasmania, in 1997. The Griggs family farm was established in 1842, mainly selling common apple varieties. Six generations later, brothers Dane and Brett Griggs were working with their father, Kevin, in the apple orchards when they noticed a tree branch producing darker red, pigmented fruits. The branch had developed several natural apple mutations of the original variety, and these sports were grafted onto test trees for further evaluation. The Griggs family spent many years studying, researching, and observing the variety until they deemed it ready for commercial release. They sold the apples to local markets in Tasmania in 2009 under the name Rubigold. The apples became widely favored for their sweet, crisp nature, expanding the variety's presence to grocers and distributors across Tasmania and Australia. In 2014, Rubigold apples were first exported, and in 2016, the apples were exported to Southeast Asia, including Taiwan, China, and Hong Kong. The variety was highly favored in Chinese markets as the apple's red and gold coloring is often a symbol of prosperity and good fortune. Tasmania is also the only state in Australia allowed to ship apples to China as the island is fruit fly free. Today Rubigold apples are solely grown and marketed by BW Griggs & Sons, the Griggs family company name, and around 40% of the orchard's total apple output is the Rubigold variety. Rubigold apples are produced in Tasmania and are shipped domestically throughout Tasmania and Australia. The apples are also exported to Southeast Asia, where they are sold through local grocers, distributors, and specialty retailers. The Rubigold apples featured in the photograph above were sourced from the Cold Storage supermarket in the Takashimaya Center in Singapore.