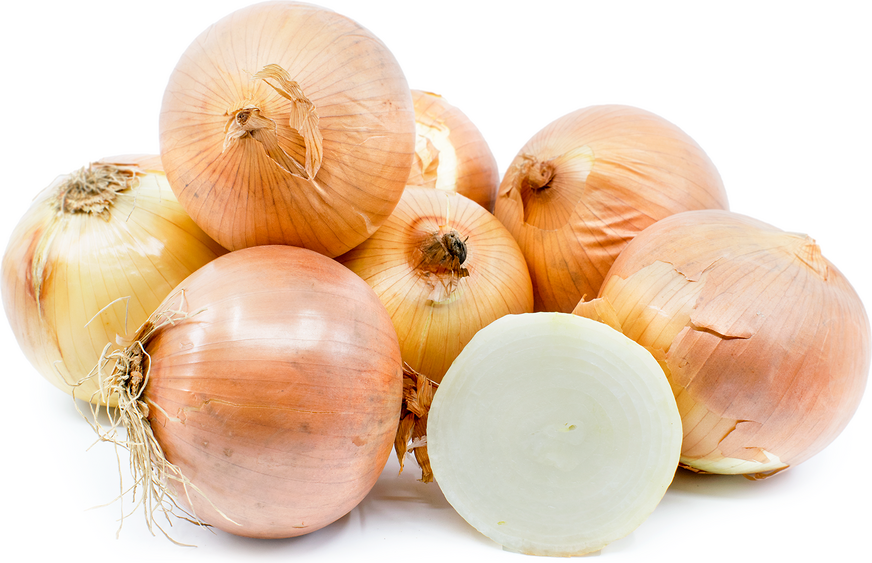 Texas 1015 Sweet Onions
Inventory, 50 lbs : 0
Description/Taste
Texas 1015 Sweet onions are a medium to large varietal, averaging 10 to 15 centimeters in diameter and 14 to 16 ounces in weight, and have a round to slightly flattened appearance. The globular bulbs are plump, firm, and heavy with a tapered neck, and the exterior is encased in layers of papery thin skin, sometimes known as scaly leaves. These dry layers are smooth, brittle, and rough, showcasing warm bronze, light brown, to tan tones. As these layers are peeled away, the bulb is comprised of uniform concentric rings known as fleshy leaves. The flesh is typically off-white and has a dense, aqueous, crisp, tender, and succulent consistency. One of the distinct features of Texas 1015 Sweet onions is its single center flesh and large rings that can be easily separated. This specific trait is intentionally bred into the variety and allows the onions to be utilized quickly in culinary preparations. The bulbs also lack the pungent, irritating chemicals that cause the eyes to water and burn when the flesh is sliced. Texas 1015 Sweet onions have a flat, round stem disk attached to the base and several thin adventitious roots creating a small tuft. When selecting Texas 1015 Sweet onions, look for bulbs with dry necks and tight, shiny, thin skin. Texas 1015 Sweet onions have high sugar and water content creating a mild and sweet taste with warm, pleasant aromatics.
Seasons/Availability
Texas 1015 Sweet onions are available in the late winter through early summer. In the Rio Grande Valley, the variety is typically harvested as early as March through June, and in South Central Texas, the onions are picked between May through July.
Current Facts
Texas 1015 Sweet onions, botanically classified as Allium cepa, are a famous short-day varietal belonging to the Amaryllidaceae family. The cultivar was developed as an improved sweet onion in South Texas in the 20th century and was selected for commercial production for its large size, sweet flavor, disease resistance, high yields, and uniformity. Texas 1015 Sweet onions are one of the first spring onions to be harvested in the season and are a type of single-centered onion, meaning the flesh bears even concentric rings. The variety's numbered moniker was created from the type of onion- a sweet onion, its growing region- Texas, and the suggested planting date of October 15th. The name can sometimes include a "Y" at the end of 1015, a label for the variety being a yellow onion. It is important to note that only onions grown within specific counties of South Texas can officially be labeled with a Texas descriptor, but it is common to see the variety written under several names, including SuperSweet onions, 1015 onions, Texas 1015Y SuperSweet onions, Texas 1015Y, Texas 1015, TX1015 and other variations. When in season, commercially grown Texas 1015 Sweet onions are harvested, always packed fresh, and never stored, and the warm, mild winter of South Texas allows for the variety to appear early in the season. Texas 1015 Sweet onions are one of Texas's most famous sweet onion varieties, and both consumers and chefs favor the bulbs for their sweet, non-pungent taste, able to be incorporated into fresh and cooked preparations.
Nutritional Value
Texas 1015 Sweet onions are a source of vitamin C to strengthen the immune system while reducing inflammation, potassium to balance fluid levels within the body, and fiber to regulate the digestive tract. The onions also provide calcium to build strong bones and teeth, iron to develop the protein hemoglobin for oxygen transport through the bloodstream, and other nutrients, including vitamin B6, manganese, vitamin A, and folate. In addition to vitamins and minerals, Texas 1015 Sweet onions contain very little pyruvate, which is the substance in onions responsible for their sharp flavor and eye-watering burn.
Applications
Texas 1015 Sweet onions have a mild and sweet taste suited for raw and cooked preparations. The variety is favored for its crisp, succulent, aqueous, and tender consistency that is showcased when consumed raw. Texas 1015 Sweet onions can be chopped fresh and tossed into herb and fruit salads, leafy green salads, or shredded into coleslaws. The bulbs can also be minced into salsas such as black bean or peach and onion, finely chopped into dressings, mixed into hummus or onion dips, or stirred into grain bowls. Try topping tacos with sweet onions, layering slices into sandwiches and wraps, or using them as an addition to fresh seafood dishes as a sweet variation. Texas 1015 Sweet onions can also be cooked, adding a layer of savory flavor complexity, and are popularly grilled and served on burgers and sliders, fried into onion rings, or cooked and mixed into fajitas, skillet dinners, rice, and braised meat dishes. The flesh's sweet nature complements the robust flavors found in pasta sauces and is used as a sweet topping over flatbread. Texas 1015 Sweet onions can also be mashed into avocado toast, stirred into soups, curries, stews, and casseroles, sauteed with eggs, or baked into sweet onion bread. Beyond conventional recipes, the onions can be quick pickled as a tangy, bright condiment. Texas 1015 Sweet onions pair well with herbs such as cilantro, basil, and parsley, cheeses including gruyere, parmesan, and cheddar, spices such as allspice, cumin, and cayenne, and meats such as pork, beef, and poultry. Whole, unopened Texas 1015 Sweet onions will keep for 1 to 2 months when stored in a cool, dry, and ventilated location. The onions have a high-water content and can dry out quickly. Place the onions in pantyhose and tie knots between each bulb for extended storage capabilities. The bulbs can also be wrapped in a paper towel and plastic in the refrigerator's crisper drawer. Do not store Texas 1015 Sweet onions beside potatoes, as this will cause the onions to decay faster.
Ethnic/Cultural Info
Texas 1015 Sweet onions were nicknamed the "million-dollar baby" when they were first released. The moniker was jokingly bestowed upon the variety because it took over ten years to develop, resulting in high costs, but over time, the all-in-fun nickname transformed into a new meaning, representing Texas 1015 Sweet onion's success as a cash crop. Texas 1015 Sweet onions became so popular throughout the Lone Star State that it was even named the official state vegetable of Texas in 1997. The bulb's uniform ring layers and sweet taste launched it as a favored commercial onion for making onion rings, and restaurants across the United States were purchasing the bulbs, spurring an evolution in fried onion dishes. In the late 20th century, Texas 1015 Sweet onion's fame and notoriety spread through chefs, growers, and consumers like wildfire, but in the 21st century, onion advocates are working to pass the variety's story onto the next generation. In 2021, the Texas Department of Agriculture received a Specialty Crop Grant through the United States Department of Agriculture, allowing for Texas 1015 Sweet onions to be marketed for the first time through a national cross-platform campaign. The variety was branded under the name TX1015, and the marketing was geared toward consumers versus industry professionals through the theme "Farmed by Texans, Famous by Families." Texas 1015 Sweet onions were also featured in a strategic restaurant week where participating restaurants would make the sweet onion the star of a dish. The contest was held throughout South Texas, the onion's native growing region, and each restaurant was given a 50-pound bag of onions to experiment with and create a dish. Throughout the 10-day event, the public would sample and vote for their favorite dishes, and the top-rated dishes would earn the restaurant's prizes. Some of the winning dishes included schnitzel topped with fried onions, a brisket blooming onion, and a smoked onion and sausage burger.
Geography/History
Texas 1015 Sweet onions were developed at the Texas Agricultural Experiment Station in Weslaco, Texas, in the late 20th century. Sweet onions, in general, were initially introduced into South Texas in 1898 from Bermuda, and in 1899, the first harvested crop from these plantings was met with success. Larger, more extensive plantings of Bermuda onions were created, establishing Texas as a major grower of sweet onions throughout the early to the mid-20th century. Several breeding programs and agricultural experiment stations were constructed throughout South Texas to improve commercial onion varieties to meet increasing demand, and notable cultivars such as Grano 502 were developed. Grano 502 is often regarded as the mother of sweet onions and was used in the parentage of Texas 1015 Sweet onions. Over time, Grano 502 was continually improved upon, creating Granex varieties, and in 1950, Dr. Paul Leeper joined the onion-breeding program at the agricultural experiment station in Weslaco, Texas, to produce more disease-resistant varieties. By the 1960s, Dr. Leeper was one of the head horticulturalists in the program and spent over ten years testing hundreds of hybrid onion crossings. Several years later, Dr. Leeper began working with Dr. Leonard Pike and tested onion cultivars in specific blocks to develop varieties that were resistant to the pink root disease. Dr. Pike also worked closely with more than fifty graduate students on this project, and eventually, in the early 1980s, Texas 1015 Sweet onions were created from Texas Early Grano 951. Texas 1015 Sweet onions were released to South Texas growers in 1985, quickly becoming one of the state's most famous onions. Today Texas 1015 Sweet onions are grown in specific regions of South Texas, especially in the Rio Grande Valley, and only 22 authorized shippers sell the variety. When in season, Texas 1015 Sweet onions are found through select distributors and grocers across the United States.
Recipe Ideas
Recipes that include Texas 1015 Sweet Onions. One

is easiest, three is harder.
the other 3...