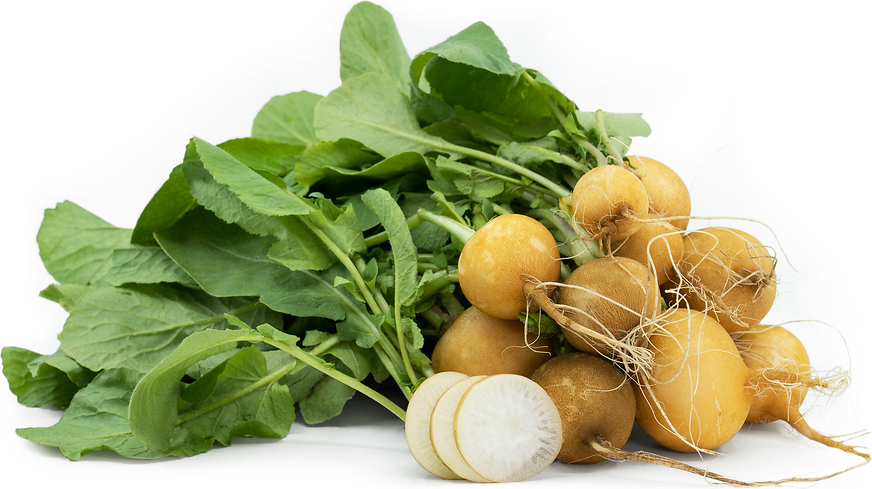 Helios Radish
Inventory, bunch : 0
Description/Taste

Helios radishes are a small varietal, averaging 2 to 5 centimeters in diameter, and generally have a round to oblong shape with a single taproot extending from the non-stem end. The radish's skin is semi-thin, firm, and rough with a distinct, ivory to golden yellow-tan hue. Underneath the surface, the white flesh is dense, aqueous, and crisp with a crunchy, snap-like consistency. Helios radishes are typically harvested when smaller, as the petite roots have an earthy aroma with a mild, sweet, and peppery flavor. If the radishes are left to grow to larger sizes, they will develop a slightly woody and pithy texture, becoming spicier, bitter, and more pungent. In addition to the roots, Helios radish plants also produce edible green leaves with a semi-rough, textured, and pliable consistency and feature mid-ribs with purple streaks. When consumed fresh or cooked, the leaves contain peppery nuances and impart a grassy, green, and earthy flavor.


Seasons/Availability

Helios radishes are available in the early spring through summer.


Current Facts

Helios radishes, botanically classified as Raphanus sativus, are an heirloom variety belonging to the Brassicaceae family. The spring radish matures in approximately 30 to 35 days and is a fast-growing variety that can be sown in warmer climates. Yellow radishes are believed to have developed from a mutation of red radishes, naturally losing the pigment gene to produce a vibrant coloring. The radishes are also known for their heat tolerance, allowing yellow radish varieties to be planted in the late spring. Helios radishes are favored for their productive nature, mild flavor, unique coloring, and ability to be grown in warm regions. The radishes are not commercially cultivated and are a rare variety sown in home gardens or through select growers as a specialty root, primarily used fresh but also versatile in cooked preparations.


Nutritional Value

Helios radishes are an excellent source of vitamin C to strengthen the immune system while reducing inflammation and fiber to regulate the digestive tract. The radishes also provide potassium to balance fluid levels within the body, calcium to protect bones and teeth, magnesium to support optimal nerve functioning, and contain other nutrients, including folate, iron, manganese, zinc, and vitamin B6. Radish greens provide vitamin A to maintain healthy organ functioning and are rich in other vitamins and minerals such as iron, magnesium, potassium, calcium, and vitamin C.


Applications

Helios radishes have a mild, sweet, and subtly peppery flavor well suited for fresh and cooked preparations. The small radishes can be washed and consumed straight, out of hand, or they can be displayed on appetizer platters with dips and soft cheeses. Helios radishes can also be sliced and tossed into green salads, shredded into slaws, stuffed into sandwiches, or used as a fresh topping over tacos. In Czechoslovakia, Helios radishes are sometimes shredded into a softened cream cheese spread flavored with butter, chives, and salt. This spread is often served as a dip for crudité plates or used as a topping for crackers or toast. In addition to fresh preparations, Helios radishes will develop a sweeter flavor when cooked and are popularly roasted or braised to create a soft texture. The golden radishes can be cooked with other root vegetables such as beets, carrots, or parsnips and served as a savory side dish to roasted meats. They can also be baked into casseroles or blended into purees. Beyond the roots, Helios radish greens can be used in any recipe calling for standard radish leaves. The leaves have a pungent, grassy taste and can be used raw in salads, lightly sauteed and stirred into soups, or served as a side dish. The greens can also be blended into pesto or hummus. Helios radishes pair well with herbs such as thyme, cilantro, tarragon, parsley, and chives, meats including beef, pork, and poultry, tofu, and cheeses such as parmesan, gorgonzola, and goat. Whole, unwashed Helios radishes will keep 1 to 2 weeks when stored in the refrigerator.


Ethnic/Cultural Info

Helios radishes are named after the titan god Helios, a deity that symbolizes the sun in Greek mythology. Helios is often depicted riding on a golden chariot with four winged horses, traveling across the sky, and behind his chariot, he carries the light of the sun. He is also seen with rays of the sun shining around his face and is beardless, wearing purple robes. Over time, Helios was eventually combined with Apollo, the god of archery, truth, and light. While Helios was not one of the major gods listed in mythology, he is considered to be one of the most recognizable in Greek art. Helios radishes were named after the god for their golden yellow coloring reminiscent of the sun.


Geography/History

Helios radishes were first documented in Kosice, Czechoslovakia, and were collected by well-known seed saver Alzbeta Kovacova-Pecarova. Much of the history of this variety and yellow radishes, in general, is unknown. Experts discovered records of yellow radishes in the early 1700s and theorized that the golden roots developed from a mutation of red radishes, causing them to be missing a gene that produces the typical red coloring. Their flavor, however, paled in comparison to red radishes, and yellow radishes were mostly unknown until the 19th century. Yellow radish varieties, possibly including Helios radishes, were introduced into the United States during the 1800s and were a favored home garden variety for its unusual coloring, sweet flavor, and heat tolerance. Today Helios radishes are a rare heirloom variety only grown through specialty farms and radish enthusiasts. The variety is sold fresh through farmer's markets in Europe, the United States, and Australia, and in seed form, it is offered through online retailers worldwide.