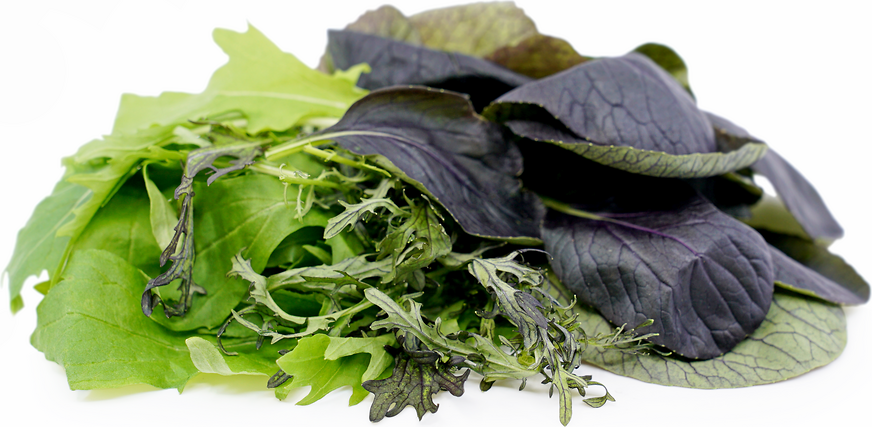 Petite® Mustard Mix™
Inventory, 4 oz : 0
This item was last sold on : 02/22/22
Description/Taste

Petite® Mustard Mix™ is a combination of small to medium-sized leaves, ranging 10 to 15 centimeters in length, and are found in various shapes, including ovate to lanceolate with netted veining, and long, slender, and deeply lobed leaves containing ornately serrated edges. The greens also vary in color from dark green to a rich burgundy and include smooth, rough, crisp, and succulent textures. Petite® Mustard Mix™ is highly aromatic with an herbaceous, nutty, and slightly sweet flavor and a robust, peppery bite.


Seasons/Availability

Petite® Mustard Mix™ is available year-round.


Current Facts

Petite® Mustard Mix™ is a part of a boutique line of specialty greens produced by Fresh Origins Farm in San Marcos, California, known as Petite® Greens. These greens are more mature than microgreens, harvested approximately 4 to 6 weeks after sowing, but they are gathered before the greens are fully mature, resulting in small, tender leaves with a robust flavor. Fresh Origins currently grows over 125 varieties of Petite® Greens year-round in sprawling, sustainably-minded greenhouses. Petite® Mustard Mix™ combines many different mustard greens, including red and green frill, mizuna, wasabi, and red and green curly mustards. This blend offers chefs a robustly nutty and slightly sweet flavor with an intense peppery bite, and the greens provide added colors and textures to enhance visual appeal when plated.


Nutritional Value

Petite® Mustard Mix™ greens are rich in fiber and a variety of micronutrients. The greens are a rich source of vitamin K, which plays a vital role in the body's ability to clot blood, and vitamin C, a water-soluble vitamin that supports the body's immune system. The greens also contain significant levels of vitamin A, vitamin B6, and vitamin E, as well as beta-carotene, flavonoids, and other antioxidants that reduce inflammation and support systems in the body.


Applications

Petite® Mustard Mix™ is best suited for raw applications and is mainly used as a garnish on appetizers and main dishes. It is also used as an edible bed for grilled meats and vegetables, placed on pasta, soups, in sandwiches, and its perforated leaves can hold up to vinaigrettes and oils, allowing it to be mixed in with other salad greens. The delicate greens cannot withstand high heat and should be added at the end of the cooking process or during plating to prevent the leaves from wilting. Petite® Mustard Mix™ pairs well with meats such as beef, pork, poultry, and grilled fish, herbs including cilantro and basil, aromatics such as cumin, garlic, sweet onions, and red onion, mushrooms, fennel, black-eyed peas, creamy soft and fresh cheeses, nutty oils, light vinegar, citruses such as grapefruit and lemon, and stone fruits such as peaches and cherries. The greens will keep 7 to 10 days when stored unwashed, in a sealed container, and in the refrigerator.


Ethnic/Cultural Info

Petite® Greens, such as Petite® Mustard Mix, are not only highly aromatic and flavorful, they are also incredibly nutritionally dense, often containing higher nutrient levels than more mature vegetable greens. During the 2020 global Covid-19 pandemic, restaurants, caterers, and meal-prep companies saw an increased demand for highly nutritious meals to help boost immunity, improve mental health, and help mitigate weight gain caused by the reduction of physical activity due to global lockdowns and social distancing. Consumers began eating meals filled with more whole foods, vegetables, and plant-based options, and a study conducted by ADM, a leading food processing company, found that more than 75% of consumers polled wanted to do more to maintain these healthier habits. This shift in consumer behavior has inspired many chefs to reinvent their menus, adding more microgreens and Petite® Greens to create beautiful, flavorful, and nutritionally dense garnishes, salads, and lettuce beds in their dishes.


Geography/History

Mustard greens are native to India and have been cultivated for over 4,000 years in Asia and at least 2,000 years in Europe. The greens were introduced to North and South America by European colonists, where they quickly naturalized and are now grown throughout the Northern Hemisphere. Petite® Mustard Mix™ was developed at Fresh Origins in San Marcos, California, the leading American producer of naturally grown microgreens and Petite® Greens since the mid-1990s. The temperate climate of southern California allows Fresh Origins to produce their high-quality greens year-round, supplying produce suppliers and chefs directly throughout the United States and Canada.