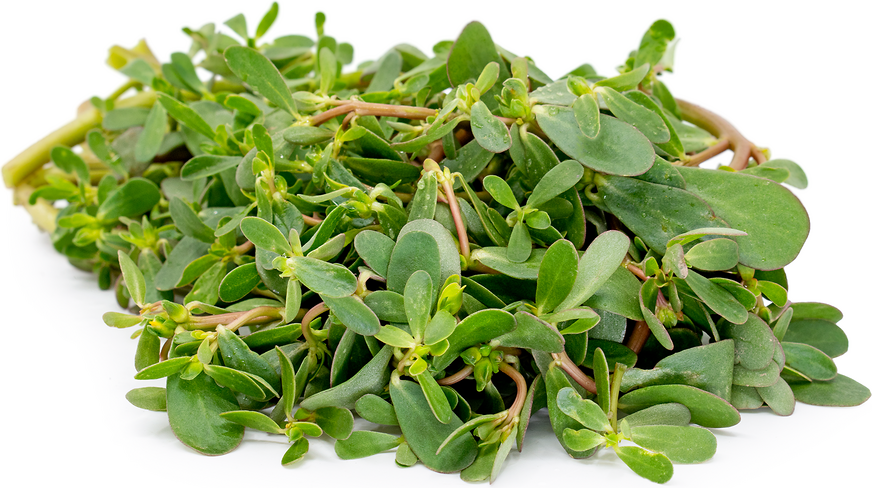 Purslane
Inventory, bunch : 0
Description/Taste
Purslane is a quick-growing, low-spreading weedy plant that grows horizontally from a single taproot and forms flat, round mats about 40 to 90 centimeters in diameter. The plant has thick, cylindrical, reddish-colored stems that branch out about 30 centimeters long, and it produces tiny yellow flowers when mature. The succulent, fleshy, oval, or spoon-shaped leaves grow alternately along the stems and reach five centimeters long. The stems, leaves, and flower buds are all edible, offering a crisp, cucumber-like texture with a slightly salty, tart, lemony flavor with a peppery kick.
Seasons/Availability
Purslane is available in the spring through the summer.
Current Facts
Purslane is an annual succulent plant botanically known as Portulaca oleracea and is a member of the Portulacaceae family. It is not the same plant as sea purslane, which has a similar appearance but is an entirely different species. Purslane is one of the most common weeds globally and is often nicknamed Little Hogweed or Pigweed. It may also be called Common or Garden Purslane and is known by other names across the globe, such as pirpirim in Turkey, Pourpier in France, and Verdolaga in Mexico and South America, where it is one of several edible wild greens known as quelites.
Nutritional Value
Purslane has the highest amount of heart-healthy omega-3 fatty acids of any green plant source. It contains more vitamin E than spinach and about seven times more beta carotene than carrots. It is rich in vitamin C, calcium, iron, magnesium, potassium, and pectin and is known to have antibacterial, antioxidant, and anti-inflammatory properties. It also contains high levels of melatonin, a hormone that can help regulate sleep. It is important to note that Purslane does contain high amounts of oxalates, similar to spinach and other leafy greens; hence it should not be consumed excessively, especially by those with kidney troubles.
Applications
Purslane is treated as both an herb and a leafy green and can be used raw, cooked, juiced, or pickled. It is most commonly found in recipes from Mexico, Morocco, Turkey, Italy, and Greece. It can be cooked similarly to spinach or watercress, such as steamed or sautéed alongside other vegetables, and can even serve as a substitute for spinach in many recipes. Use the young, tender leaves and stems to give a crisp texture to leafy green or fruit salads, cold noodle dishes, salsas, or sandwiches. Purslane becomes gummy or almost gelatinous when cooked, similar to okra, and can be used to thicken soups, stews, and sauces. The tougher raw stems will also become soft and tender with cooking. Its salty, lemon-like flavor pairs well with oils, citrus, yogurt, cheese, nuts, kale, and other leafy greens, and pungent flavors like olives, garlic, radish, anchovies, or seafood. It does well in dishes ranging from niçoise salad to pesto, or even puerco con verdolagas, a Mexican pork stew. In Morocco, purslane is often used in a popular foraged-greens dish called bakoula (also spelled bqula or bakula), made from Purslane or mallow greens flavored with olives, preserved lemons, and spices. In Greece, Purslane leaves are fried in olive oil and mixed with feta, tomato, onion, garlic, and oregano. Fresh Purslane can be stored in a bag or container in the refrigerator for up to about a week, or it can be pickled to preserve for extended use.
Ethnic/Cultural Info
Purslane has been used for thousands of years in both culinary and medicinal applications from Italy to China. It is known as Ma Chi Xian in traditional Chinese Medicine, where it is considered the "vegetable for long life" and has historically been used as a natural antibiotic and employed to stop bleeding, relieve hot flashes, detoxify the body, and more. Its medicinal value is noted in several Indian traditional medicinal systems, including Ayurveda, and was documented in the writings of both Roman naturalists Pliny the Elder, and Greek physician, Pedanius Dioscorides. Purslane has historically been used as a poultice for burns or skin irritations, made into a tea for treating head or stomach aches, and has been employed as a natural remedy for everything from asthma and coughs to ulcers, inflammation, and diseases related to the intestine, liver, or stomach.
Geography/History
Although the exact origin is unknown, Purslane is believed to be native to eastern Mediterranean and western Asia, with evidence of cultivation dating back at least 4,000 years. It was said to have been used as a common vegetable in the Roman Empire and was widely cultivated throughout Europe in the Middle Ages, often grown in monasteries. It was brought to North America during pre-Colombian times, and today it has naturalized in most parts of the world, both tropical and temperate, as it is self-pollinating, drought-resilient, and can thrive in almost any kind of soil in regions with at least a two-month growing season. It grows wild in orchards, fields, vineyards, gardens, roadsides, and other disturbed sites throughout Europe, Africa, North America, Australia, and Asia. Purslane can be found at local markets or specialty stores.
Recipe Ideas
Recipes that include Purslane. One

is easiest, three is harder.
the other 3...