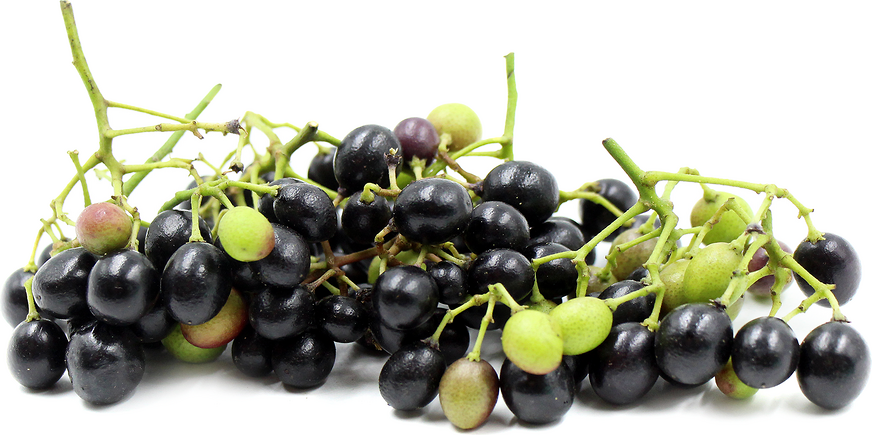 Curry Berries
Inventory, lb : 0
Description/Taste

Curry berries are small in size, averaging .5 to 1 centimeter in diameter and 1 to 2 centimeters in length, and have a round to ovoid shape with blunt, curved ends. The berries grow in clusters of 32 to 80 fruits attached to bright green branching stems and are intermixed throughout the leaves, giving the tree a colorful appearance. The berry's skin is thin, smooth, glossy, and taut, transitioning from green, pale red, purple-red, to dark purple, almost black when ripe. Underneath the surface, the flesh is semi-thin with a lightly aqueous, tender, and succulent, jelly-like consistency. The flesh also encases 1 to 2 large, oval dark green seeds ranging from 5 to 7 millimeters in length. The seeds contain toxic elements and are inedible. They should always be discarded and should never be consumed. They also carry an extremely bitter and unpleasant taste, a warning that they should not be eaten. When ripe, Curry berries have a subtly sweet, savory, herbal, and citrusy taste combined with perfumed, tangy, peppery, and resinous nuances.


Seasons/Availability

Curry berries are available in the summer. Small, scented white flowers appear in the late spring to early summer, and once pollinated, the flowers will give way to round, glossy berries. In some tropical climates, the berries may be found multiple times per year.


Current Facts

Curry berries, botanically classified as Murraya koenigii, are the fruits of an evergreen tree belonging to the Rutaceae or citrus family. The berries grow in clusters on small trees reaching 4 to 6 meters in height and are a seasonally foraged fruit, favored for their distinctly tangy, sweet, and peppery taste. Curry berries develop from pollinated flowers in the summer and are a rare fruit, often overshadowed by the leaves of the tree. Murraya koenigii, also known as the curry tree, is famous as a home garden plant and is commercially cultivated in India and Australia for its aromatic greens. The leaves are a staple culinary ingredient in curries in India and are highly valued for their complexity and flavor. Curry berries are a secondary crop harvested from Murraya koenigii. The fruits are picked by hand off the tree and are traditionally consumed fresh, discarding the seeds as they are poisonous and inedible. Curry berries are not commercially cultivated and are a scarce product gathered as a specialty fruit in fresh markets throughout the tree's growing region.


Nutritional Value

Curry berries are a source of vitamin C to strengthen the immune system and reduce inflammation, calcium to build sturdy bones and teeth, and phosphorus to repair cellular tissues. The berries also provide some potassium to balance fluid levels within the bloodstream, iron to develop the protein hemoglobin for oxygen transport through the bloodstream, and magnesium to regulate optimal nerve functioning. The saturated, dark purple-red hues found in the flesh and skin indicate the presence of anthocyanins, natural pigments with antioxidant-like properties to protect the cells against the damage caused by oxidative stress and free radicals.


Applications

Curry berries have a complex, subtly sweet, citrusy, peppery, and resinous flavor suited for fresh preparations. If foraging, select only ripe berries for consumption and pick them off the tree rather than gathering them from the ground. It is also important to note that the berry's skin and flesh are edible, but the large seeds embedded within the flesh are toxic and should not be consumed. The seeds should always be discarded. Curry berries are a lesser-known edible portion of the curry tree. The berries generally appear in the summer and are consumed fresh as a snack. Curry berries can be eaten out of hand or pressed into a juice, removing the seeds. The juice can be consumed independently or combined with other fruits, spices, and ingredients to create refreshing beverages. The juice is also used in Ayurvedic medicine as a tonic. Curry berries should be immediately consumed for the best quality and flavor.


Ethnic/Cultural Info

In India, curry trees are an essential element in Ayurveda, a natural system of medicine developed in India. Ayurveda has been practiced for over 3,000 years and is used to cure imbalances in the body. The word Ayurveda is derived from the Sanskrit words "ayur," meaning "life," and "veda," meaning "knowledge or science." Within Ayurveda, the leaves and berries of curry trees are sourced for various treatments. The berry's juice is extracted, mixed with lime juice, and spread over insect bites and stings as a soothing topical. The seeds are also processed to isolate an essential oil used in fragrances and perfume making. In addition to the berries, the leaves are thought to have anti-inflammatory properties and are consumed as a cooling agent for the body. The leaves are also believed to strengthen the immune system and promote healthy blood circulation.


Geography/History

Curry berries grow on the curry tree, Murraya koenigii, which is native to tropical and subtropical regions of India and Sri Lanka. The trees have been growing wild since ancient times and are commonly found in lowland woodlands and humid forests. In the early ages, Murraya koenigii naturally spread throughout the Indian subcontinent and later expanded into Southeast Asia, where the trees became established amidst the native foliage. The leaves and berries of the tree have been foraged as edible food sources for thousands of years, and records of the leaves being utilized are found in Tamil literature dating back to the 1st and 4th centuries CE. Much of the history of Murraya koenigii is unknown, as the trees have been a prevalent wild species that was only commercially cultivated in the modern era. Over time, the trees were introduced to tropical and subtropical regions worldwide by migrating peoples and were planted for use as medicinal and culinary trees. Today Murraya koenigii is commercially produced in India and Australia and is found in wild populations throughout Asia. The trees are also planted in home gardens worldwide. In the United States, Murraya koenigii is not commonly grown but may be occasionally found in Southern California, Hawaii, and regions of Florida. When in season, Curry berries are foraged and sold in fresh markets, primarily in India and select areas of Southeast Asia.