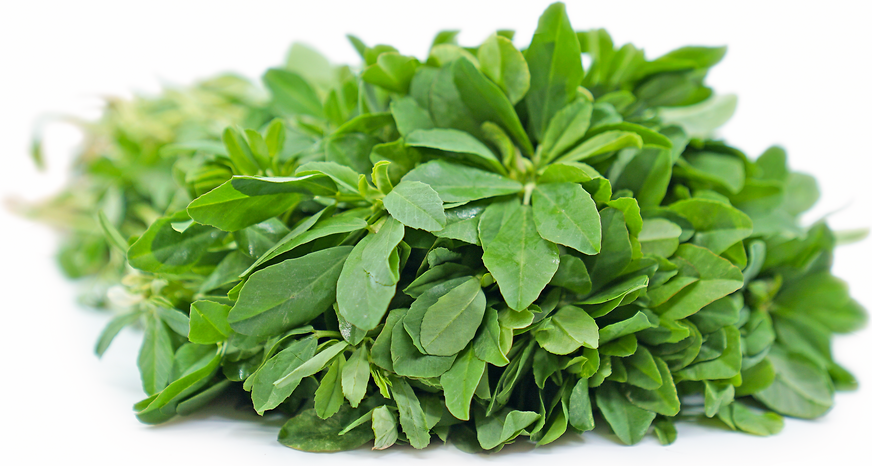 Methi
Inventory, bunch : 0
Description/Taste
Methi is an erect annual herb that grows about 60 to 90 centimeters tall. As the plant matures, it produces small light-yellow or white flowers and slender pea-like pods, up to 15 centimeters long, containing hard, angular, golden-brown seeds. The green, oblong, clover-like leaves grow in clusters of three, which is characteristic of the plant family. Both the seeds and leaves offer a caramel or maple-like aroma and a mild, grassy, nutty, uniquely sweet yet slightly bitter flavor, reminiscent of burnt sugar with notes of celery, fennel, and maple syrup.
Seasons/Availability
Methi is available year-round, with a peak season in the summer through early fall.
Current Facts
Methi is botanically classified as Trigonella foenum-graecum and is a member of the Fabaceae, or pea family. The word, Trigonella, stems from ancient Greek and translates as "three-angled," a reference to the plant's three-lobed leaves, while foenum-graecum means "Greek hay," alluding to the fact that the plant was historically used to add its sweet aroma to poor quality hay. Methi is the Hindi, Punjabi, and Urdu name for the plant, which is also commonly called Fenugreek or Greek clover. It is used as both a staple herb and spice in Indian and Middle Eastern cooking and is one of the few plants that can be used both as a seed and a leaf. However, the seeds are the most widely used part of the plant, frequently sold dried and ground, and often used as a flavoring or aromatic agent in foods, drinks, candies, tobacco, mock maple syrup, and even perfumes, soaps, and other cosmetics.
Nutritional Value
Methi is rich in vitamins A, C, and K, as well as calcium, folate, riboflavin, and antioxidants like trigonelline and diosgenin. It also contains good amounts of fiber and minerals, such as iron, copper, potassium, and magnesium. Due to its fiber and antioxidant content, Methi has traditionally been used as a natural remedy for aiding digestion and relieving stomach pain. It has also commonly been used to reduce inflammation, control blood sugar, and lower cholesterol.
Applications
Methi can be used in both raw and cooked applications, though it is most often added to cooked dishes. It is most widely used in Indian cuisine, where leaves are cooked similarly to spinach, though it's also found in North African and Middle Eastern dishes. It is a key ingredient in Aloo Methi, a traditional Indian potato curry flavored with Methi, cumin, red chilies, turmeric, and coriander, and served alongside roti or rice. Use Methi to impart a sweet and nutty maple-like flavor in sauces, stews, curries, vegetable or lentil dishes, and soups. Fresh leaves can be added to salad for a bitter caramel flavor, though they should be squeezed to remove excess water and bitterness before use, while dried leaves work great in marinades for fish and seafood. Methi seeds can be used whole or ground, often added to curry powder, dry rubs, teas, and spice blends like garam masala, panch phoran, or Indian five-spice. Seeds can be pan-roasted over low to medium heat to reduce their bitterness and enhance their delicate butterscotch aroma and flavor, which shines in both savory and sweet applications, from curries to confectionaries. Methi pairs well with cardamom, cumin, coriander, paprika, turmeric, garam masala, garlic, onion, ginger, green chiles, tomatoes, okra, yogurt, butter, and cream. You can help balance the bitterness of Methi by adding a squeeze of lemon juice at the end of cooking. Fresh Methi has a short shelf life and will only last for a couple of days, but it can be dried and ground for future use. Dried leaves and seeds should be tightly sealed and stored in a cool, dry place.
Ethnic/Cultural Info
Methi has been used for thousands of years in traditional Chinese, Greek, Arabian, and Ayurvedic medicine. According to Ayurveda, Methi has traditionally been used for women's health, such as relieving menstrual discomfort and helping induce labor. Today it is the most popular natural remedy in western herbalism for supporting lactation in nursing mothers thanks to the presence of diosgenin. This antioxidant is said to help increase the production of breast milk.
Geography/History
Methi is native to the Mediterranean region, Southeastern Europe, and West Asia. It was first recorded in the ancient Egyptian Ebers papyrus, one of the oldest known medical works dating back to 1550 BCE, and was cultivated in ancient Assyria as early as the seventh century BCE. Today, the majority of Methi is cultivated and consumed in India. However, it is also extensively grown in Morocco, Turkey, and China and can be found in parts of Europe, Asia, the Middle East, South America, and Northern Africa. Methi seeds are more readily available than the leaves in the United States, where Methi is not widely grown, though it is possible to find it fresh, dried, or frozen in certain local marketplaces and specialty grocers, such as Asian and Indian markets.
Recipe Ideas
Recipes that include Methi. One

is easiest, three is harder.