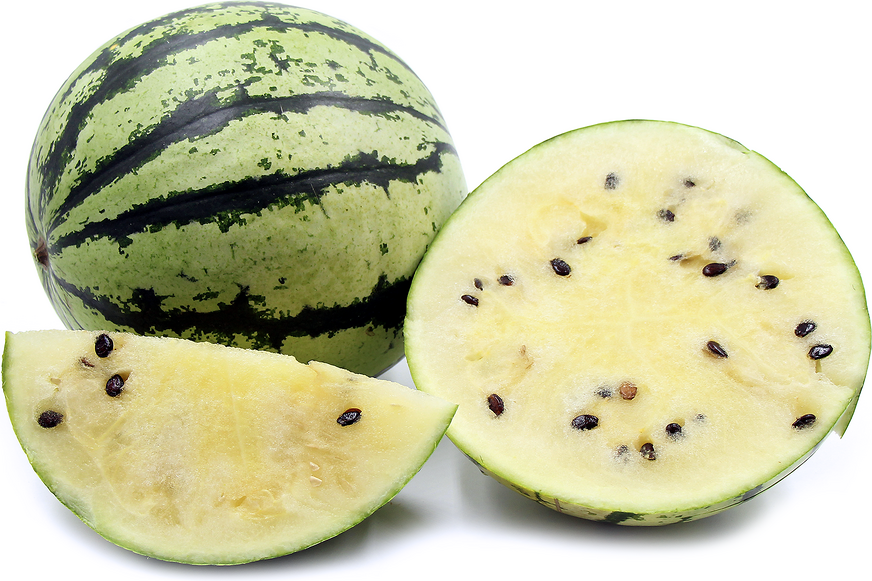 White Wonder Watermelon
Inventory, lb : 0
Description/Taste

White Wonder watermelons are a small variety, averaging 3 to 8 pounds, and have a uniform, round to oval shape with blunt, curved ends. The rind is thin, smooth, and firm with a pale green base, covered in thin, striated, and mottled, dark green stripes. It is important to note that the watermelon should be handled with care as the rind is somewhat delicate and is prone to cracking. Underneath the surface, the flesh ranges in color from ivory to white, and when sliced, it bears an almost transparent appearance. The flesh is also crisp, semi-grainy, and aqueous with a succulent consistency, encasing many black-brown seeds. White Wonder watermelons have a moderate sugar content, reaching approximately 9.9 Brix, which is a unit of measurement of the sugar levels within the flesh. This sugar content contributes to the watermelon's fresh, light, vegetal, and subtly sweet flavor with mild, tropical, and cucumber-like nuances.


Seasons/Availability

White Wonder watermelons are available in the summer through fall.


Current Facts

White Wonder watermelons, botanically classified as Citrullus lanatus, are a rare watermelon variety belonging to the Cucurbitaceae family. The small, round melons grow on trailing vines, maturing in approximately 80 to 93 days. White Wonder watermelons are often referred to as icebox-sized melons, a descriptor used to highlight melon varieties that appear in smaller sizes, capable of fitting into refrigerator drawers. The melons are favored for their crisp, juicy nature, mild, subtle flavoring, and white flesh, lacking the pigment lycopene that gives other watermelon varieties their red-pink hue. White Wonder watermelons were prevalent in commercial markets during the 1800s, but as melon cultivation advanced to breed sweeter and more hardy watermelon cultivars, white-fleshed cultivars were phased out due to their neutral flavor and delicate rinds. In the modern-day, only a few white-fleshed watermelons remain in existence. White Wonder watermelons and other white melon varieties, such as the Japanese cream-fleshed suika and the cream of Saskatchewan, are not commercially cultivated and are reserved to home gardens and specialty farms as novel cultivars, primarily grown for their unusual appearance.


Nutritional Value

White Wonder watermelons contain some vitamin C to strengthen the immune system, potassium to balance fluid levels within the body, and fiber to regulate the digestive tract. The melons also provide magnesium to maintain muscle and nerve functioning, copper to produce connective tissue, and B vitamins.


Applications

White Wonder watermelons have a neutral flavor and crisp, juicy flesh well suited for fresh preparations. The watermelons are typically served straight, out of hand to showcase the unusual flesh coloring, or they are sliced into wedges and displayed on appetizer plates and fruit platters. White Wonder watermelons can be cubed and tossed into green salads, mixed into fruit bowls, blended into smoothies, or pressed into juice for cocktails and sparkling beverages. The watermelon's subtly sweet flavoring allows the variety to be used in most recipes calling for watermelon. When pureed, White Wonder watermelons do not have the appearance of a traditional pink watermelon, but the melons offer the same refreshing quality, making them a unique addition to chilled fruit soups and beverages. Try the melons in a white fruit gazpacho, melon margarita, or as a side dish with feta cheese and mint. They can also be blended and frozen into popsicles or sorbet. White Wonder watermelons pair well with cucumber, fennel, herbs such as mint, cilantro, and parsley, citruses such as lemon and lime, balsamic vinegar, cheeses including feta and goat, pistachios, black pepper, and chile peppers. Whole, unwashed White Wonder watermelons will keep for 2 to 3 weeks when stored in the refrigerator. Once sliced, the melon halves can be wrapped in plastic, or smaller cut pieces can be stored in a sealed container in the fridge for up to three days.


Ethnic/Cultural Info

White Wonder watermelons have been linked to the tsamma melon, an African melon that grows wild in the Kalahari Desert in Southern Africa. There are several varieties of tsamma melons, and each type ranges in flavor from sweet to bitter, depending on growing conditions and genetics. The melons are similar to White Wonder watermelons as they showcase a pale green to white flesh, and tsamma melons have been valued in Africa since ancient times for their high-water content. Tsamma melons are approximately 90% water and were traditionally carried as a hydration source through dry, desert regions. In the Kalahari Deserts, indigenous peoples would store piles of tsamma melons as a natural water supply to carry on journeys. They would also dry the melon's flesh and incorporate the chewy strips into stews for added sustenance and texture. Over time, many modern watermelon varieties have been linked to the wild tsamma melons, and scientists are looking to the ancient melons as a genetic foundation for future melon breeding.


Geography/History

White Wonder watermelons are descendants of wild watermelon varieties native to Africa. Watermelons have been present in Africa since ancient times, but the original wild melons had a bitter-sweet flavor, mainly consumed as a hydration source. Experts believe White Wonder watermelons may be related to tsamma melons, melons with white to yellow-green flesh grown throughout Southern Africa. Civilizations began cultivating watermelons in the Early Ages, documented in artwork, religious texts, and medicinal records, and over time, watermelons were selectively bred for improved sweetness and flavor. The melons were also introduced to Europe sometime before 500 BCE. White-fleshed watermelons were popular in home gardens and commercial markets up until the 19th century. During this time, watermelons were being extensively cultivated for sweet-tasting flesh, and a direct correlation was discovered between flesh coloring and sweetness. The gene that determines the sweetness in watermelon flesh is linked to the gene for lycopene production, a pigment that colors the flesh red. As a result, commercial breeders focused on growing red-fleshed varieties, phasing out older, more mild-flavored white-fleshed melons. Today White Wonder watermelons are a specialty variety that is selectively found through farmer's markets or distributors worldwide. The variety is marketed as a luxury, rare fruit and is also grown in home gardens as a novel variety.