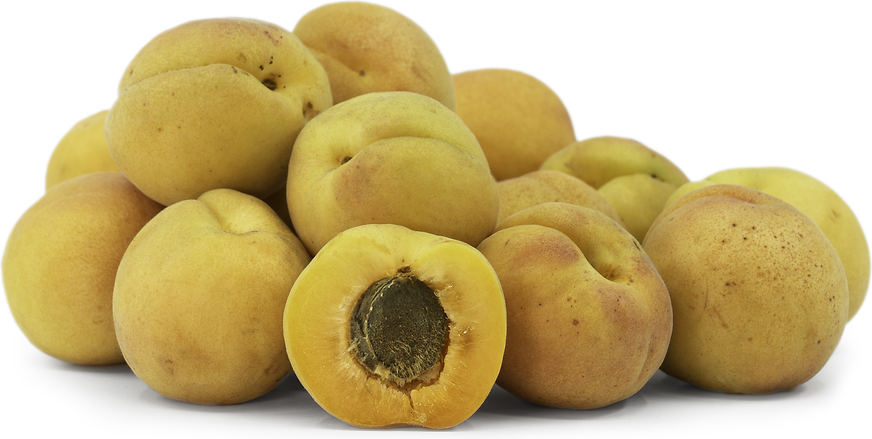 Blenheim Apricots
Inventory, 7 lbs : 0
Description/Taste
Blenheim apricots are small fruits, averaging 2 to 5 centimeters in diameter, and have a round to oval shape with a prominent seam down one side. The apricot's surface is smooth, lightly fuzzy, and taut, appearing in a rich golden yellow-orange hue, sometimes blushed and speckled with shades of red. The delicate skin bruises easily and may also have a slight green tinge on the shoulders, a characteristic unique to this variety. Blenheim apricots ripen from the inside out. Often the only way to determine if the fruit is ripe is to look for fruits with vivid, vibrant coloring. Underneath the surface, the golden orange flesh has a firm, dense, and semi-aqueous consistency, encasing a freestone, brown pit that can be easily separated from the flesh. Blenheim apricots emit an aromatic, honeysuckle-like fragrance and contain a balanced honey-sweet, fruity, and floral flavor mixed with tangy, subtly acidic, and tart nuances.
Seasons/Availability
Blenheim apricots are available for a short season in the late spring to early summer.
Current Facts
Blenheim apricots, botanically classified as Prunus armeniaca 'Blenheim,' are a rare heirloom variety belonging to the Rosaceae family. The small, firm fruits were once one of the most cultivated apricots in California, highly favored for their sweet-tart, rich flavor. Blenheim apricots are a mid-season variety that grows on a tree, reaching 3 to 6 meters in height. The fruits are also known in markets as Royal apricots, Blenheim Royal apricots, and Shipley's Blenheim apricots, but there is debate among experts on whether those are acceptable names for the variety due to a complicated genealogy. Blenheim apricots are considered an all-purpose cultivar, suitable for fresh consumption, cooking, drying, and freezing. Despite the variety's popularity in the 1900s, Blenheim apricots almost disappeared entirely as they are difficult to grow and are easily affected by disease, sunburn, and weather changes. The fruit's season is also very short, sometimes only lasting for ten days, and the fruits are left on the tree for as long as possible to develop a higher sugar content. With challenging cultivation requirements, an increase in imported dried apricots from Turkey, and continued loss of farmland to urbanization, Blenheim apricots are currently listed on Slow Food's Arc of Taste to raise awareness for the endangered, disappearing apricots.
Nutritional Value
Blenheim apricots are a good source of vitamin C to strengthen the immune system, vitamin A to maintain healthy organ functioning, and vitamin E to protect the cells against free radical damage. The fruits are also a source of fiber to regulate the digestive tract, potassium to balance fluid levels within the body, and lower amounts of phosphorus, vitamin K, calcium, magnesium, copper, and zinc.
Applications
Blenheim apricots have a sweet-tart flavor well suited for fresh, cooked, and dried preparations. The delicate apricots can be eaten straight, out of hand, praised for their taste, or they can be sliced and tossed into green salads, mixed into fruit bowls, served with cheeses, or cut and paired with sweet desserts as a light topping. Blenheim apricots can also be blended into smoothies or juiced for fruit punches and cocktails. In addition to fresh preparations, Blenheim apricots can be simmered into sweet sauces for savory main dishes, cooked into compotes, jams, jellies, and syrups for pancakes, toast, and oats, or chopped and heated with sugar and orange peel to create a sweet and fruity ice cream topping. The apricots can also be combined with chile peppers to create a tangy, sweet hot sauce, used as a filling in muffins, scones, eclairs, tarts, and pies, or dried and mixed into guacamole, cereals, and trail mix. Blenheim apricots pair well with spices, including cinnamon, nutmeg, and ginger, fruits such as cranberries, bananas, coconut, strawberries, and blueberries, nuts such as almonds, pecans, pistachios, and walnuts, seafood, including shrimp, white fish, and crab, radishes, bell pepper, vanilla, and cheeses such as brie, mozzarella, and ricotta. Whole, unwashed Blenheim apricots will continue to ripen once harvested and can be left to soften on the counter at room temperature away from direct sunlight for 1 to 3 days. Once ripe, the fruits will keep for several weeks when stored in the refrigerator. Blenheim apricots can also be frozen, dried, or canned for extended use.
Ethnic/Cultural Info
In California, Blenheim apricots are primarily grown as a specialty dried fruit. The art of drying fruits has been practiced for thousands of years worldwide, as dried fruits store well and retain beneficial nutritional properties, providing a sweet, vitamin-filled snack. In the United States, dried apricots were traditionally imported from Europe up until World War I. During the war, international shipments of the fruits were halted, creating an increased demand for local production. California farmers met this demand and began growing and drying apricots, especially the Blenheim, creating an apricot boom throughout Northern and Central California. The apricot craze lasted into the 1920s, but as new varieties were introduced into commercial markets with improved storage abilities, Blenheim apricots eventually fell out of favor, almost becoming extinct. In the present day, there are a few farms in the Santa Clara Valley that still cultivate Blenheim apricots. B & R Farms, owned by Mari and Jim Rossi in Hollister, California, pride themselves as a caretaker of the Blenheim apricot. The farm dedicates about 100 acres to the heirloom variety and sells the fruits fresh to local restaurants or dried versions nationwide. To dry the fruits, the apricots are sliced in half, spread across large drying mats, and are left in an open field to naturally air dry for 4 to 10 days, developing a chewy but soft texture. It takes approximately six pounds of fresh fruits to obtain one pound of dried apricots. Blenheim apricots are believed by apricot enthusiasts to have one of the best flavors when dried, well balanced with a honey-like sweetness mixed with tangy, bright undertones.
Geography/History
Blenheim apricots have a challenging genealogy that even dedicated fruit historians have difficulty clarifying. The first origin theory connects the variety to the Luxembourg Gardens of Paris. The small fruits were introduced to the public around 1815 under the name Royal. The second origin theory occurs approximately 20 years after the introduction of the Royal apricot. A seed, supposedly from the Royal tree, was planted in the garden of the Blenheim Palace in England. The tree thrived in the palace gardens and was called Shipley's Blenheim, named after the palace's head gardener. Over time, Blenheim apricots were introduced to the New World in the 1880s by Spanish missionaries and were planted along the coast of California. The variety also increased in production during World War I to meet the demand for dried fruits. In the 1920s, Blenheim apricot orchards covered Santa Clara and Alameda counties and the Sacramento Valley. Despite the variety's success during the war, in the years to come, the cultivar's propensity to bruise during harvest and shipping has caused a decline in production. Apricot imports from Turkey and other foreign markets have also contributed to a decrease in local production. Today Blenheim apricots are a rare, boutique stone fruit variety grown in small quantities in California and Europe.
Recipe Ideas
Recipes that include Blenheim Apricots. One

is easiest, three is harder.
Podcasts