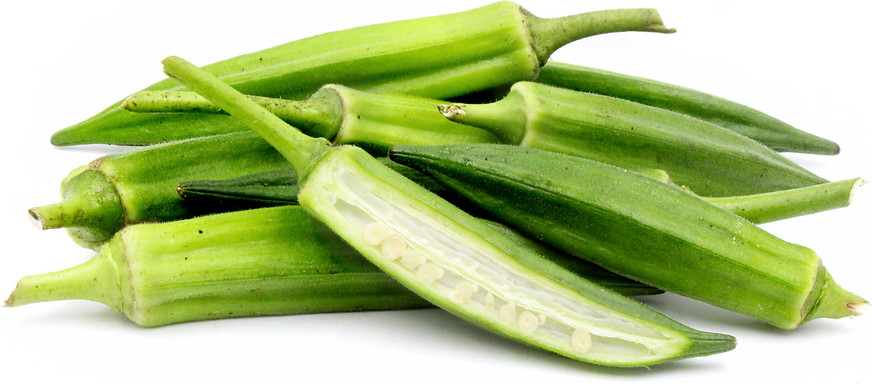 Jambalya Okra
Inventory, lb : 0
Description/Taste

Jambalaya okra grows on a compact plant that can grow up to 3 feet tall. The uniform pods develop once the plant loses its pale yellow, hibiscus-like flowers. The dark green pods grow straight up on bright green branches. Jambalaya okra grow on average 3 to 5 inches in length and are ideally harvested when 4 inches long, helping the plant to produce more. Jambalaya okra has a five-point shape, with well-defined ribs running down the length of the pod, tapering to a point. Jambalaya okra has a tender yet meaty pods with a firm texture. The flavor is similar to asparagus or eggplant, and the pods can be somewhat fibrous, especially when they are older pods.


Seasons/Availability

Jambalaya okra is available in the mid-summer and through the early fall.


Current Facts

Jambalaya okra is a relatively new hybrid variety of Abelmoschus esculentus that was selected for its early maturing and true okra taste. Jambalaya okra is recognized as having very straight, consistently shaped pods. Because of its shape, okra is often called "lady fingers." Jambalaya okra is named for one of the well-known dishes featuring the vegetable.


Nutritional Value

Jambalaya okra is high in both soluble fiber and antioxidants, like beta carotene, which can be beneficial for those on a diabetic diet. Okra is rich in vitamins A and C, as well as vitamins K, B6 and B9. It also contains essential minerals like manganese and potassium.


Applications

Jambalaya okra can be used in any recipe calling for okra. Many Southern American, Indian and Pakistani recipes include okra. The uniform shape of Jambalaya okra is ideal for pickling. Pickle the pods in a vinegar brine, along with dill, garlic, or peppercorns, or add a dried chile pepper for a spicy pickled okra, a popular condiment in the Southern United States. Jambalaya okra can be used in soups, stir-frys, or in stews, like jambalaya or gumbo. Jambalaya okra can be breaded or battered and fried, whether whole or cut into pieces. Okra can be eaten raw when young, and sliced onto salads or crudité. Slice Jambalaya okra and blanch before freezing to preserve for later use. Jambalaya okra will keep in the refrigerator for up to a week.


Ethnic/Cultural Info

In early American history, okra was called "gumbo," a name now more associated with the classic Louisiana stew. The word originally came from the African word 'ngombo' or 'kingombo', which can be traced back to Angola. There are some historians that believe okra came to Louisiana with the French in the 16th century, and still others that believe it came to the United States with the Africans who were brought to the country to work as slaves in the 17th century.


Geography/History

Jambalaya okra is well-suited to cooler climates, and because it is early maturing, this variety is ideal in areas where summers don't get too hot. Jambalaya okra was developed by Sakata Seed Company in 2012. The heavy producing plant has a low profile, making it a nice container option as well for the home gardener. Okra is native to Ethiopia, and evidence of the vegetable dates back to ancient Egypt where okra was grown along the Nile. The vegetable spread with travelers and explorers into the Mediterranean, to India and across to western Africa. Okra was first introduced to the United States along with the slave trade in the 17th century. Okra is typically a warm weather vegetable and thrives in hot, humid environments, which is one of the reasons it is so popular in Southern American cuisine.