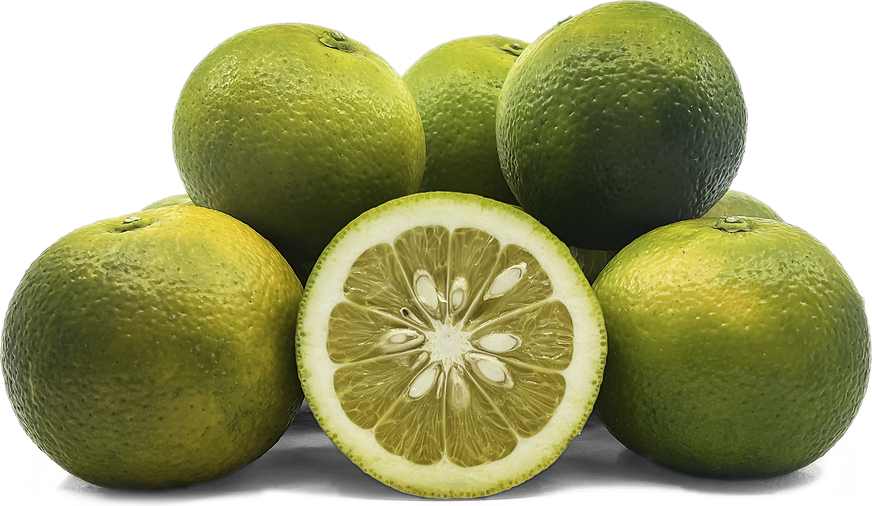 Japanese Bitter Oranges
Inventory, lb : 0
Description/Taste
Japanese Bitter oranges are a medium to large varietal, averaging 5 to 8 centimeters in diameter, and have a round to oblate shape. The thick rind is firm, dense, and hard to peel, showcasing golden-orange hues and a pebbled, semi-glossy, and textured feel. The rind may also display some green markings and patches of roughness. A layer of white pith clings to the flesh just underneath the surface and has a dry, spongy, and cotton-like feel with a bitter, unpalatable flavor. The yellow-orange flesh is divided into 9 to 10 segments by thin, white membranes and encases many cream-colored seeds. The flesh is not typically consumed raw but is semi-firm and aqueous. Japanese Bitter oranges contain high acidity, creating a bitter, tart, and sour flavor with lemon-like nuances.
Seasons/Availability
Japanese Bitter oranges are available from mid-fall through winter.
Current Facts
Japanese Bitter oranges, botanically a part of the Rutaceae or citrus family, are sour fruits that grow on deciduous, thorn-laden trees reaching over six meters in height. There are several types of bitter oranges cultivated in Japan that belong to various species, and the fruits are generally sold in commercial markets under the generic descriptor "bitter orange." Japanese Bitter oranges are also sometimes known as Trifoliate oranges, Flying Dragon Oranges, and Hardy oranges. They are a popular ornamental in Asia, prized for their unusual twisted, tightly woven branches. Despite the trees being highly productive, Japanese Bitter oranges are not commonly consumed fresh due to their mouth-puckering sourness and acidic nature. The oranges are mainly reserved as a flavoring agent and are combined with sweeteners to create a more palatable flavor. Beyond the fruits, Japanese Bitter orange trees are favored for their hardiness in cultivation, used as the primary rootstock for satsuma mandarins, the country's main export.
Nutritional Value
Japanese Bitter oranges are a source of vitamin C to strengthen the immune, vitamin A to maintain healthy organ functioning, and calcium to build strong bones and teeth. The oranges also provide essential oils that help promote blood circulation, vitamin E to reduce inflammation, fiber to regulate the digestive tract, and other nutrients, including riboflavin, phosphorus, thiamine, and iron. In Traditional Chinese Medicine, bitter oranges have been used to reduce symptoms associated with colds, toothaches, and itchy skin. In Kampo, Japan's ancient practice of natural medicine, Japanese Bitter oranges are dried for their peels and incorporated into syrups, tinctures, and other medicines to heal the digestive tract, soothe coughs, or nourish chapped or cracked skin.
Applications
Japanese Bitter oranges have an extremely sour taste and are used primarily for flavoring. The exceptionally tart juice of the Japanese Bitter orange and its seedy nature makes it less desirable for use as a fresh eating orange. The fruit is instead pressed into juice for beverages and culinary preparations. Japanese Bitter orange juice can be mixed with a sweetener and stirred into oils, syrups, salad dressings, and vinegar, or the juice can be simmered into jams, jellies, and marmalades. In Japan, some chefs incorporate the juice as a variation of ponzu sauce, a popular dipping sauce made from soy sauce, kelp, rice vinegar, bonito flakes, mirin, and citrus juice. Japanese Bitter oranges can also be juiced and used to flavor soups, ceviche, and marinades for meat, or they can be added to cocktails, fruit punches, and sparkling beverages. In addition to savory preparations, Japanese Bitter oranges can be used as a flavoring in cakes, puddings, pies, and as filling for other desserts, or the rind can be candied or dried and ground into a powder for extended use as a seasoning. Japanese Bitter oranges pair well with herbs such as cilantro, thyme, basil, oregano, and mint, aromatics such as ginger, garlic, shallots, onions, and chile peppers, seafood, and meats such as pork, poultry, duck, and beef. Whole, unwashed Japanese Bitter oranges will keep 2 to 4 weeks when stored loosely wrapped in the refrigerator's crisper drawer.
Ethnic/Cultural Info
Bitter oranges are an auspicious element used in New Year decorations in Japan. The oranges are called Daidai, a word that roughly translates to mean "bitter orange" and "several generations." This descriptor was derived from a bitter orange that can remain attached to the tree's branches for over 2 to 3 years. While attached to the tree, the fruits transition through turning green, to orange, yellow-orange, and then back to green to repeat the cycle throughout the varying seasons. One bitter orange tree can hold multiple generations of fruits and symbolizes a prosperous and long bloodline. Bitter oranges are utilized as decorations and offering to the gods during the New Year holiday in hopes of receiving blessings over the family for the year to come. One of the most common decorations that Daidai is a part of is kagami mochi or a mirror rice cake. This dish is comprised of two round mochi cakes stacked on top of one another, adorned with bitter orange. The stacked mochi cakes symbolize a bronze mirror ; one cake also represents the old year while the other represents the new year, an intersection of time and starting anew. After the celebrations, the mochi cakes are broken open and consumed to bring good luck and strength. In conjunction with the mochi cakes, the bitter orange represents the protection of familial generations. While bitter oranges are still often used today, mikan oranges have become a more modern alternative in kagami mochi, bearing a sweet flavor and tender, juicy flesh.
Geography/History
Bitter oranges are native to Asia, with initial concentrations found in parts of northeastern India, China, and Korea. The oranges were introduced from China to Japan sometime before the 8th century and were planted as a tree for rootstock, landscape ornaments, and property barriers. Over time, specific types of bitter oranges became revered in Japan for their medicinal properties and unique cultivation habits. In the late 1800s, Japanese Bitter oranges were introduced to North America and became one of California's most popular rootstocks for other citrus varieties. Today Japanese Bitter oranges are found growing in the wild and in home gardens in Japan, Korea, China, and other parts of Asia, Australia, Argentina, and the United States. In Japan, the Wakayama and Shizuoka Prefectures are the main production areas, and the oranges are sold through local markets, grocers, and distributors.
Recipe Ideas
Recipes that include Japanese Bitter Oranges. One

is easiest, three is harder.