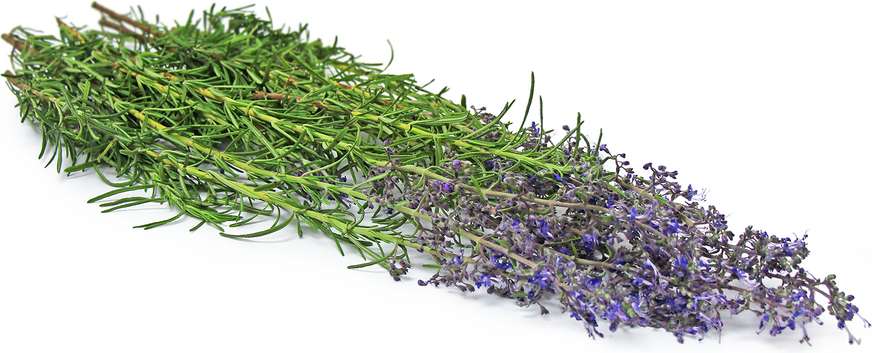 Woolly Blue Curls Flowers
Inventory, lb : 0
Description/Taste
Woolly Blue Curls flowers are vibrant colored blooms that seasonally grow on a multi-branched shrub comprised of thin, needle-like leaves. The shrub grows upright, producing long, fibrous green stalks, and the leaves are narrow and pointed, averaging 5 to 7 centimeters in length, resembling rosemary. At the top of the slender branches, dark purple-blue to pink-purple flowers form in dense clusters. The flowers are covered in a layer of fine hairs, and in the center of the bloom, tiny white markings and elongated, slightly curved stamens attract beneficial pollinators to the flower's high nectar content. Woolly Blue Curls flowers are highly aromatic, coated in a sweet and subtly fruity-scented resin, often likened to a mixture of bubblegum, lavender, pine, and cedar. While the leaves and flowers are not commonly eaten out of hand, they are frequently steeped into teas, infusing sweet and sour, fruity, pine-like flavors.
Seasons/Availability
Woolly Blue Curls flowers bloom in the late spring through the late summer.
Current Facts
Woolly Blue Curls flowers, botanically classified as Trichostema lanatum, grow on an evergreen shrub reaching 1 to 2 meters in height, belonging to the Lamiaceae family. The highly fragrant plant is native to California and is favored by specialty gardeners for its aroma, showy flowers, and long blooming period. Woolly Blue Curls flowers received their name from the fine hairs that cover the blossoms. The plant's scientific name also translates from Latin to mean "woolly hair-like stamens." When in bloom, Woolly Blue Curls plants can produce over 50 spikes of flowers, and the nectar-rich flowers attract beneficial pollinators, including hummingbirds, bees, and butterflies. Woolly Blue Curls flowers were historically used in natural medicines of Native Americans, but in the modern-day, they are primarily planted as an ornamental, providing a colorful contrast with their showy purple blooms in green landscapes.
Nutritional Value
Woolly Blue Curl flowers are not commonly consumed whole and are steeped in hot water for medicinal teas. When infused, Woolly Blue Curl flower tea offers anti-inflammatory properties and can be used as a treatment to soothe colds, flu, and headaches. The Kumeyaay tribe also believed the tea to help maintain a good memory. In natural medicines, Woolly Blue Curls flowers were sometimes infused into olive oil as a pain reliever.
Applications
Woolly Blue Curl flowers and leaves are not commonly consumed fresh and are mainly used as an edible garnish or tea. The flowers provide color and a light fragrance to cocktails, and they can be used to decorate cakes, tarts, cupcakes, and other desserts. Woolly Blue Curl flowers can also act as a garnish for savory preparations such as salads, seafood, appetizers, and main dishes. In addition to serving as a garnish, Woolly Blue Curls flowers and leaves can be dried or used fresh, steeped into a tea. The herbal tea provides a sweet and sour, fruity flavor with pine-like nuances and can be used for hot and iced teas. Woolly Blue Curl flowers can also be paired with citrus flavorings, mint, rose petals, lemon balm, lavender, or rose hips in tea for increased depth of flavor. When dried, Woolly Blue Curl flowers will keep 1 to 3 years when stored in a cool, dry, and dark place away from direct sunlight.
Ethnic/Cultural Info
Woolly Blue Curls flowers are also known by the name Romero, which is Spanish for rosemary. The native California shrub earned this name in 1769 when Spanish explorer Fray Juan Crespi encountered the plant on the Portola expedition. Experts believe the Portola expedition was one of the first times Europeans set foot on land located in modern-day California, and during the journey, Crespi kept written documents of the wild plants he was discovering. Crespi recorded the plant's physical characteristics and noted that the leaves of Woolly Blue Curls were similar in appearance to rosemary, simply naming the plant Romero. In the present day, botanists believe Crespi's document was the first written record of Woolly Blue Curls, and while Romero is not commonly used for the shrub, it has remained a name strongly attached to the history of the plant.
Geography/History
Woolly Blue Curls flowers are native to California, extending from Monterey to Baja California, and have been growing wild since ancient times. The shrubs are typically found in California's Floristic Province, a biodiverse region situated along the coast in chaparral, coastal scrub, and woodlands, containing a mild, Mediterranean climate. The first written record of the plant was documented in 1769 by Spanish explorer Fray Juan Crespi and was later scientifically classified and named in 1835 by English taxonomist George Bentham. Today Woolly Blue Curls flowers are still growing wild throughout California and are also cultivated on a small scale in home gardens. Dried Woolly Blue Curl flowers are sold through health food stores, specialty distributors, and online retailers.
Recipe Ideas
Recipes that include Woolly Blue Curls Flowers. One

is easiest, three is harder.