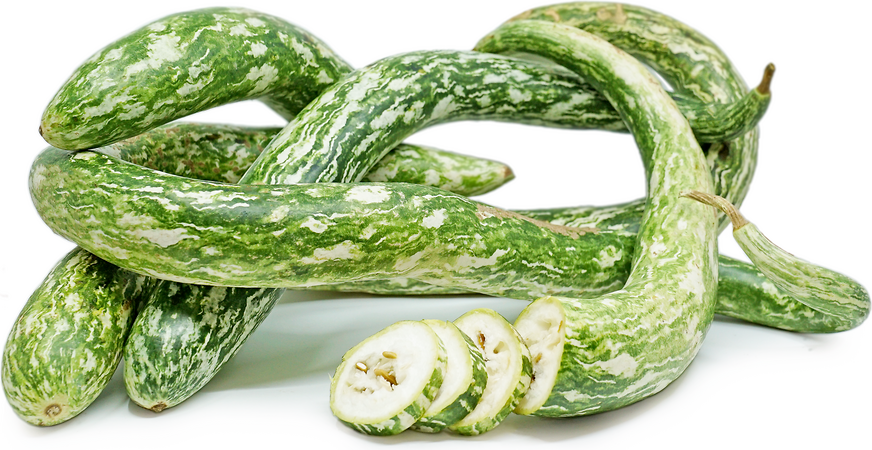 Pumpkins Snake Gourd
Inventory, ea : 0
Description/Taste
Snake gourds are medium to large in size, ranging from 60 to 90 centimeters in length, with some reaching as long as 1.5 meters. The gourds are elongated and slender with an oblong shape, tapering at the fruit's stem end, and have a twisted and curled appearance. Each gourd will have a unique contorted shape, and the thick skin is dark green, patterned with variegated spots and mottled speckling of white, beige, and light green hues. As the gourd matures, the skin will thicken, harden, and transition into a dark orange coloring. The flesh is white and spongy, with a central cavity encasing small seeds interlaced between stringy white membranes. It is important to note that the seeds are toxic and should be discarded before consumption. When young, Snake gourds have a mild, somewhat bland flavor and a light bitterness that mellows when cooked.
Seasons/Availability
Snake gourds are harvested in the fall through winter.
Current Facts
Snake gourds, also known as Serpent gourds, are the fruit of a rapidly growing vine in the pumpkin family. This gourd, botanically classified as Trichosanthes cucumerina, develops long, skinny, and oddly shaped fruits that twist and curl depending on the shape of its growing area. Often the vines are trellised to allow the fruits to hang down as they grow, causing them to develop a more extended and straighter shape. The fruits can reach over 1 meter in length, with the longest recorded snake fruit reaching 1.88 meters. There are four main varieties of Snake gourds: mansushri kaumudi, apau swetha, baby, and konkam sweta. When young, the entire fruit can be eaten as a vegetable. As the gourd ages, its skin becomes thicker, its flesh becomes tougher, and its color turns dark orange. Mature Snake gourds develop a bitter flavor and can be used to make soap instead of being eaten. The seeds of the Snake gourd are toxic to humans, but left-over fruit, pulp, and seeds can be used as fodder for livestock. Aside from edible Snake gourds, there are also snake gourds grown for ornamental use during the fall season. This variety has a harder rind and is not meant to be eaten.
Nutritional Value
Snake gourds are comprised of 95% water, contain no fat, and are calorically made up of carbohydrates, protein, and soluble fiber. The gourds contain moderate amounts of vitamins A and E and trace amounts of calcium, iron, and phosphorus.
Applications
Snake gourds are most commonly eaten in Southeast Asian and African households. When young, the flesh of the snake gourd is somewhat bland in flavor. The gourd can be treated similarly to zucchini and can be baked, stuffed, pickled, stir-fried, or roasted and used in soups, stews, and curries. The pulp of mature Snake gourds can be used as a tomato substitute in sauces, soups, and rice dishes. The plant's leaves, roots, and shoots are also edible and can be chopped and sautéed or added to soups for additional flavor and nutritional value. Snake gourds can be stored uncut on the counter for three months. Once cut, the gourd should be refrigerated and used within two weeks.
Ethnic/Cultural Info
When dried, the long, curved shape of the Snake gourd and its thick rind has made it an ideal gourd for creating a variety of uniquely shaped and sounding instruments in Australia. The larger gourds have been used for centuries to develop didgeridoos, the signature long and deep-sounding instrument used by Aboriginal tribes. Occasionally, a single Snake gourd may be long enough to create a gourd didgeridoo, but often the instrument's body is made using two or more snake gourd pieces that are glued together and then decorated with dyed, painted, and wood burned patterns. Dried Snake gourds can also be used to make other wind instruments like a natural trumpet and percussion instruments like a guiro, an elongated instrument with carved ridges extending the length of the instrument. A scraper is dragged along these ridges to create a "brrrr" sound. Snake gourds have also been traditionally used to make rattles and rain sticks by adding stones or nuts to the hollowed-out interior of the fruit, or they have been carved to create arrow quivers, vases, and other vessels.
Geography/History
Snake gourds are native to Southeastern Asia and parts of Australia. Wild gourd varieties can be found across India, Bangladesh, Nepal, Pakistan, Sri Lanka, Indonesia, Malaysia, Myanmar, and Southern China. It is believed that the gourds were originally domesticated in India, but it was China that shared the seeds with Europe in the early 1700s. Cultivation in Europe and the Americas can be difficult because the plants require warm nights to fruit, although they are becoming more popular at farmer's markets and pumpkin patches in the United States. Today, the gourds are grown primarily in Southeastern Asia, Australia, Madagascar, and other tropical regions in Africa. When in season, Snake gourds can be found in markets throughout these regions or through stores specializing in Asian cuisine in parts of Europe and the United States.
Recipe Ideas
Recipes that include Pumpkins Snake Gourd. One

is easiest, three is harder.