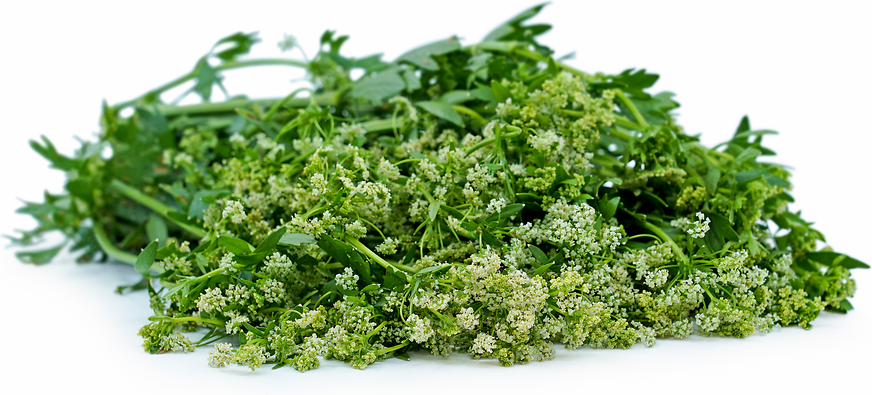 Celeriac Flowers
Inventory, bunch : 0
Description/Taste

Celeriac flowers are very small in size, with each flower measuring only a few millimeters. The white to yellow blossoms grow in delicate, lacy clusters arranged in an umbel shape. The flowers extend from the end of dark green, succulent stems scattered with lanceolate and deeply scalloped leaves. The entire stalk is edible and has a crisp and juicy texture, although more mature celeriac flower stalks can become woody. Celeriac flowers have a grassy aroma and sweet and grassy flavor with a mild saltiness. More mature flowers may develop a peppery note as the seeds ripen.


Seasons/Availability

Celeriac flowers are available during spring, but plants may bolt early during the winter, depending on weather patterns.


Current Facts

Celeriac flowers bloom along the long, woody stems of celeriac, a biennial plant belonging to the Apiaceae family. Celeriac is botanically classified as Apium graveolens rapaceum and is closely related to wild celery, carrots, coriander, dill, fennel, and parsley. Celeriac is also known as celery root, knob celery, turnip-rooted celery, and German celery. Unlike celery which is grown for its stems, celeriac is traditionally grown for its swollen hypocotyl, the part of the stem that grows beneath the stalks but above the root. This portion of the plant develops primarily underground and has a texture similar to a turnip. Celeriac is a biennial plant, so it will produce flowers in the second year of its life cycle. However, other stressors like temperature, water availability, and nitrogen levels can cause the plant to bolt early. Celeriac flowers are not commercially cultivated, but as more chefs and home cooks push for sustainable farming and unique ingredients, the presence of bolted crops at farmers markets has increased.


Nutritional Value

The nutritional value of Celeriac flowers is mostly unknown, although celeriac root is known to be incredibly nutrient-dense. The roots are an excellent source of vitamin K for blood clotting, vitamin B6 for energy transmission, and phosphorus, a mineral that supports the production of DNA and RNA. Edible flowers are known to contain high levels of antioxidants which can help to reduce inflammation in the body.


Applications

Celeriac flowers are perfect for raw preparations as a garnish to add color, texture, and flavor. The flowers can be used whole, or the petals can be separated for a varied look. Spread the flowers over green salads or use them to top grain dishes like rice, farro, and couscous. The blossoms can be floated atop warm or chilled salads, folded into pasta dishes, or spread across poultry, pork, or lamb. Incorporate the flowers into butter, Greek yogurt, or soft cheeses to make an attractive spread for bread and crackers. The flowers can be added to the dough of savory bread, such as focaccia, tortillas, and parathas, or they can top frittatas, quiche, and scallops. The delicate blooms can be pressed into cheeses, rolled into spring rolls, frozen in ice cubes for cocktails, or used on pizzas and flatbreads. Celeriac flowers complement salad greens as well as hard and soft cheeses. The bright and salty flowers pair well with various fruits, including peaches, pears, grapes, vinegar, and lemon juice, and fresh leafy greens and vegetables like cucumber, tomatoes, carrots, onions, and peppers. Celeriac flowers should remain on the stems, stored in water inside the refrigerator, or left in a plastic clamshell or airtight container and used within 3 to 5 days for peak flavor.


Ethnic/Cultural Info

Celeriac is a historical favorite in many parts of Europe. The root became an important vegetable in the Middle Ages and was first recorded as a food plant in France in the early 17th century. By the end of the 17th century, the plant was being cultivated in most of Europe. While the plant does have a long growing season, it can grow through frigid and wet weather. The root is incredibly nutrient dense and can also be stored in a cellar for up to six months, helping sustain populations through harsh winters and famine. In the modern world, celeriac has remained a staple in the European diet, being featured in classic dishes like celeri remoulade, a French salad featuring the vegetable sliced thin and soaked in lemon to minimize its bitter and starchy flavor, or celeriac soup, a creamy soup that has a satisfying celery flavor. As chefs return to roots with menus featuring elevated seasonal, rustic, and classic dishes, Celeriac flowers can act as the perfect garnish for this old-world vegetable in a modern setting.


Geography/History

Celeriac is descended from a variety of wild celery native to the Mediterranean, Middle East, and Northern Africa. Ancient Egyptians, Greeks, and Romans used the vegetable for culinary and medicinal purposes. The cultivated crop was spread through Europe along trade routes, where it achieved culinary importance in the region by the Middle Ages. The plant was later introduced to North America by European colonists. Celeriac thrives in cold and damp climates and is primarily cultivated in Northern Europe and the Mediterranean. Celeriac is also grown commercially in North Africa, Siberia, and Southwest Asia. Celeriac flowers can be found anywhere celeriac is cultivated, mainly during the spring season at specialty stores and local markets.