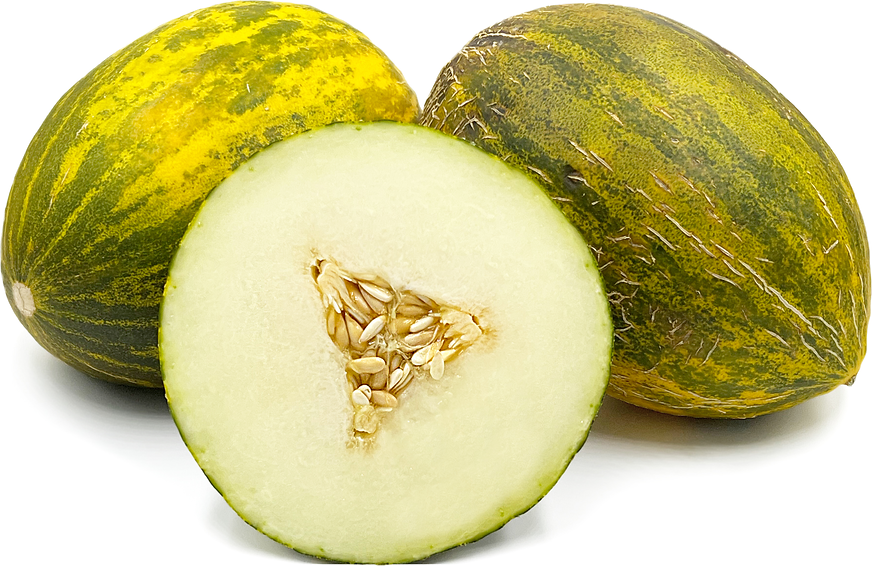 Krotenhaut Melons
Inventory, lb : 0
Description/Taste
Krotenhaut melons are a medium to large varietal, averaging 20 to 30 centimeters in length, and have an oval to ovoid shape with tapered, slightly pointed to curved ends. The melon's rind is thick, hard, and dense, covered in variegated to mottled yellow-green hues. The rind's coloring will vary depending on the growing location, but the melons will generally develop a bright yellow hue when ripe. The yellow flush and green striping are also often covered in wrinkles, sugar scarring, and rough patches, giving the surface a textured appearance. Underneath the surface, the white to pale green flesh is thick, aqueous, and soft to crisp with a tender, succulent consistency. The flesh also encases a central cavity filled with ivory, tapered, oval seeds suspended by pale fibers in gelatinous liquid. It is important to note that Krotenhaut melons will not emit a scent when whole, as the thick rind prevents it from permeating. When the melons are sliced, a strong, aromatic, and honeyed fragrance will be released. Krotenhaut melons should feel heavy for their size, and the stem end will have a slight give when ripe. The melons have a refreshing, mild, sweet flavor with subtle earthy and herbaceous nuances.
Seasons/Availability
Krotenhaut melons are available in the summer, with a peak season in Europe from July through September. The variety is also imported into Germany from the Southern Hemisphere to provide year-round availability.
Current Facts
Krotenhaut melons, botanically classified as Cucumis melo, are a variety of muskmelon belonging to the Cucurbitaceae family. The name Krotenhaut is the German translation for Piel De Sapo melons, a variety with Spanish origins whose name means "toad's skin." The melon received its amphibious moniker from its mottled, textured green rind, resembling toad skin, and this name has been translated into many different languages as the melons are grown worldwide. Krotenhaut melons are also known as Haut de Krote melons and Piel de Sapo zuckermelone in Germany. Outside of Germany, the cultivar is commonly labeled as Christmas melon, Santa Claus melon, and Piel De Sapo melon. The melons are typically imported, as Germany is one of the largest melon importers worldwide, and Spain provides over 50% of the fresh melons sold in German commercial markets. Krotenhaut melons are favored throughout Germany for their extended storage capabilities, sweet taste, and tender, juicy flesh. The variety is common in the summer throughout German markets and is a seasonal favorite, traditionally consumed fresh.
Nutritional Value
Krotenhaut melons are a source of fiber to regulate the digestive tract, vitamin A to maintain healthy organ functioning, and vitamin C to strengthen the immune system while reducing inflammation. The melons also provide potassium to balance fluid levels within the body, phosphorus to help repair tissues, magnesium to sustain optimal nerve functioning, and other nutrients, including iron, calcium, zinc, and copper. Beyond vitamins and minerals, Krotenhaut melons have high water content, acting as a natural source of hydration.
Applications
Krotenhaut melons have an aromatic, sweet taste suited for fresh preparations. The variety's juicy and tender flesh is primarily consumed straight out of hand, or it can be sliced and served on charcuterie boards with soft cheeses, dried fruits, and nuts. Krotenhaut melons can also be wrapped in cured meats as a salty-sweet appetizer, and the wrapped melon pieces can be layered on toast for added crunch. The soft nature of the flesh can be used as a topping for parfaits, oatmeal, and granola, or it can be chopped and mixed into fruit bowls and green salads. Try sprinkling Krotenhaut melons with lemon or lime juice and consuming them as a refreshing snack. Krotenhaut melons can also be mixed into ceviche, served in chilled soups, or blended and frozen into popsicles, sorbet, and granita. In addition to slicing the melons, Krotenhaut melon flesh can be incorporated into beverages such as smoothies, slushies, and cocktails. The flesh can also be balled and soaked in a mixture of champagne and wine as a boozy dish for celebrations. In Germany, a dish known as roll kuchen consists of a sticky, fried dough cooked and served as a bite-sized plate. The fried dough pieces are traditionally served with watermelon, but the dish can be made with muskmelon varieties such as Krotenhaut as a seasonal variation. Krotenhaut melons pair well with meats such as salami, prosciutto, and ham, cucumbers, zucchini, avocado, radicchio, tomatoes, sweet corn, nuts including almonds, pecans, and pine, cheeses such as mozzarella, feta, mascarpone, burrata, and goat, and herbs including mint, parsley, cilantro, and basil. Whole, uncut Krotenhaut melons should be ripened at room temperature, and depending on the degree of ripeness, the melons may take 4 to 6 weeks to mature. Once ripe, the melons can be kept in the refrigerator for a few months. Sliced Krotenhaut melons will keep 3 to 5 days in a sealed container or wrapped in plastic. It is important to note that the sliced melon's fragrance will be powerful and may permeate other food items stored in the fridge.
Ethnic/Cultural Info
Sweet melon varieties, including Krotenhaut melons, are often incorporated into a popular Oktoberfest beverage known as bowles in Germany. Bowles is the German name for fruit punch, and many German families have recipes for bowles that have been passed down between generations. While Oktoberfest is generally associated with beer, bowles recipes are popular beverages offered as an alternative to beer during the celebration. Oktoberfest was created in 1810 to celebrate the wedding of Princess Therese of Saxony-Hildburghausen and Prince Ludwig. The bride and groom decided to invite over 40,000 citizens as a way to unite the region and held the festivities on 100 acres of open land in Munich, Germany. The party was so successful that another one was held in the same location the following year and the year after, marking the creation of the beloved fall holiday. Over time, Oktoberfest was moved earlier into the fall season, typically in September, to allow for better weather, and the celebrations can last from one day to two weeks. Throughout modern-day Germany, there are many different Oktoberfest celebrations outside the official event, and families also celebrate with friends and family at home. Bowles is traditionally served at family Oktoberfest parties and consist of balled melon flesh dropped into mixtures of wine, champagne, honey, fresh herbs, and other fruits.
Geography/History
Krotenhaut melons are Piel De Sapo melons, a variety first cultivated in Spain. The melons are widely cultivated throughout Spain's Murcia and La Mancha regions and have been grown commercially for centuries as a delicacy. Piel De Sapo melons are valued for their extended storage capabilities. They are a thick-rind variety that can be kept for several months, leading it to become a versatile melon consumed throughout the summer and into the winter. Due to its long-lasting abilities, Piel De Sapo melons were introduced as a commercial cultivar worldwide. The melons thrive in climates with hot, sunny days and cool nights. Piel De Sapo melons are cultivated worldwide and exported from regions in the Southern Hemisphere to markets in the Northern Hemisphere for year-round availability. Major production regions include Spain, France, Brazil, Australia, and in California and Arizona in the United States.
Recipe Ideas
Recipes that include Krotenhaut Melons. One

is easiest, three is harder.