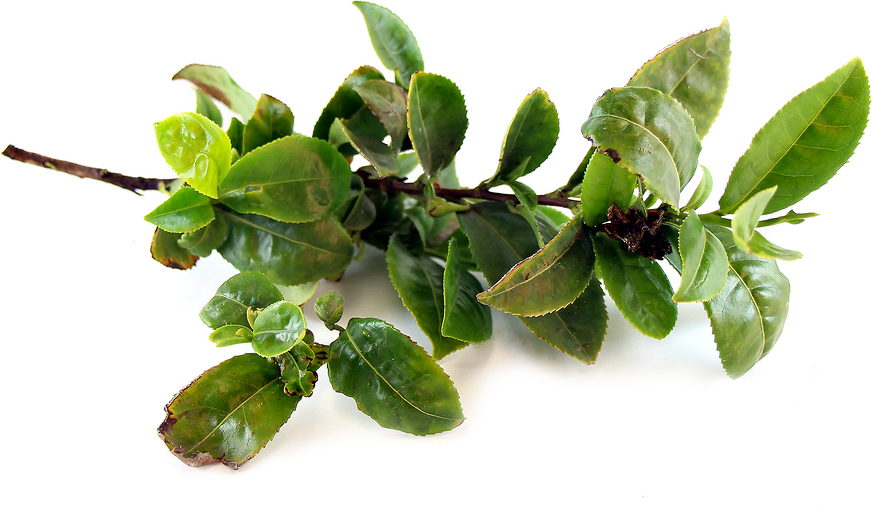 Fresh Tea Leaves
Inventory, oz : 0
Description/Taste

Tea leaves are small to medium in size and oval to elliptical in shape, averaging 5-10 centimeters in length. The shiny dark green leaves grow in an alternate pattern, are leathery in texture, and have serrated edges that taper to a pointed tip. Tea leaves are also known to have hairy undersides, and there is a central, light green vein running the length of the leaf. The leaves grow on a thick, dark brown fibrous stem. Tea leaves have a bitter taste with herbal, grassy notes and may offer a tannic mouthfeel when steeped.


Seasons/Availability

Tea leaves are available year-round.


Current Facts

Tea leaves, botanically classified as Camellia sinensis, grow on an evergreen perennial that can reach up to nine meters in height and belong to the Theaceae family. All tea including white, green, oolong, Darjeeling, or black, comes from the same plant and the two main varieties of the plant that are commercially cultivated are Camellia sinensis var. sinensis, also known as Chinese tea, and C. sinensis var. assamica, known as Assam or Indian tea. Each type of tea is processed for different lengths of time to reach different levels of oxidation. Chinese tea is cultivated in China, Taiwan, Japan, and parts of Darjeeling, India. Chinese tea is delicate, with smaller leaves on the plant which are used for green, white, and oolong teas. Assam tea is grown in India, Sri Lanka, and in other parts of the world. The Assam tea plant produces large leaves with a strong flavor and is used for black teas.


Nutritional Value

Tea leaves contain vitamins C and B6, carotene, thiamine, and folic acid. They also contain potassium, manganese, and fluoride.


Applications

Tea leaves are not used raw and are usually processed immediately after being harvested as they wilt quickly. They can be withered, dried, steamed, and fermented to make loose leaves for brewing as a beverage. Dried Tea leaves can also be used for cooking smoked dishes, such as tea-smoked chicken and duck and used in the popular Chinese dish Tea leaf eggs, which are eggs that are boiled in a tea-infused liquid. Tea leaves can be fermented, but the process can take several months to many years. In Myanmar, fermented tea leaves are used in a flavorful salad called Lahpet Thote which also features lime juice, peanuts, sesame seeds, chili peppers, pounded shrimp, and sugar. Fermented tea leaves are gaining in popularity around the world, and ready-made fermented tea leaves can now be found in specialty shops in the United Kingdom and the United States. Whether fresh or dried, tea leaves are best stored in airtight containers, away from moisture, light, and strong odors. Like other delicate plants such as mint, Tea leaves will also store well in the freezer in vacuum-sealed bags.


Ethnic/Cultural Info

Some of the earliest written records of tea-drinking come from China around the 10th century BCE when tea was taken as a medicinal beverage. It was later used in religious ceremonies and to this day, tea plays a huge part in Chinese life and is served in restaurants along with meals. The Chinese tea ceremony is a common part of Chinese weddings, where the bride and groom must serve tea to both sets of parents as a signal of respect. The Japanese are also famous for ritualistic tea ceremonies. There, the tea ceremony is seen as a reflection on life and becoming a tea master in Japan can take years of studying and dedication.


Geography/History

Tea leaves were first cultivated around the time of the Han dynasty (206 BCE to 220 CE), and by the time of the Ming Dynasty (1368 CE to 1644 CE), tea-drinking became a daily social activity in tea houses. The practice of tea-drinking spread to Korea, Japan, and Vietnam. Tea first appeared in British records in the 1600s as a drink of the elite. By the 1700s, it was available in tea shops and at grocers in London. In the 1800s to break the monopoly of the Chinese tea trade, the British smuggled plants and seeds out of the country and established plantations in areas such as Darjeeling, Assam, and Sri Lanka. Today, China, India, and Kenya are the largest producers of tea and Tea leaves can be found in specialty shops in Asia, Southeast Asia, Europe, Australia, Africa, and North, Central, and South America.