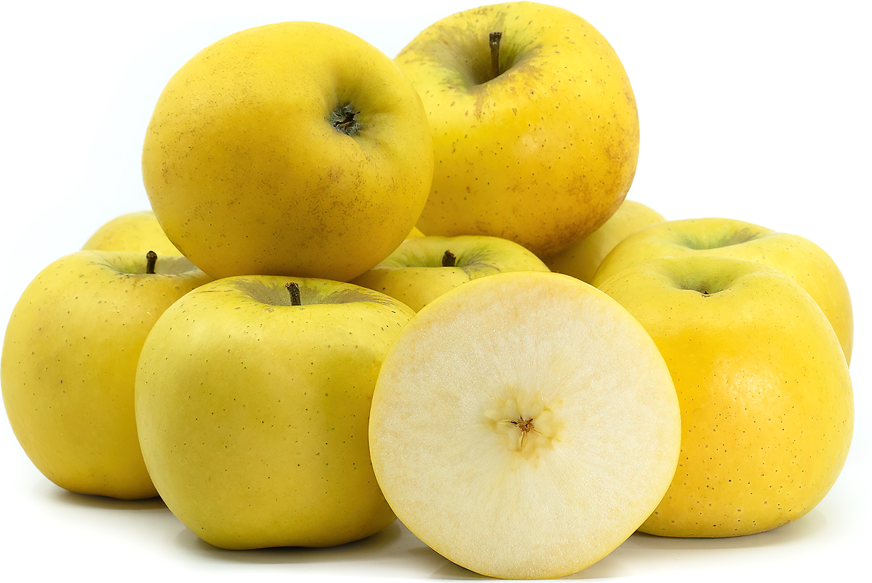 Yello® Apples
Inventory, lb : 0
Description/Taste

Yello® apples are a small to medium-sized varietal, averaging 350 grams in weight, and have a round to conical shape with broad, flat shoulders tapering to a narrow base. The apple's skin is thin, smooth, and taut, showcasing a straw yellow, alabaster yellow, to golden yellow hue when ripe. The skin also features prominent black-brown lenticels scattered across the surface. Underneath the skin, the cream-colored flesh is firm, fine-grained, dense, and aqueous with a crisp, crunchy, and succulent consistency. The flesh also encases a small fibrous core filled with tiny black-brown seeds. Yello® apples release a robust tropical aroma when ripe and should feel heavy for their size, indicating ample juice in the flesh. The variety has a high sugar content, ranging from 14 to 16 Brix, with low to moderate acidity, creating a refreshingly sweet and floral taste with pineapple, banana, pear, honey, and lemon-like nuances. Depending on the growing region, the variety may also have a light tanginess, contributing to the variety's sweet and zingy, complex nature.


Seasons/Availability

Yello® apples are available in the fall through early spring. The variety's peak season is mid-October through December in the northern hemisphere, grown in Europe and Japan, and in the southern hemisphere, the apples are cultivated May through August in Australia.


Current Facts

Yello® apples, botanically classified as Malus domestica, are a trademarked brand name of a Japanese apple variety belonging to the Rosaceae family. The name Yello® was created from a blend of the words "hello" and "yellow," referencing the apple's bright, cheery coloring and vibrant flavor. Yello® apples are a branded version of the Japanese variety Shinano Gold. The cultivar was created in the late 20th century in Japan and was launched in European markets under the name Yello® in the early 21st century. Yello® apples are a premium variety available in limited quantities each year. The variety is notoriously challenging to cultivate as it has low yields, must be harvested in multiple stages by hand, and left on the tree for an extended period to develop its signature coloring. The cultivar ripens about two weeks after Golden Delicious apples, one of its parent varieties, and was bred to showcase improved coloring, flavor, and storage capabilities. In the modern day, Yello® apples are sold as a delicacy for fresh and cooked preparations, and cultivation is being expanded worldwide for year-round availability as a commercial apple.


Nutritional Value

Yello® apples are a source of potassium to balance fluid levels within the body, fiber to regulate the digestive tract, and vitamin C to strengthen the immune system while reducing inflammation. The apples also provide small amounts of copper to develop connective tissues, magnesium to control optimal nerve functioning, iron to produce the protein hemoglobin for oxygen transport through the bloodstream, and other nutrients, including manganese, phosphorus, vitamin A, vitamin K, vitamin E, calcium, and zinc.


Applications

Yello® apples have a sweet, subtly tangy taste suited for fresh and cooked preparations. The variety is advertised as a quality dessert apple, primarily consumed straight out of hand. Yello® apples can also be sliced and served on cheese plates, in fruit medleys, or tossed into salads, and the brightly colored fruits add color to dishes. Try layering Yello® apples onto sandwiches, chopping and serving over crostini, using them as an edible garnish over breakfast dishes, mixing them into oatmeal, or dipping them into nut butter, chocolate, or caramel sauces. In addition to fresh preparations, Yello® apples hold their shape well when heated and can be simmered into sauces, jams, and chutney, baked into pies, cakes, muffins, and streusel, or fried into apple rings. The variety can also be sauteed in caramel and spices as a decadent ice cream topping, baked whole in pastry dough, or roasted and served as a side dish to main dishes. In Europe, Yello® apples can be used in any recipe calling for Golden Delicious apples. Yello® apples pair well with spices such as cinnamon, cloves, nutmeg, and ginger, maple syrup, vanilla, nuts including pecans, walnuts, almonds, and hazelnuts, and cheeses such as parmesan, blue, and goat. Whole, unwashed Yello® apples will keep for 1 to 3 months when stored in a cool, dry, and dark location such as a cellar or refrigerator.


Ethnic/Cultural Info

Yello® apples are known as Shinano Gold apples in Japan. The variety was created in Japan and was named after Shinano, an old province in Nagano, and the fruit's bright, golden coloring. Shinano Gold apples are famously part of the "three apple brothers" in the Nagano Prefecture. Three apple cultivars, Shinano Gold, Akibae, and Shinano Sweet, make up the apple brothers, and the varieties ripen around the same time in October. These three apples are some of the most well-known varieties that arose out of Nagano, and in 1997, the "three apple brothers" were showcased at the World Apple Exchange Convention. Shinano Gold was consistently ranked as one of the top flavored varieties among attendees, and it eventually caught the attention of South Tyrol apple grower Mr. Kurt Berts. This convention was said to have sparked the interest of Italian growers and contributed to Shinano Gold being licensed to South Tyrol, creating Yello® apples. In Western markets, Yello® apples are labeled with stickers that display the apple's name in a font that is a nod to traditional Japanese writing. The apple is also being marketed with the slogan "the color of taste," referencing the variety's distinct coloring and flavoring.


Geography/History

Yello® apples are a marketing name for Shinano Gold apples, a variety native to Japan. The apples were developed at the Nagano Fruit Tree Experiment Station in Suzaka, Japan, and were bred in 1983 from a cross between Golden Delicious and Senshu apples. It took several years for the new variety to be evaluated, tested, and researched after its creation, and it is said that the cultivar was officially completed sometime around 1995. In 1996, the apples were submitted to the Ministry of Agriculture, Forestry, and Fisheries in Japan as a new variety, and in 1999, they were approved for commercial release under the name Shinano Gold. Japanese breeders sought to create an improved variety that arrived in markets in October, had extended storage properties, and contained a balanced, complex flavor. Shinano Gold apples received widespread acclaim among Japanese growers after its release, and international growers began eyeing the variety for production. Shinano Gold apples were planted in a test plot in South Tyrol in 2005, and in 2007, the Nagano Prefecture began discussing a trial licensing agreement with VOG and VIP, apple producers from South Tyrol, to grow the variety in Italy. The VOG, or the Association of South Tyrolean Fruit Growers' Cooperatives, and VIP, the association of Val Venosta Fruit Growers' Cooperatives, officially signed the licensing agreement with the Nagano Prefecture in 2016 and was the first overseas licensing agreement for the variety. Shinano Gold was later rebranded under the trademarked name Yello® in 2016 for sale in Europe and Australia. The variety is exclusively grown and marketed in Europe through VOG and VIP apple producers in South Tyrol, Italy. Yello® apples debuted in Europe in a presentation at Interpoma, Bolzano, and the apples were initially marketed in the Mediterranean. Today, Yello® apples are seasonally sold throughout Europe through South Tyrol apple growers, and the variety is sub-licensed to Montague, a company based in Australia for cultivation in the Southern Hemisphere. Yello® apples were also approved in 2019 to be licensed and sold in over 90 countries, including the United States, South Africa, and Chile. In Japan, the variety is known as Shinano Gold and is grown in the Aomori, Iwate, Akita, and Yamagata Prefectures.