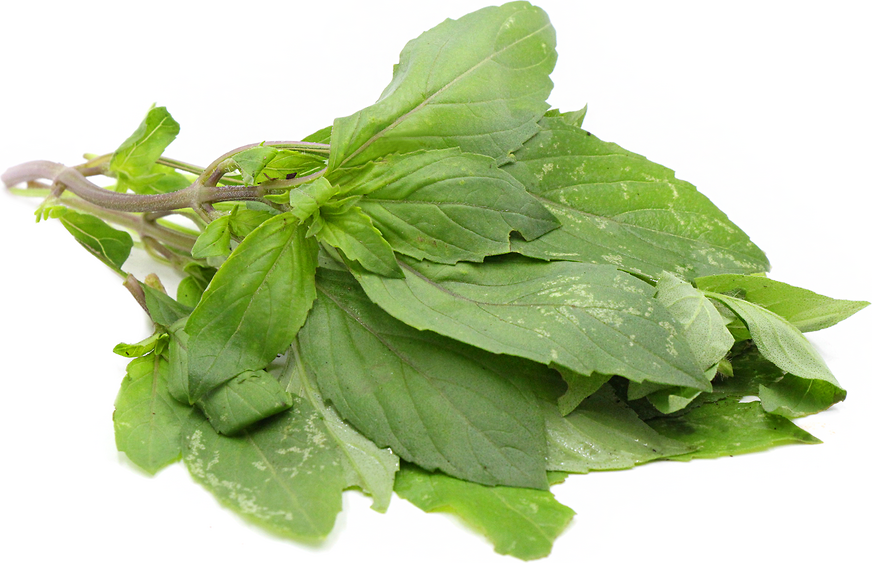 Lime Basil
Inventory, bunch : 0
Description/Taste

Lime Basil is a compact, herbaceous annual plant with a mound-like shape that can grow from 40 to 90 centimeters in height and up to 45 centimeters wide. During the mid to late-summer months, it will produce spears of tiny white flowers at the tops of the stems. The smooth, bright green, teardrop-shaped leaves have slightly scalloped edges and are smaller than common sweet basil. Lime Basil leaves offer a strong, sweet, citrusy scent and a mild yet zesty, peppery-lime flavor.


Seasons/Availability

Lime Basil is available year-round, with a peak season in the spring through summer.


Current Facts

Lime Basil is a rare heirloom variety botanically classified as Ocimum Americanum, belonging to the mint family. It is also referred to as American Basil, Hoary Basil, or Hairy Basil, nicknamed for its hairy stems. Botanists consider Lime Basil a cousin of the more common lemon basil. While it is primarily used for culinary purposes, Lime Basil is also grown as an ornamental and is even touted as a natural insect repellent. The essential oil can also be extracted for use in soaps, candles, cosmetics, and aromatherapy, supposedly pairing well with floral, spicy, or citrusy essential oils like mandarin.


Nutritional Value

Lime Basil offers high amounts of vitamin K, which has been shown to have anti-inflammatory effects, as well as smaller amounts of vitamins A and C. It is a good source of calcium, iron, copper, magnesium, and folate, and it contains antioxidants in the form of omega-3 fatty acids, which are beneficial for eye and brain health. It also includes the volatile oil, citral, which gives the leaves a lime-like fragrance and flavor. Thanks to its antibacterial properties, Lime Basil has traditionally been used as a natural topical treatment to nourish and repair irritated skin, and with its concentration of antioxidants, it has even been used as an under-eye treatment for inflammation. Even basil seeds have nutritional value, comparable to chia seeds, with high amounts of fiber and omega-3 fatty acids. They are plentiful in iron and vitamin K, which promote strong, healthy hair, and they can even help the body produce collagen, a compound necessary for forming new skin cells.


Applications

Lime Basil is most often used in raw applications, though it can also be dried for teas or spice blends. Young fresh leaves are eaten raw or steamed as a vegetable side-dish in Indonesia and used as a flavorful herb for cooking in Thailand and Malaysia. The fragrant leaves are often used to mask strong fishy or unpleasant smells in various dishes. Use Lime Basil in place of common sweet basil for a zesty twist on any recipe, such as traditional pesto. Whole leaves can be added to sandwiches, green or fruit salads, pizzas, or tarts, while sprigs of Lime Basil can be added to beverages or muddled in cocktails. Add whole or chopped leaves to salsas, dressings, and sauces, or use them to infuse oils, vinegar, or water to make a refreshing tea. Lime Basil pairs well with fish, shellfish, poultry, stone fruits, berries, tomatoes, peppers, eggplant, and cream-based or frozen desserts. It even pairs perfectly with its cousin, lemon basil, for an extra vibrant, tangy fresh flavor. Fresh leaves are typically added toward the end of cooking since overcooking can ruin their herbaceous, citrusy flavor. Place fresh Lime Basil stems in a glass of water and store them at room temperature, or wrap them in a paper cloth and store in a bag in the refrigerator for a week or two. For extended use, you can blanch then freeze Lime Basil in an ice tray with olive oil, where it will last for a couple of months.


Ethnic/Cultural Info

Lime Basil has been used in traditional medicine throughout its native regions of Africa and Southeast Asia to enhance immune function and treat minor skin, respiratory, digestive, and metabolic issues. The leaves are used as a poultice for wounds or burns, a decoction for coughs, and a tea for soothing headaches and combating fatigue. Even basil seeds, also called sabja or tukmaria seeds, have a long history in Chinese and Ayurvedic medicine and are known for their cooling and filling effects. Basil seeds are eaten after soaking in water, where they become gelatinous and can be mixed into smoothies, dressings, yogurt, pudding, and more. In India, they are used in a popular dessert called falooda, a sweet and creamy, jelly-like dessert drink typically made with basil seeds, rose syrup, vermicelli noodles, milk, or ice cream. Falooda originated in Persian cuisine and traveled to Asia via merchants. Today, the drink has become a popular summer dessert in countries throughout Southeast Asia, Africa, and South America, and has even started to garner attention in the United States.


Geography/History

Lime Basil is native to tropical Africa, India, and Southeast Asia, dating back centuries. While its precise origin is unknown, many speculate that it originated in Thailand. It is widely cultivated in its native regions and grows wild on roadsides and in fields or teak forests. It is often planted in rice paddy fields and grows equally well in low plains and slightly high altitudes. It was brought to tropical America sometime during the 1700s and later to Australia. Lime Basil is a rare variety but may be found at specialty stores or farmer's markets. It can also be grown at home, either planted in gardens or grown indoors on a sunny windowsill in well-drained, rich soil.