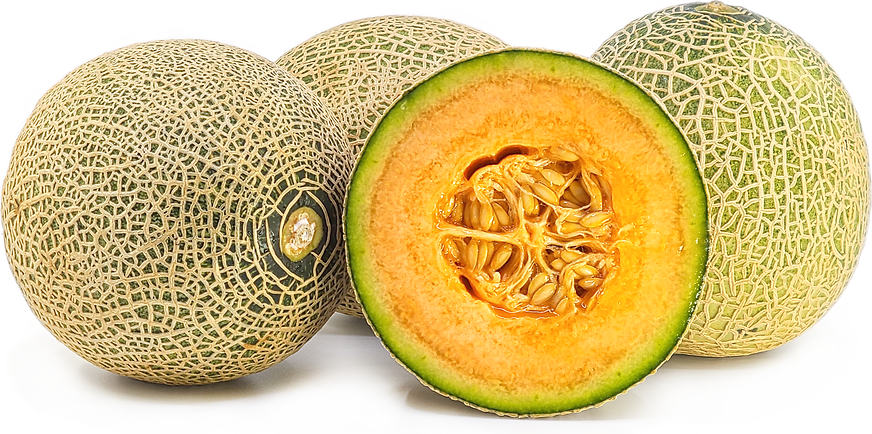 Quincy Melons
Inventory, lb : 0
Description/Taste

Quincy melons are a small to medium-sized varietal, averaging 12 to 15 centimeters in diameter, and have a round to oval shape. The melon's semi-thin rind is firm with a variegated dark green, light green, to tan base hue, covered in a raised, light brown netting. The melon's base will change with maturity, and the raised netting has a rough, textured feel, displaying irregular patterns and shapes. Underneath the surface is a green ring just below the rind, transitioning into a bright orange to salmon-colored flesh. The flesh is soft, aqueous, thick, and dense with a succulent, tender consistency. A moderately-sized central cavity is also filled with slender, cream-colored seeds suspended in stringy orange fibers and encased in a thin layer of gelatinous liquid. Quincy melons are ripe when they give slightly under pressure and release a sweet and mellow aroma. Mature Quincy melons contain a high sugar content, ranging from 14 to 17 degrees Brix, creating a mild, sweet, floral, and sugary flavor that lingers on the palate.


Seasons/Availability

Quincy melons are available in the late spring through summer, with a peak season in June. There are also some companies in Japan that grow the variety in greenhouses, allowing for year-round production.


Current Facts

Quincy melons, botanically classified as Cucumis melo, are a Japanese variety belonging to the Cucurbitaceae family. The early to mid-season muskmelon was created in the late 20th century and was selected for commercial cultivation for its brightly colored, mild, and sweet flesh. Quincy melons are also known for their extended storage properties, allowing the melons to be sold for longer periods and exported to other countries. The name Quincy was said to be a combination of the words "queen" and "healthy." The variety is promoted in Japanese markets for its high Brix and beta-carotene content. Quincy melons are a conventional variety widely grown in Japan and are generally considered one of the more affordable cultivars sold in markets, especially in season. The melons are more expensive outside of Japan as they are sold as a specialty variety. In addition to standard Quincy melons, which are sometimes sold as Red Quincy melons, seasonal variations are labeled as Spring Quincy and Summer Quincy melons.


Nutritional Value

Quincy melons are a source of vitamin C to strengthen the immune system, vitamin A to maintain healthy organ functioning, vitamin E to reduce inflammation, and beta-carotene, an orange pigment found in the melon's flesh that provides antioxidant-like properties to protect the cells from free radical damage. The melons also contain fiber to regulate the digestive tract, potassium to balance fluid levels within the body, vitamin K to assist in faster wound healing, and lower amounts of magnesium, vitamin B6, folate, niacin, and thiamine.


Applications

Quincy melons have a sweet, subtly floral, and mild flavor suited for fresh preparations. The small melons should be washed to remove debris and bacteria from the textured surface, and once cleaned, they can be sliced in half, removing the seeds, and given as two individual servings. The melons can also be filled with cottage cheese or yogurt and served as a breakfast dish, sliced and displayed on fruit platters, chopped into fruit medleys, or cut into smaller pieces and tossed into green salads. In addition to mixing the fruit in pieces, Quincy melons are popularly blended into smoothies, juices, or cocktails. The flesh can also be used as a topping over ice cream or in parfaits, frozen and mixed into sorbets and granitas, baked into desserts such as cakes, or used to flavor various candies. Quincy melons should be left at room temperature to ripen and generally take 4 to 5 days to fully mature after being shipped from their production region. Once ready to eat, the melons should be consumed within 2 to 3 days after opening, storing the slices in plastic wrap or a sealed container in the refrigerator.


Ethnic/Cultural Info

Quincy melons were used in an award-winning dessert from Kasama, a city in the Ibaraki Prefecture, Japan. Ibaraki Prefecture is one of the most famous melon-producing regions in the country. During the summer, when melons are in peak season, specialty grocers advertise melons grown in Ibaraki, such as Quincy, for fresh desserts and beverages, and local cafes and shops place seasonal melon dishes on their menus to attract local consumers. Gruyeres, a dessert shop in Kasama, created a melon-centric treat known as the Manatsu no Kifujin, translating to "Midsummer Lady," in 2020 and entered it into the Ibaraki Sweet Championship. The dessert was comprised of using the melon's rind as a serving vessel. The flesh was then incorporated into a layer of Bavarian mousse and a layer of mint jelly and placed back into the rind, topped with fresh mint as a garnish. The dish won first prize at the Ibaraki Sweet Championship and became a popular dessert in the region. Quincy melons were selected as the original melon for the recipe, as the brightly colored flesh has a sweet but mellow flavor, complementing the refreshing nature of the mint. Depending on the season, the dessert is also made with other melons, including Earl's Melon, another famous variety from Ibaraki.


Geography/History

Quincy melons were developed by Yokohama Ueki Co. in 1988 in Japan. The variety was created from several traditional crosses of melons, beginning with Bolero and Earl's Summer No. &, followed by crosses with Super Tachib and an unknown cultivar bred with Fukamidori. Quincy melons were selected for expanded production for their mild, sweet aroma and smooth flesh and were released to commercial markets in 1989. Around the time of their release, red-fleshed or orange muskmelons in Japan generally carried an unusual, often considered unfavorable odor. Quincy melons were one of the first red-fleshed melons that contained a mild scent, leading to its acceptance as a seasonal, commercial melon by the early 1990s. Today, Quincy melons are mainly produced in Japan's Ibaraki, Kumamoto, and Yamagata prefectures and are sold domestically as a conventional, somewhat affordable variety. The melons are also exported to other countries, including Singapore, where the melons are sold at a high price due to the costs of growing, packaging, and shipping. The Quincy melons featured in the photograph above were sourced from Cold Storage in the One World Center in Singapore. The melons were air-flown from Japan.