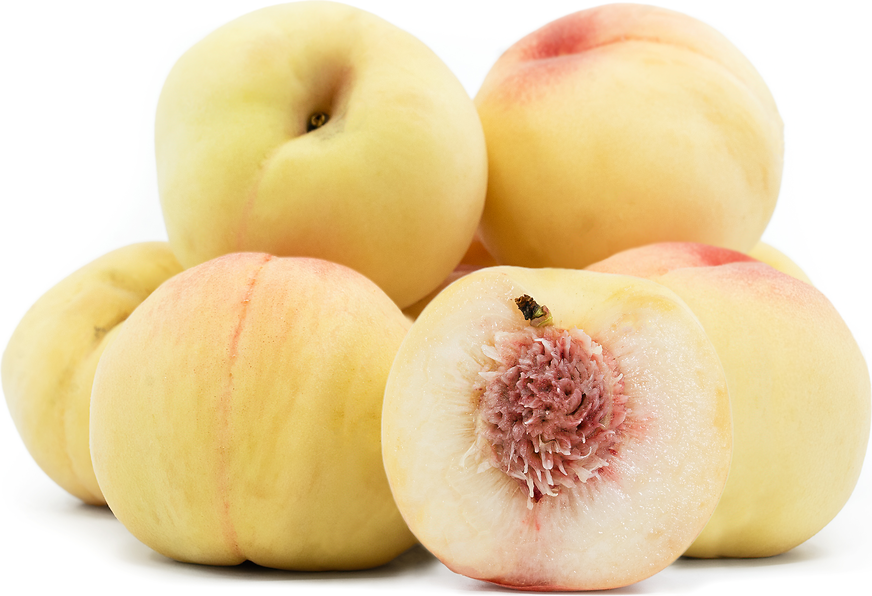 Okayama White Peaches
Inventory, lb : 0
Description/Taste

Okayama White peaches are medium to large in size, averaging 7 to 9 centimeters in diameter, and have a round to ovate shape with peaked shoulders, a broad, curved center, and a tapered, flat base. Each white peach will vary in appearance and coloring, depending on the specific variety, and some cultivars showcase a distinct suture line that extends the length of the fruit, creating a small indentation. The skin is thin, smooth, and taut, with a delicate, easily bruised nature. The skin also has an ivory, white, to pale yellow hue and features a small patch of red-pink, speckled blush on the bottom of the fruit. White peaches are enveloped in a soft, light, and velvety fuzz. Underneath the skin, the ivory to pale yellow flesh is tender, aqueous, and semi-firm with a succulent, soft, and melting consistency. The flesh also encases a central fibrous brown pit that is inedible and should be discarded. Okayama White peaches will feel heavy for their size when ripe and will have a sweet and honeyed scent. The fruits can be consumed with or without the skin and have a high sugar content with low acidity, creating a refreshingly mild, sweet, subtly fruity, and floral taste.


Seasons/Availability

Okayama White peaches are available in the summer through early fall. Each specific white peach variety grown within Okayama Prefecture will have varying availability within the abovementioned timeframe, with some cultivars only being available for a few weeks.


Current Facts

Okayama White peaches, botanically classified as Prunus persica, are a category of several white peach varieties belonging to the Rosaceae family. Okayama is a prefecture in the southwestern region of Japan's central island, Honshu, and the name Okayama White peaches is a general descriptor used for all white peaches grown within the prefecture. Over 100 varieties of peaches are cultivated in Japan, and it is estimated that over half of these varieties are descendants of white peaches bred in Okayama. In Japanese commercial markets, white peaches are the most common peach, and yellow peaches are traditionally reserved for processing and canning purposes. Okayama Prefecture has been deeply intertwined with peach production since the fruit's introduction from China, and growers in the prefecture have strict cultivation requirements to create their signature white peaches. The most famous Okayama White peach is the Shimizu Hakuto peach, which is only in season for a few weeks, from late July through early August. Shimizu Hakuto peaches are known as the "Queen of peaches" and are revered as gifts throughout Japan. Other popular Okayama White peach varieties include Hanayome, Yume Hakuto, Hakurei, Hakuhou, and Hon Hakuto. In Okayama, white peaches are thinned when they are about the size of a ping-pong ball, and the fruits left on the tree are bagged to protect their skin and signature coloring. Large-scale farmers may individually bag over 100,000 fruits per season. The trees are also watered with a controlled supply, and yellow lights are lit around the plants at night to prevent pest invasions without pesticides. When the peaches are ready for harvest, they are hand-picked and carefully packaged to prevent bruising. Okayama White peaches are a seasonal delicacy revered throughout Japan for the fruit's mild, sweet, juicy, and melting texture.


Nutritional Value

Okayama White peaches are an excellent source of vitamin C to strengthen the immune system, fiber to stimulate the digestive tract, and potassium to balance fluid levels within the body. The variety also provides vitamin E to protect the cells against free radical damage, iron to form the protein hemoglobin for oxygen transport through the bloodstream, magnesium to regulate nerves, vitamin K to assist in wound healing, copper to develop connective tissues, and other nutrients, including zinc, manganese, phosphorus, and folate.


Applications

Okayama White peaches have a sweet, subtly floral flavor suited for fresh and cooked preparations. In Japan, white peaches are popularly placed in the refrigerator for a few hours before eating and are served to guests lightly chilled to enhance their flavoring. The skin is traditionally hand-peeled from the flesh, and the flesh is sliced into elongated wedges to consume as a dessert or snack. Okayama White peaches can also be added as an edible garnish over desserts such as cakes and tarts, or the fruits can be sliced into green salads. They can also be pressed into juice and served on their own, or the juice is infused into sake. During peach season in the Okayama Prefecture, white peaches are famously served in parfaits at restaurants. These parfaits are elaborately layered, and one of the most well-known destinations to try peach parfaits is at Kurashiki Momoko, a produce outlet near Okayama's Historical Kurashiki Quarter. Kurashiki Momoko is run by the Okayama Prefecture Vegetables and Fruits Sales Group, and their seasonal peach parfaits each contain an entire Shimizu Hakuto peach. Okayama White peaches are also incorporated into mochi, candies, steamed cakes, puddings, jellies, jams, and pastries. Try adding Okayama White peaches to smoothies, shakes, and shaved ice or purchasing candies flavored with white peaches, such as Kit Kat. Okayama White peaches pair well with vanilla, ginger, chocolate, nuts such as almonds, walnuts, pecans, and hazelnuts, herbs such as thyme, rosemary, and basil, and fruits including blueberries, blackberries, and raspberries. Whole, unwashed White peaches should be ripened at room temperature, and once mature, they should be immediately consumed for the best quality and flavor. It is only recommended to chill the peaches in the fridge for a few hours. Long-term cold storage may result in loss of flavor and texture.


Ethnic/Cultural Info

White peach cultivation in the Okayama Prefecture is famous throughout Japan. The region is known as the "Sunshine Prefecture" for its mild climate and low rainfall, an ideal location for peach production, and Okayama is one of the historical sites where peaches were first grown in Japan. Okayama Prefecture is also renowned for its presence in the legend of Momotaro, or "Peach Boy." Momo means "Peach" in Japanese, and the legend is a favorite childhood story about a boy discovered in a peach who is adopted by a family and eventually goes on to battle ogres and demons to protect villages across Japan. Okayama is considered the birthplace of this fairytale and is often considered the setting for many of the adventures within the story. In the Okayama Prefecture, the Kibitsujinja Shrine is rumored to be where Momotaro captured an ancient demon known as Onra, and the shrine features a statue of Momotaro in its parking lot. The shrine also sells peach-shaped amulets called "Momomamori," believed to protect against misfortune and welcome love. The legend of Momotaro is reflected throughout the Okayama Prefecture, and the prefecture's main street is known as Momotaro Odori. During peach season, visitors flock to Okayama to visit Momotaro-based shrines and locations and ornate, luxury gift boxes of the white peaches are purchased for friends and family as a symbol of respect, care, and appreciation during chugen, the summer gift-giving season.


Geography/History

Okayama White peaches are native to Japan and were developed in the Okayama Prefecture. Peaches were initially introduced to Japan from China, but the trees were valued more for their blossoms than their fruits. The first peaches planted in Japan were sour, hard, and unappetizing. It wasn't until the Meiji Period, spanning from 1868 to 1912, that the fruits became prized. Two peach varieties, Shanghai Honey peaches, and Tianjin Honey peaches, were exported from China and planted in Okayama around 1875. Shanghai Honey peaches were used by Okayama grower Jugoro Okubo to breed new varieties, notably the Hakuto White peach, in 1899. Large-scale white peach cultivation began in Okayama in the early 20th century, and in 1932, Shimizu Hakuto was discovered as a chance seedling. White peaches quickly increased in popularity across Japan in the 20th century, and the first few varieties created in Okayama were utilized in peach breeding programs to form most of the modern varieties sold in the present. Today Okayama White peaches are revered throughout Japan, and the seasonal fruits are sold as delicacies in fresh markets, through grocers, and select distributors. The Okayama White peaches featured in the photograph above were sourced through Isetan Shinjuku in Tokyo, Japan.