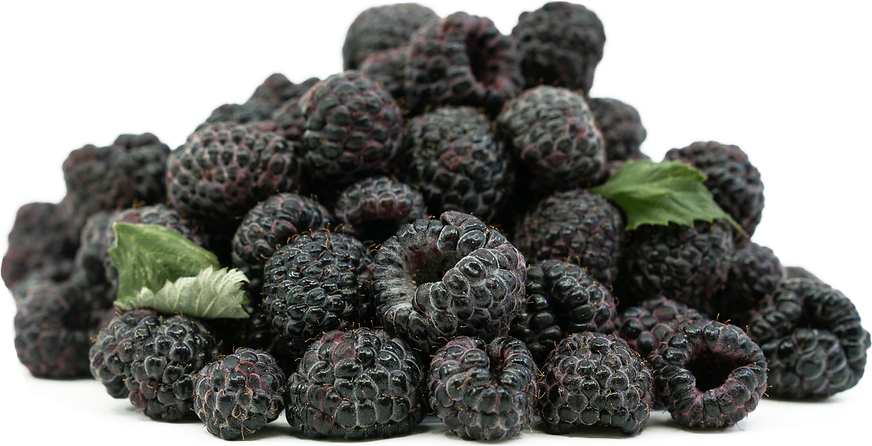 Black Raspberries
Inventory, 12 ct : 0
Description/Taste
Black raspberries vary in size, depending on if they are cultivated or foraged, but the fruits are generally small, averaging 1 to 2 centimeters in diameter. The raspberry species is a type of aggregate fruit comprised of individual drupelets held together by very fine, nearly invisible hairs. Black raspberries have a hollow center and are conical to round in shape. The fruit's surface is more matte in appearance and ripens from green, red, to dark purple, almost black when mature. The fruits may also exhibit some dark red pigmentation and be covered in a white bloom. This bloom can be gently wiped away and does not affect the flavor. Underneath the thin and delicate, pebbled surface, the fruit's flesh is semi-firm, aqueous, and tender, filled with many fine seeds. Black raspberries are aromatic and have a slightly more robust flavor that red or golden raspberries. The fruits have a bright, sweet, tart taste with rich, earthy, and woodsy berry-like nuances.
Seasons/Availability
Black raspberries are available for a few weeks in the summer.
Current Facts
Black raspberries, botanically classified as Rubus occidentalis, are a rare raspberry species belonging to the Rosaceae family. The pigmented fruits are native to North America and grow wild on deciduous shrubs reaching 2 to 3 meters in height. Black raspberries are also known as Blackcaps, a term given to the fruits for their dark coloring and hollow center, creating a cap-like appearance. It is important to note that Black raspberries are distinct from blackberries and are a separate species with unique flavors, textures, and appearances. Black raspberries are hollow, smaller, and matte with a delicate, aqueous texture and high sugar content. There are several varieties of Black raspberries, including MacBlack, Jewel, Munger, Black Hawk, Morrison, Bristol, Logan, Cumberland, and Niwot, with Munger being the most commercially produced. Black raspberries are only available for around three weeks in the summer, and despite the fruits being commercially grown in Oregon and found in the wild, the plants produce very low, highly perishable yields. This creates limited availability for Black raspberries, and with increasing demand among specialty fruit sectors, the raspberries are regarded as a luxury, seasonal fruit. Black raspberries are also planted in home gardens and are valued for their self-pollinating nature. Black raspberries can be consumed fresh or incorporated into cooked preparations and provide complex aromas and flavors combined with pigmented juice to create a decadent culinary experience.
Nutritional Value
Black raspberries are an excellent source of anthocyanins, pigments found in the fruit's skin and flesh that contain antioxidant-like properties to reduce inflammation and fight against the damage caused by free radicals. The pigments within the fruit were also used as a natural dye in the early 20th century to stamp meat inspection labels for the USDA. Black raspberries provide vitamin C to strengthen the immune system, fiber to regulate the digestive tract, calcium to build strong bones and teeth, and other nutrients including iron, vitamin A, copper, and B vitamins.
Applications
Black raspberries have a complex, sweet-tart flavor suited for fresh and cooked preparations. The fruits are highly perishable, only lasting for a couple of days after harvest, and are popularly consumed straight out of hand to savor their robust flavoring. Black raspberries can also be served with cream as a dessert, tossed into salads, mixed into fruit bowls, stirred into parfaits or oats, or displayed on cheese boards to showcase their coloring. In addition to using the fruits whole, Black raspberries can be blended into smoothies, pressed into juice, or muddled into cocktails. Black raspberries can be interchanged with red raspberries in recipes, but the ingredients may need to be altered to account for their differing flavors. The fruits are popularly simmered into jams and other preserves or reduced into a syrup or gastrique, used in sauces, marinades, beverages, and drizzled over ice cream. Try Black raspberry sauce over roasted meats such as venison or pouring over waffles, crepes, and pancakes as a breakfast accompaniment. Black raspberries can also be baked into pies, muffins, cobblers, cheesecakes, and shortcakes. The fruit's acidity allows them to be canned for extended use or freeze-dried and ground into a powder as a nutritional supplement. Black raspberries pair well with nuts such as almonds, walnuts, and pecans, other fruits including mulberries, lemons, currants, strawberries, coconut, and elderberries, vanilla, mint, lavender, and chocolate. Whole, unwashed Black raspberries will keep 2 to 3 days when stored in a ventilated container in the refrigerator. They can also be frozen to preserve the fruits for a longer period, but they will soften into a mushy consistency. Frozen fruits should be reserved for jams, pies, and fillings.
Ethnic/Cultural Info
Black raspberries have appeared as a signature filling in chocolates made by the famous confectioner Louis Sherry since 1881. Mr. Sherry opened a restaurant in 1881 at 36th street and 8th avenue in New York City. He dreamed of competing with the most popular restaurants at the time and created intricate pastries, chocolates, and cakes with quality ingredients to attract high-end clients. Mr. Sherry's restaurant eventually attracted his target clientele of the social elite, and with its rising popularity, Mr. Sherry moved the restaurant three times into larger or more prominent spaces, landing at 44th Street and 5th Avenue. One of Sherry's most notable creations was his boxed chocolates with ganache filling. Each chocolate is handmade, crafted into whimsical shapes, and filled with unique ingredients to create a luxury chocolate-eating experience. The chocolates are also sold in decorative tins, designed by well-known artists, which are constructed by hand. Louis Sherry chocolate tins have made notable appearances in literature, television, and film, including the rumor that F. Scott Fitzgerald kept his pencils in the tin at his desk while writing "The Great Gatsby." In the modern-day, the tins are still being made using the original molds, and the recipes for the chocolate have remained mostly unchanged. There are around fourteen flavors produced at one time, and Black raspberries have remained a chosen flavor, with the raspberries currently being sourced from the Pacific Northwest.
Geography/History
Black raspberries are native to North America and have been growing wild since ancient times. The species thrives in cooler climates and grows in forests, meadows, along roadways and other disturbed areas, and near water. Black raspberries are mostly found growing in the wild east of the Rocky Mountains in the United States and extend north into Canada. Commercially, the fruits are cultivated in Oregon. The Willamette Valley is responsible for almost 99% of the commercially produced Black raspberries available in the United States. Black raspberries were first commercially grown in the 1830s, but farmers had difficulties keeping the plants alive for multiple seasons as they were susceptible to disease and mildew. In the 1890s, the Munger variety was released for cultivation and has remained the preferred choice for production. Since cultivation began, Black raspberries have slowly decreased in output due to farmers losing their crops after a couple of seasons. Black raspberries have been continually studied in hopes of creating a new variety that will maintain the fruit's dense nutritional content with a longer shelf life and disease resistance. Today Black raspberries are only available for a few weeks in the summer, typically around July, and are offered through select retailers, distributors, and farms. The fruits can also be foraged from wild plants for home cooking or grown in maintained landscapes.
Recipe Ideas
Recipes that include Black Raspberries. One

is easiest, three is harder.
the other 2...