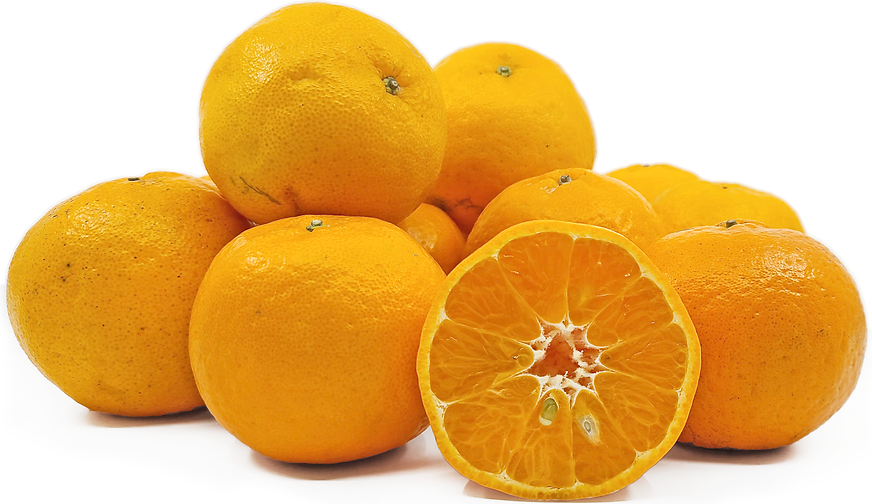 Taiwanese Ponkan Tangerines
Inventory, lb : 0
Description/Taste

Taiwanese Ponkans are a medium to large varietal, averaging 7 to 8 centimeters in diameter, and have an oblate to globose shape. The Ponkan's skin is semi-thick, smooth, glossy, and pale to bright orange, covered in oil glands giving the surface a slightly pebbled feel. The skin is loosely adhered to the flesh, making it easy to peel, and the dark orange flesh is divided into 9 to 10 segments by thin membranes with a hollow center. The flesh is soft, aqueous, and tender with a succulent, melting consistency and is either found seedless or contains a few ivory seeds embedded within the segments. Taiwanese Ponkans release an aromatic-fruity, bright, and citrusy scent when peeled. The fruits have high sugar and low acidity, creating a mild and sweet flavor with a subtly tangy, pleasant aftertaste.


Seasons/Availability

Taiwanese Ponkans are available in the winter through early spring.


Current Facts

Taiwanese Ponkans, botanically classified as Citrus poonensis, are a specialized citrus variety belonging to the Rutaceae family. Ponkans are some of the most widely cultivated and oldest known mandarin varieties, derived from a cross between a mandarin and pomelo. This type of Ponkan is specifically developed in Taiwan and is grown in several regions across the island, commercially produced for domestic consumption and international export. Taiwanese Ponkans are a thicker-skinned mandarin, but the skin is still easily peeled, allowing them to be consumed as a fresh dessert cultivar. The variety is also high yielding and alternate bearing, producing large quantities every other year. Ponkan trees can generate so many fruits that their branches can sometimes snap or bend under the fruit's weight. Growers place supports under the branches to protect the branches from breaking, and in groves, it is common to see trees with a bent shape. Taiwanese Ponkans are cultivated as a premium citrus and are highly valued for their sweet taste, juicy and soft flesh, and aromatic nature.


Nutritional Value

Taiwanese Ponkans are an excellent source of fiber to regulate the digestive tract, vitamin A to maintain healthy organ functioning, and vitamin C to strengthen the immune system while reducing inflammation. The fruits also provide potassium to balance fluid levels within the body, calcium and phosphorus to build strong bones and teeth and contain other nutrients, including copper, folate, magnesium, vitamin E, iron, and niacin. In Traditional Chinese medicine, citrus peels are dried and steeped into tea as an herbal remedy to aid digestion and reduce phlegm in the lungs.


Applications

Taiwanese Ponkans have a sweet, sugary flavor well suited for fresh and cooked preparations. The fruits are easy-to-peel and are primarily consumed straight, out of hand as a dessert cultivar. Taiwanese Ponkans can also be segmented and tossed into green salads, mixed into fruit medleys, or placed into grain bowls. The segments have a juicy, tender consistency, making them a favorite topping for cakes, gelatins, and ice cream. They can also be juiced and infused into dressings, sauces, and syrups. In addition to eating the fruits raw, Taiwanese Ponkans can be pressed into juice and stirred into cocktails, carbonated beverages, or smoothies. The juice can also be used as a flavoring for desserts such as bars, pancakes, muffins, pudding, and mousse, or simmered into marmalades, jams, and preserves. Beyond the flesh and juice, the peel can be dried and steeped into a tea, ground into spice mixes, or candied as a snack. Taiwanese Ponkans pair well with fruits such as apples, bananas, strawberries, blueberries, and pineapples, herbs including basil, mint, cilantro, and rosemary, vanilla, caramel, chocolate, and maple syrup. Whole, unpeeled Taiwanese Ponkans will keep 1 to 3 weeks when stored in the refrigerator's crisper drawer.


Ethnic/Cultural Info

Ponkans are among the most popular mandarin varieties given as gifts to family and friends during the Lunar New Year in Taiwan and Southeast Asia. The spherical shape of the fruit symbolizes the circle of life and the interconnectedness of families. The golden-orange hue of Ponkans also symbolizes good luck, wealth, and the color of money, and the fruits are given in pairs as a blessing for prosperity in the year to come. In addition to their notoriety during the Lunar New Year, Taiwanese Ponkans have caught the eye of the House of Bolkiah in Brunei. This royal family is led by the Sultan of Brunei, Hassanal Bolkiah. The Sultan was crowned in 1968 and is the second longest-reigning monarch behind Queen Elizabeth of England. In Brunei, less than 2% of available land is used for agricultural purposes as most of the land carries rich oil fields beneath the surface, making crop cultivation challenging. Brunei typically imports most of their produce and meat from surrounding countries, including Taiwan, for their Ponkans. Taiwanese Ponkans are sold to the public in Brunei and are also sent to the House of Bolkiah, a palace with over 1,788 rooms spanning across 2,152,782 square feet.


Geography/History

Taiwanese Ponkans are cultivated in Taiwan and have been grown in the country for over 200 years. The fruits were first introduced into Taiwan through Chinese immigrants and were selected for extensive production in the 17th century. In the modern-day, the Ponkans are primarily produced in the Tungshih Village of Taichung County. Tungshih Village produces over 1000 tones of Ponkans annually, and the citrus variety is commercially cultivated as a premium citrus for domestic and international markets. Today Taiwanese Ponkans are mainly exported as a Lunar New Year citrus to Malaysia, Indonesia, Singapore, Japan, Hong Kong, and Canada. Singapore is currently one of the largest importers of the fruit, as consumers value the fruit's consistent flavor and quality. The Taiwanese Ponkans featured in the photograph above were sourced from FairPrice Supermarket in Singapore.