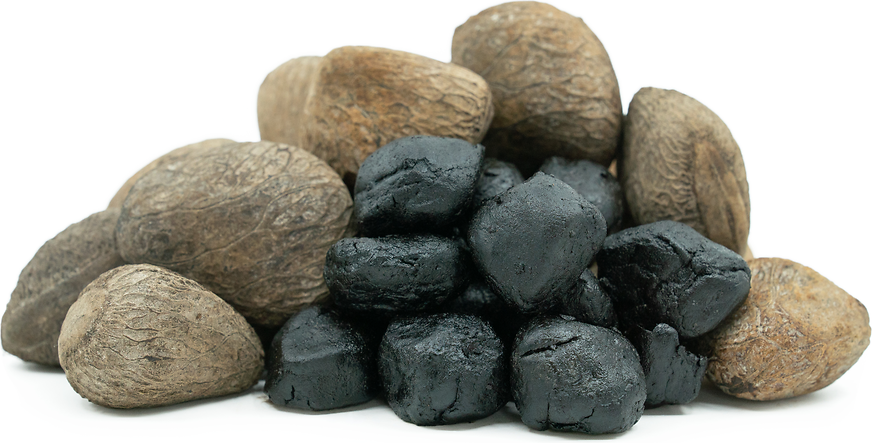 Kluwak Nuts
Inventory, lb : 0
Description/Taste
Kluwak nuts are harvested from large red-orange to red-brown fruits averaging 4 to 8 centimeters in width and 15 to 30 centimeters in length. The fruits hang from the branches of the Pangium tree and develop an oblong, football-like shape, tapering to a point on the non-stem end. The fruits are generally left on the tree to mature, eventually breaking open, dispersing 15 to 30 seeds. The seeds are encased in a hard and fibrous, grooved shell and have a triangular to oval appearance, ranging 5 to 7 centimeters in diameter. Kluwak nuts are poisonous when raw and should never be consumed when the seeds are pale white. Whole, unbroken shells, and seeds are washed and placed in a fermentation process to remove lethal toxins. Once this process is complete, the shells showcase a brown hue covered in a powdery, ashy coating. Kluwak nuts still in their shells are shaken in markets to listen for the size and texture of the seeds. Only the shells with a sizeable rattle, indicating a fresh, larger seed, should be selected for culinary use. The hard shells are cracked open along a flat seam, revealing a dark brown, almost black seed, also known as a nut. The oval to round fermented seeds are oily, greasy, and meaty and are traditionally pounded into a fine paste. Kluwak nuts have a subtly smoky, woodsy aroma and are said to be somewhat of an acquired taste with a deep, earthy, and bitter flavor. The nut's taste is often likened to a rich, umami-like combination of mushrooms, dark chocolate, and black olives.
Seasons/Availability
Kluwak nuts are available year-round.
Current Facts
Kluwak nuts, botanically classified as Pangium edule, are an unusual and somewhat dangerous seed gathered from the fruits of the Pangium tree, belonging to the Achariaceae family. Pangium trees are native to Southeast Asia and are large, slow-growing trees, reaching 18 to 24 meters in height and taking 10 to 15 years to produce their first fruits. Due to their slow-growing nature, most Kluwak nuts are harvested by hand from wild trees and are localized to Southeast Asia, where the nuts are highly prized as a culinary ingredient. Kluwak nuts are known as Kepayang and Pangi in Malay, Puchung and Puchong in Javanese, Kluwek in Indonesian, and are also labeled in some markets as Buah Keluak, Keluwak, Klewek, Black nut, and Pangium nuts. Despite their popularity, raw Kluwak nuts contain hydrogen cyanide and are poisonous until they are boiled, fermented, or processed in specific methods to remove the toxin. The most traditional processing method involves boiling the nuts for three days, changing the water each day, and later placing the nuts in an underground furnace for 40 days to remove the poison. After their time in the furnace, the ashy shells are soaked in water for several days and cracked open along the seam to extract the nut. Kluwak nuts are an integral element of Southeast Asian cooking, especially among the Peranakans in Singapore, Malaysia, and Indonesia. The somewhat rare and time-consuming nuts can be incorporated into various savory and sweet preparations.
Nutritional Value
Raw Kluwak nuts contain hydrogen cyanide, a poisonous toxin that can be lethal if ingested. Hydrogen cyanide is present in the fruit and nuts of the tree and is higher in concentration in young nuts versus mature, ripe nuts. It is important to note that the poison is removed when the nuts are fermented, boiled, and washed, but care should be taken to research how the nuts were processed before using for culinary dishes. Kluwak nuts are also boiled, dried, and pressed into an oil, used among the Dayaks of Borneo for cooking and soap-making. Topically, Kluwak nuts are sometimes crushed and applied to boils in Malaysia, believed to have antiseptic properties. Seek advice from a medical professional before using Kluwak nuts for medicinal remedies to ensure the nut is used correctly.
Applications
Kluwak nuts must be boiled, fermented, or processed using various treatment techniques before they are suitable for culinary use. Once the nuts have been removed of their toxins, they can be used for their earthy, woodsy, and oily nature. In Indonesia, Kluwak nuts are incorporated into rawon, a beef soup using the nuts as the main flavoring. The soup also includes aromatics such as turmeric, lime leaves, lemongrass, ginger, garlic, and shallots and is combined with beef, salted duck eggs, and beansprouts. On the island of Java, the nuts are used to make picungan, a fermented fish dish, while in Bali, it is a key ingredient in the chile-based condiment sambal pangi. In Jakarta, the Betawi people add the nuts into gabus pucung, a soup comprised of Kluwak nuts with snakehead fish. Kluwak nuts are also a traditional element in Malay, Eurasian, and Peranakan cooking and are combined into curries, soups, chicken, and beef dishes, or wrapped in banana leaves and grilled or steamed. Kluwak nuts are also being infused into modern dishes, adding color, aroma, and flavor to fried rice, stir-fries, desserts, and cocktails. In Singapore, the Michelin-starred Peranakan restaurant Candlenut combines Kluwak nuts with chocolate, sea salt caramel, and a chile crumble into ice cream. The nuts are also infused into sauces for shrimp and lamb. Kluwak nuts pair well with aromatics such as chile peppers, galangal, lemongrass, ginger, garlic, shallots, and turmeric, Makrut lime leaves, salam leaves, palm sugar, tamarind, candlenuts, shrimp paste, wing beans, eggs, prawns, and meats including pork, lamb, and poultry. The nuts can be stored for several weeks in a sealed container.
Ethnic/Cultural Info
Kluwak nuts have been nicknamed the "Truffle of the East" and the "Black diamond of Peranakan cooking." The Peranakans are a people group in Southeast Asia created from mixing early Chinese immigrants with local populations throughout Malaysia, Singapore, and Indonesia. Peranakans, also known as Straits Chinese, are a multi-racial community with rich culinary and cultural traditions. In Peranakan cuisine, Kluwak nuts are highly prized for their ability to add color, flavor, and aroma to dishes. Historically, before the mid-20th century, the preparation of Kluwak nuts was a test among young Peranakan women to determine their readiness for marriage. The shell had to be delicately cracked just enough to create a round opening to insert a teaspoon to remove the nut from the shell. If the shell was broken open or cracked too wide, the woman's cooking skills were regarded as not ready for the duties of a wife. Over time, word of Kluwak nuts spread worldwide, and the fermented nut was likened to Europe's cherished black truffles, elevating the nut as a rare, specialty ingredient. The nut's fame also led Peranakan chef Violet Oon to be inducted in 1980 as a Noble Dame of the Grand Order of Rocamadour du Diamant Noir, translating to the Black Diamond of Périgord in France. Recipes that include Kluwak nuts are time-consuming, and the nuts are an ingredient generally reserved for special occasions such as weddings, birthdays, or the Lunar New Year. One of the most popular dishes for New Year celebrations in Malaysia and Singapore is ayam buah Keluak. This ceremonial dish is comprised of Kluwak nuts that have been pounded into a paste and pressed through a sieve to create a fine texture. Once pressed, the mixture is combined with minced pork or prawns, sugar, and salt and is stuffed back into the nut's hard shell. Other aromatics such as lemongrass, tamarind, chiles, turmeric, galanga, candlenuts, and shrimp paste are added, and the entire dish is simmered with chicken until the sauce becomes a thick, gravy-like consistency, extracting the oily nut mixture into the sauce. Ayam buah keluak is customarily served over rice and is a dish passed down between generations to preserve the Peranakan way of life.
Geography/History
Kluwak nuts are native to Southeast Asia, specifically Indonesia, and have been growing wild since ancient times. The nuts are found in the fruit of the Pangium trees; a species only found wild in the mangrove swamps of Indonesia. Pangium trees were carried through the port city of Malacca in the 15th century and were planted throughout Malaysia and Singapore in hopes of expanding the cultivation of the nuts, but many of the trees eventually died off, being sensitive to temperature, flooding, and soil. Today Kluwak nuts are generally harvested from wild trees in Indonesia and only a few cultivated trees in Malaysia. The nuts are gathered, processed, and shipped from Indonesia into Singapore, Malaysia, and select other countries, and they are also sold domestically throughout Indonesia as a valuable culinary ingredient.
Recipe Ideas
Recipes that include Kluwak Nuts. One

is easiest, three is harder.