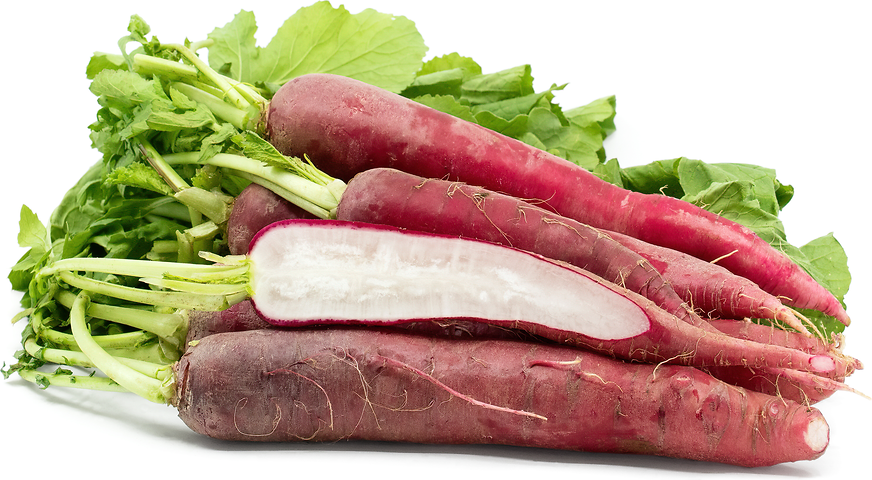 Ostergruss Radish
Inventory, bunch : 0
Description/Taste

Ostergruss radishes are large roots, averaging 17 to 40 cm in length, and have an elongated and cylindrical shape, tapering to a thin taproot, similar in appearance to a carrot. The radish's skin is thick, firm, semi-smooth with small textured ridges, and is sometimes covered in fine root hairs. The skin also ranges in color from magenta, red-pink, dark red, to purple-red hues. The color is most saturated towards the stem-end, lightening as it approaches the taproot. Underneath the surface, the flesh is white, crisp, and aqueous with a smooth, non-pithy texture. Ostergruss radishes are crunchy when raw and contain an initially mild and subtly sweet flavor followed by a slow-burning, peppery but not overpowering spice. As the radishes are cooked, their flesh will soften, developing savory-sweet, peppery undertones. In addition to the roots, the deeply lobed, green leaves are edible and bear a vegetal, slightly grassy flavor.


Seasons/Availability

Ostergruss radishes are generally available in the spring. In milder climates, the variety may also be found in the fall and winter.


Current Facts

Ostergruss radishes, botanically classified as Raphanus sativus, are a German heirloom variety belonging to the Brassicaceae family. The vibrantly colored roots are known by several names, including Ostergruß radish, Ostergruss Rosa, German Heirloom radish, and German Salad radish, and are a common variety cultivated commercially throughout Germany. Ostergruss radishes are fast-growing, maturing in approximately 45 to 60 days, and are frost tolerant, favored for their bright coloring and mild, subtly peppery flavor. The variety is traditionally available in fresh markets in the spring, but in more temperate climates, the radishes can also be sown in the spring, late autumn, and early winter. Outside of Germany, Ostergruss radishes are cultivated on a smaller scale through growers and home gardeners throughout Europe and the United States.


Nutritional Value

Ostergruss radishes are an excellent source of potassium to restore hydration and balance fluid levels within the body and are a rich source of fiber to stimulate the digestive tract. The roots are also a good source of calcium to protect bones and teeth, vitamin C to strengthen the immune system, and contain antioxidants and phytochemicals that assist in cleansing the liver of toxins.


Applications

Ostergruss radishes have a neutral flavor well-suited for raw or cooked applications, including roasting, frying, braising, grilling, sautéing, and steaming. When raw, the roots have a crunchy, snap-like consistency that provides added texture on crudité plates, and the radish's elongated nature offers an unusual shape that can be sliced in half and served with dips. Ostergruss radishes can also be chopped and added to salads, sliced and layered into sandwiches with butter, or spiral cut and sprinkled with salt and herbs. In addition to consuming the root in its natural form, Ostergruss radishes can be blended into smoothies or juiced for added nutritional value. Beyond raw preparations, Ostergruss radishes can be roasted to develop savory notes, sauteed into eggs, simmered into soups, grilled, or sliced lengthwise and deep-fried When cooked, Ostergruss radishes will soften and become rich and sweet, complementing roasted meats and vegetables. In Germany, Ostergruss radishes are popularly braised with other root vegetables as a savory side dish and are pickled for extended use, served as a tangy condiment. It is important to note that the green leafy tops are also edible and can be incorporated into recipes similar to mustard greens, primarily stir-fried, braised, sauteed, or steamed. Ostergruss radishes pair well with spring onions, peas, asparagus, lettuce, apples, cucumbers, herbs such as parsley, chives, and tarragon, bell peppers, sprouts, potatoes, parsnips, and meats such as poultry, lamb, beef, and turkey. The green tops should be separated from the roots for storage and placed in a plastic bag in the refrigerator for 1 to 2 days. The radishes will keep 1 to 2 weeks when wrapped in a damp towel or plastic wrap and stored in the fridge.


Ethnic/Cultural Info

Ostergruss translates from German to mean "Easter greeting" and was given to the variety for its arrival into German markets around the spring holiday. Ostergruss radishes are one of the first spring vegetables seen in local markets, and Easter customarily marks the beginning of the spring season in Germany. The large, colorful radishes are favored for their mild flavor and are commonly incorporated into fresh side salads during Easter brunch. Easter celebrations in Germany begin the Thursday before Easter, and each day is filled with traditional meals that have stemmed from a blend of cultural and religious traditions. For Easter brunch, lamb is the main dish served, accompanied by painted boiled eggs, baked bread, pastries, fresh radish salads, and many desserts, including cakes, candies, and chocolate. After brunch, it is also a tradition for families to take walks outside to enjoy the changing weather.


Geography/History

Ostergruss radishes are an heirloom variety native to Germany and have been cultivated for centuries. While the exact history of the variety is unknown, German horticulturist Josef Becker-Dillingen mentioned two different Ostergruss-type radishes in 1929, referencing a pink and white cultivar and several other records in the 1940s also list Ostergruss radishes. Over time, Ostergruss radishes have remained a common variety in German markets and are easily recognizable for their vibrant coloring. The tapered roots are also cultivated in home gardens and have been introduced to North America through producers. Today Ostergruss radishes are offered through online seed catalogs throughout Europe and North America. When in season, the large roots can be found fresh through farmer's markets and specialty grocers.