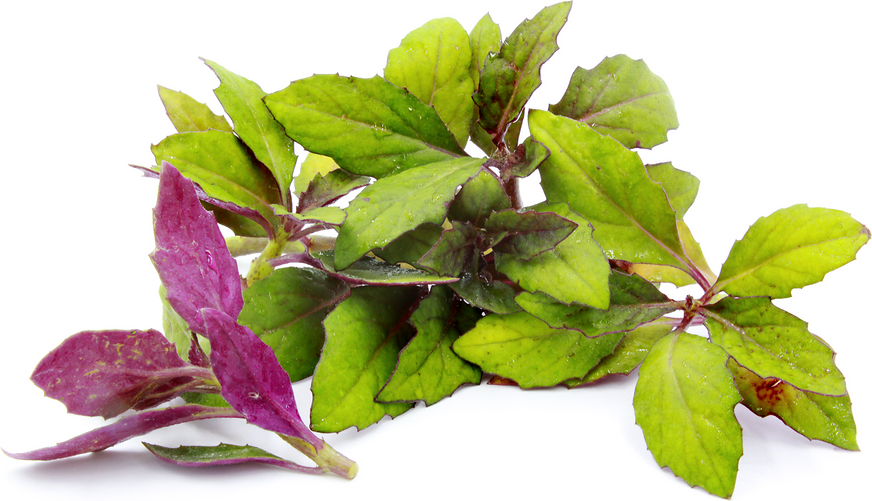 Okinawa Spinach
Inventory, lb : 0
Description/Taste
Okinawa spinach is comprised of small to medium-sized leaves growing in dense clusters on upright stalks. The leaves are elongated, averaging 3 to 8 centimeters in length, and have a lanceolate to oval shape, tapering to a pointed tip on the non-stem end. The leaves range in color from bi-colored to solid green, depending on the variety, and are smooth and semi-thick with a faint sheen on the upper surface. The bi-colored leaves have a distinct appearance as the top of the leaf is bright to dark green while the underside appears in shades of violet to royal purple. Okinawa spinach also has lightly serrated edges and prominent veining spanning throughout the center of the leaf. When raw, the leaves have a crisp, chewy, succulent, and slightly mucilaginous consistency. Once cooked, the greens become soft and slippery. Okinawa spinach has a refreshing, green, nutty, and slightly bitter taste. Some consumers also note a faint pine-like undertone.
Seasons/Availability
Okinawa spinach is available year-round, with a peak season in the spring through early fall.
Current Facts
Okinawa spinach, botanically classified as Gynura bicolor, is an edible perennial belonging to the Asteraceae family. The plants thrive in warm, tropical to subtropical climates and can grow up to 70 centimeters in height, developing a bushy nature with upright stalks and glossy leaves. Okinawa spinach is native to Asia and has traditionally been categorized as a wild mountain plant. The species is not commercially produced and is typically foraged from wild and home garden plants. Despite their limited availability, Okinawa spinach is known by several regional names, including Hadama, Surizenjigusa, Kinjisou, and Padama in Japan, Sambung Nyawa Ungu in Malaysia, and Hong Tsoi and Hong Feng Cai in China. The species is also called Edible Gynura and Okinawa Lettuce in English. Okinawa spinach is not a true spinach, but the greens are edible raw and cooked, similar to common spinach, Spinacia oleracea. There are two main varieties generally labeled under the Okinawa spinach name, a solid green type and a bi-colored cultivar with green and royal purple leaves. In East Asia, Okinawa spinach has been valued as a culinary and medicinal herb for thousands of years, and the plants are commonly grown in home gardens for an array of fresh and cooked culinary preparations. Growers favor Okinawa spinach for its ease of cultivation as the plant is fast-growing, resistant to most diseases and pests, drought tolerant, and can thrive in warm temperatures. The plants are often utilized as ground cover, trimmed and pruned low to the ground to encourage leaf growth, or as an ornamental in home gardens, allowing the plants to bloom, producing bright orange flowers.
Nutritional Value
Okinawa spinach is a source of vitamin C to strengthen the immune system, vitamin A to maintain healthy organ functioning, potassium to balance fluid levels within the body, and calcium to build strong bones and teeth. The greens also provide iron to develop the protein hemoglobin for oxygen transport through the bloodstream, vitamin K to assist in faster wound healing, and other nutrients, including manganese, flavonoids, zinc, and magnesium.
Applications
Okinawa spinach has a mild, vegetal, nutty, and subtly bitter flavor suited for fresh and cooked preparations. The leaves are the only portions of the plant used in culinary dishes, and young leaves are preferred for their more favorable taste. Okinawa spinach can be torn and tossed into salads, layered into sandwiches, added to fresh spring rolls, or blended into juices, smoothies, and tea. In addition to raw preparations, Okinawa spinach can be lightly cooked, but care should be taken not to overcook it as the greens can become slimy. When cooked, the greens also lose their purple coloring, causing the purple pigments to leach into the dish. Okinawa spinach can be steamed as a simple side, incorporated into stews and soups, added to stir-fries, or mixed with vegetables. The greens are also integrated into rice porridge, fried into tempura, served in miso soup, or blanched and sprinkled with ponzu sauce. Try extracting the purple-red hues from the leaves and using the pigments to color rice or pasta dishes. Okinawa spinach pairs well with aromatics such as garlic, ginger, chile peppers, onions, and shallots, sesame oil, mirin, soy sauce, and herbs such as cilantro, scallions, lemongrass, and basil. Unwashed Okinawa spinach leaves should be wrapped in paper towels and stored in a sealed container for up to one week in the refrigerator. It is recommended to consume the greens immediately after harvest for the best quality and flavor.
Ethnic/Cultural Info
In China, Okinawa spinach is known as Hong Fen Cai, roughly translating to mean Red Phoenix vegetable. According to Traditional Chinese Medicine, the leaves are viewed as a cooling culinary ingredient and are consumed to reduce swelling, detox the body, and stimulate blood flow. Crushed Hong Fen Cai leaves were also used topically on wounds to reduce inflammation. When Hong Fen Cai leaves are crushed or cooked, they release a red-hued juice. This juice is similar in color to blood, leading some Chinese households to believe that the greens will help purify the blood. There is an ancient Chinese superstition that Hong Fen Cai leaves can only be consumed in the middle of the day when the body is full of yang, or warming energy, to replenish blood. This type of energy is strong enough to balance out the coolness of the leaves, and Hong Fen Cai greens were popularly cooked with ginger and sesame oil to neutralize the energy in the dish. If the leaves are eaten at night, the superstition states that it will reduce too much heat in the body, causing blood to thin or disappear. While this superstition has become more of a tale than a followed practice in the modern day, legends of the plant are still shared and passed on among older generations. One of the more obscure myths states that Hong Fen Cai plants have roots that extend into hell, where the plant absorbs blood through the roots into the leaves, giving the leaves their purple-hue and red juice.
Geography/History
Okinawa spinach is native to Southeastern Asia and has been growing wild since ancient times. Much of the history of the species is unknown due to its lack of cultivation and presence, mainly in the wild. Okinawa spinach is a fast-growing plant utilized as a culinary, medicinal, and landscape plant throughout Asia. The species has been introduced over time to other regions worldwide, but Okinawa spinach only thrives in warm, tropical to subtropical climates, somewhat limiting its global expansion. Okinawa spinach was carried from China and Taiwan to Japan and was first planted in Okinawa, where it was used in Okinawan folk medicine as a "blood medicine" to promote longevity. Today Okinawa spinach is grown throughout Japan in the Kumamoto, Okinawa, Aichi, and Ishikawa Prefectures. In China, Okinawa spinach is grown in Hunan, Fujian, Jiangxi, Hubei, and Zhejiang provinces. The species is also found in other regions of Southeast Asia, including India, Myanmar, Malaysia, and Indonesia, and was introduced to Australia and the United States. Okinawa spinach is primarily a foraged green and is found in fresh markets, select health food stores, and distributors. The greens are also grown in home gardens worldwide.
Recipe Ideas
Recipes that include Okinawa Spinach. One

is easiest, three is harder.