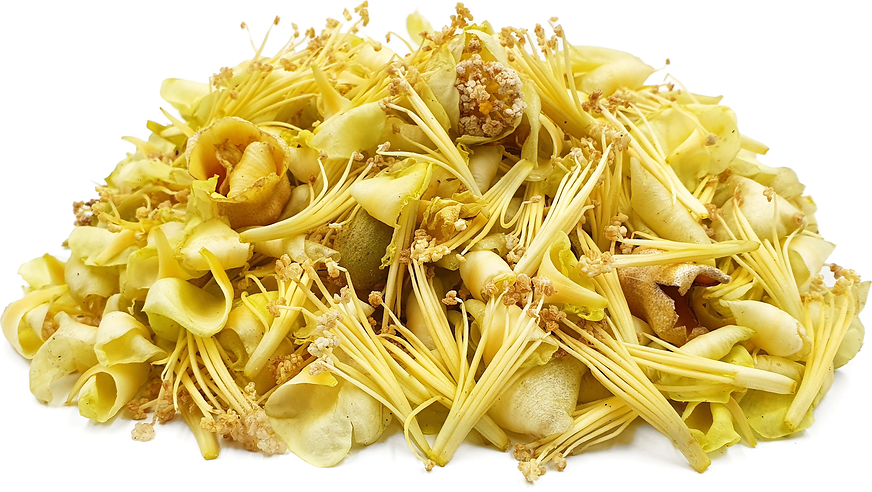 Durian Flowers
Inventory, lb : 0
Description/Taste

Durian flowers are small to medium in size, averaging 5-8 centimeters in diameter, and grow in large clusters of up to thirty flowers. Each flower is composed of five rounded petals, a calyx, pistil, and slender bunches of elongated stamens. The petals and stamens range from pale green-white to ivory, depending on maturity, and some wild varieties are dark red. Durian flowers are delicate with a crisp texture and emit a mild floral aroma. When raw, the flowers have a starchy, slightly sour taste and when cooked, the taste mellows into a subtly sweet, tangy flavor reminiscent of artichoke hearts.


Seasons/Availability

Durian flowers have multiple blooming seasons throughout the year in tropical regions of Asia and Southeast Asia, typically in the spring and in the fall.


Current Facts

Durian flowers are botanically a member of the Durio genus and are rare, edible blooms of the durian tree belonging to the Malvaceae family. Also known as King Fruit flowers, Durian flowers are only available for a very short season, sometimes spanning for less than a week, and are a highly valued specialty ingredient in Indonesian and Malaysian cooking. When in season, Durian flowers bloom in the evening and are harvested as they fall from the tree, typically in the very early morning. Once collected, the flowers are sold at local markets and are utilized in home cooking, commonly added to salads, curries, and flavored with bold spices.


Nutritional Value

Durian flowers contain some vitamin C and antioxidants, which can help boost immunity and fight free radicals, and they also contain low amounts of iron.


Applications

Durian flowers are best suited for lightly cooked applications such as stir-frying and blanching, and only the petals and stamens are consumed. Before cooking, the pollen should be cleaned from the stamens as it can carry a bitter flavor, and the flowers should be lightly washed. The petals and stamens can then be lightly blanched and mixed into curries, fried with other vegetables, or tossed into fresh green salads. Durian flowers are also popularly served with belacan, which is a salty shrimp paste, or they can be blanched and served with spicy sauces and white rice. Durian flowers pair well with shrimp, pork, tempura, coconut milk, cucumber, okra, long beans, galangal, lemongrass, tomatoes, garlic, lime, and curry powder. The flowers turn brown quickly after they fall from the tree and should be used immediately for best flavor. Once blanched, the petals and stamens will keep for 3-5 days when stored in the refrigerator.


Ethnic/Cultural Info

Durian flowers are often overshadowed in the culinary world by the pungent fruit, but one of the significant, unseen contributors to the tree's life cycle is its pollinators. Durian flowers depend on animals to spread their pollen, and each flower contains aromatic nectar that is sought after by bats, especially the Flying Fox, and also by bees, moths, and beetles. Flying Fox bats are a large species that bears a wingspan of over one meter in diameter and pollinates the flowers at night. These endangered bats are one of the primary pollinators of the Durian tree, and without their presence in the ecosystem, many of the Durian flowers would go unpollinated, thus decreasing the upcoming fruit harvest.


Geography/History

Durian flowers are believed to be native to Southeast Asia, specifically Sumatra and Borneo, and have been growing wild since ancient times. The pungent fruits became a popular item for trade and were often planted in orchards for cultivation, but they were also found growing naturally in forests and on the outskirts of settlements. Today Durian flowers are favored for their rarity and are localized to the regions where the trees are grown. Durian trees are found in Malaysia, Indonesia, the Philippines, Tahiti, New Guinea, Thailand, Burma, India, Zanzibar, and occasionally in Hawaii. Some trees have also been planted in tropical regions throughout the Americas and do flower, but they rarely bear fruit.