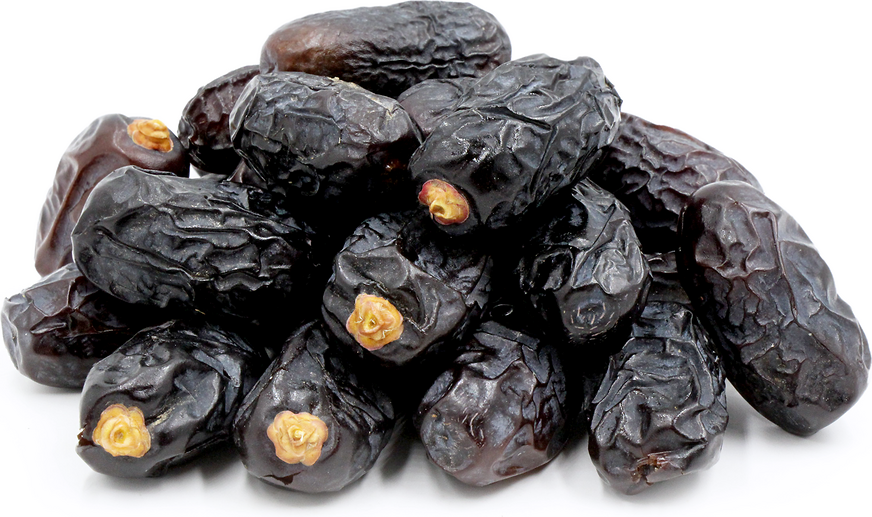 Black Sphinx Dates
Inventory, lb : 0
Description/Taste
Black Sphinx dates are small, plump fruits with a dark mahogany to black skin. They are smaller than the more well-known medjool dates, measuring an average of 4 centimeters long and 2.5 centimeters wide. The fruits are very soft and the thin skin has a wrinkled appearance when the dates are fully mature and dried. They have a tender, fibreless flesh with a melting quality that surrounds a single, oblong seed. Black Sphinx dates offer a sweet, honeyed flavor with notes of caramel and vanilla.
Seasons/Availability
Black Sphinx dates are available on a very limited basis in the early fall.
Current Facts
Black Sphinx dates are extremely rare and are only grown in one location. They are the only native Arizona variety of Phoenix dactylifera and are thought to be descended from a havani date palm. During the 1950s and 60s, Black Sphinx dates were in great demand among the country's celebrities and politicians, with shipments going to President Eisenhower, Bing Crosby and Lady Bird Johnson, among others. Black Sphinx dates disappeared from the commercial markets in 2007 and were re-introduced around 2015. They are listed on the Ark of Taste's list of culturally significant and endangered foods.
Nutritional Value
Black Sphinx dates are a rich source of dietary fiber, potassium and manganese, along with B-complex vitamins, copper and manganese. They offer antioxidant rich polyphenols and a wide variety of minerals like calcium, iron, phosphorus, magnesium and selenium.
Applications
Black Sphinx dates are eaten raw or can be used in both sweet or savory applications. Their soft texture is ideal for using in shakes and ice creams, smoothies, and in recipes for almond or other nut milks. They can be used in place of sugar or honey in baking and in paleo recipes. Add chopped dates to salads, salsas, chutneys or sauces. Stuff them with blue cheese, soft goat cheese, chocolate or nuts. Use Black Sphinx dates in Moroccan tagines or pair with poultry or lamb. Refrigerate Black Sphinx dates immediately upon purchase, as they are highly perishable.
Ethnic/Cultural Info
Black Sphinx dates were discovered by Roy Franklin the distinctly different-looking seedling was, who convinced philanthropist Ellen Amelia Goodbody Brophy to donate 47 acres of land in Arcadia, a small neighborhood between Phoenix and Scottsdale, on which he would plant the first grove of Black Sphinx dates. Off-shoots from the mother plant were planted during the 1930s and 40s. The grove went on to become the Sphinx Date Ranch, which operated under Franklin and Brophy's son until the 1960s. During that time, Phoenix was expanding, and the ranch was sold and divided into housing plots, eventually becoming the Mountgrove neighborhood. Any trees that weren't sold were left to the home owners, some of whom harvest and sell their own Black Sphinx dates today.
Geography/History
The Black Sphinx date palm tree was discovered growing as a rogue seedling in the front yard of a house in suburban Phoenix, Arizona in 1928. This "mother plant" went on to be the source for hundreds of trees which made up the original grove of Black Sphinx date palms in Arcadia, just east of Phoenix. The dates were sold locally and by mail and were even sold wholesale to Harry and David in the 1940s to their best customers. The delicate nature of the dates makes them highly perishable and a challenge not only to produce, but also to harvest and ship. The only Black Sphinx date grove known to exist today is located north of Phoenix, though the trees in Arcadia are still producing. The rare dates are most likely spotted at Phoenix-area farmer's markets and in the Phoenix, Arizona neighborhood of Arcadia.
Podcasts