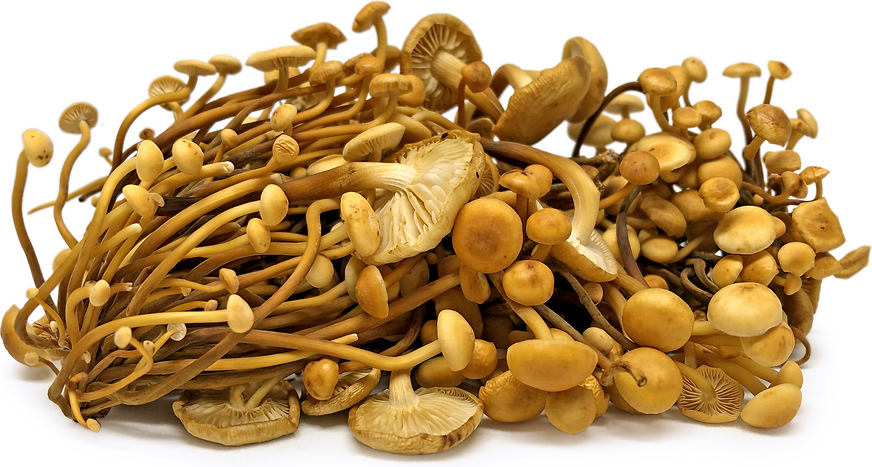 Foraged Golden Enoki Mushrooms
Inventory, lb : 0
Description/Taste
Foraged Golden Enoki mushrooms widely vary in size, depending on maturity and growth habits, and form tightly packed clusters on ground substrates or are scaled along the side of hardwood. The tight clusters can sometimes distort the shape of the caps, which generally have a convex to slightly flattened shape, and average 3 to 10 centimeters in diameter. The smooth caps range in color from gold, brown, to tan, and have a semi-rubbery consistency with a sticky, viscous coating. Underneath the caps, the white, broad gills are crowded, attached, and create a white spore print when pressed. The wild mushroom's stem is generally thicker than cultivated enoki mushrooms, averaging 2 to 11 centimeters in length, and is dark brown to gold with a tough, fibrous consistency. As the mushroom matures, a velvety coating also develops on the stem giving it a fuzzy appearance. Foraged Golden Enoki mushrooms, when cooked, have a chewy, semi-crunchy consistency with a mild, sweet, and earthy flavor.
Seasons/Availability
Foraged Golden Enoki mushrooms are available in the late fall through winter. Depending on the climate and region, some mushrooms may continue to grow into the late spring.
Current Facts
Foraged Golden Enoki mushrooms, botanically classified as Flammulina velutipes, are a tightly clustered, wild variety belonging to the Physalacriaceae family. The earthy fungi are primarily found throughout the winter, thriving in cold climates, and grow on roots, logs, stumps, and decaying hardwood trees, including elm, oak, ash, mulberry, and beech. Foraged Golden Enoki mushrooms grow wild throughout Asia, North America, and Europe, and are favored for their hardy nature, often seen emerging through the snow. The wild mushrooms are considered rare in commercial markets, as there is a cultivated enoki mushroom with a more tender texture that is primarily sold, but chefs seek out wild Golden Enoki mushrooms for their earthier flavor and crunchy texture. Golden Enoki mushrooms are also known as Enokitake, Velvet Foot, Golden Needle, Lily mushrooms, Enoko-take, Jingu in Chinese, Nim Kim Châm in Vietnamese, and Paengi Beoseot in Korean. It is imperative to note that Foraged Golden Enoki mushrooms should be examined by an expert with caution before consumption, as the wild mushrooms are similar in appearance to the deadly galerina variety and can be found growing on the same substrates.
Nutritional Value
Foraged Golden Enoki mushrooms are a good source of vitamin D, which helps to provide nutrients for bone growth and are also high in B vitamins, which promote healthy cognitive functioning. In addition to vitamins, the mushrooms contain copper, fiber, iron, zinc, calcium, and magnesium. In Eastern Asia, Golden Enoki mushrooms are used medicinally in traditional Chinese medicine to reduce symptoms associated with digestive issues, blood pressure, and liver disease.
Applications
Foraged Golden Enoki mushrooms are best suited for cooked applications such as simmering, blanching, stir-frying and sautéing. The stems are generally considered too tough and fibrous to eat, and only the caps are used. Golden Enoki mushrooms can be blanched and tossed into salads and cold appetizers, lightly sautéed into stir-fries, or cooked and stirred into rice and noodle dishes. The mushrooms can also be chopped and fried into vegetable pancakes, mixed into omelets, stirred into risottos, cooked into curries, or baked into casseroles. In Asia, Golden Enoki mushrooms are used in a wide variety of soups from ramen, cream of mushroom, to miso, and are favored for their slightly chewy consistency. Foraged Golden Enoki mushrooms pair well with herbs such as thyme, rosemary, parsley, and Thai basil, aromatics such as ginger, green onions, shallots, and garlic, green beans, celery, carrots, sweet potatoes, tofu, and meats such as beef, poultry, pork, and fish. The foraged mushrooms will keep up to one week when stored in a paper bag in the refrigerator.
Ethnic/Cultural Info
Enoki mushrooms have been the subject of multiple research projects in space to understand how plants grow in zero gravity. In 1993, the variety was sent aboard the Space Shuttle Columbia and was left to develop naturally. On Earth, the stems of wild Enoki mushrooms tend to curve near the base and grow vertically, creating a clustered, tightly packed appearance. When the mushrooms are grown in space, they grew in every direction and angle, signaling that the fungi could not sense the correct way to grow. Enoki mushrooms were also sent into space in 2019 to be tested at the International Space Station. The research project was proposed by a group of high school students who hypothesized that the mushrooms need little light and that gravity has an effect on how the fungus will grow. While the fungus was tested in space, the students conducted the same experiment on Earth as a comparison to give scientists a better understanding of how plants use factors from their surrounding environment to grow.
Geography/History
Golden Enoki mushrooms have been growing wild since ancient times in Eastern Asia, dating back to at least 800 BCE, and are also found in Europe and North America, believed to have been brought by early settlers. Today Foraged Golden Enoki mushrooms are primarily gathered and sold through farmer's markets and specialty grocers. The wild mushrooms are especially popular in Japan, Korea, China, Great Britain, Ireland, Canada, and the United States.
Recipe Ideas
Recipes that include Foraged Golden Enoki Mushrooms. One

is easiest, three is harder.